Learning languages
World Languages Tech Resources - For Language Teachers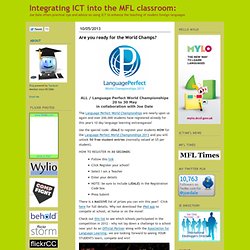 Integrating ICT into the MFL classroom:
The Language Perfect World Championships are about to kick off and language learners from all over the globe are poised to compete with each other in the greatest cyber-battle there has ever been (ever). Over 100,000 students are primed and ready to take part in this worldwide phenomenon aiming to achieve the maximum number of points for themselves, their school and their country! If you haven't signed up yet for the 10 day competition, there is still time to do so and if you use the JDALE registration code you can have 50 places for FREE.
104-4961910464655811007-Participes_pass_s.pdf
Les règles
Le Cyberprof : les tests essentiels pour réviser son français
French 1
French Links
MFL Teaching Resources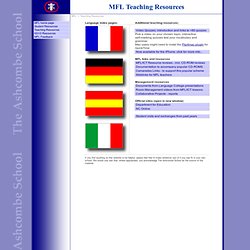 Video Quizzes: introduction and links to >80 quizzes Pick a video on your chosen topic; interactive, self-marking quizzes test your vocabulary and grammar. Mac users might need to instal the Flip4mac plugin for QuickTime Now available for the iPhone; click for more info...
MFL Sunderland
Languages Resources Index
mflresources
'Wonderful discussions and a fabulous opportunity to work with like-minded and knowledgable participants.' How Language Works: Melbourne, May 2011 'I can see a huge scope ... for our whole system.' How Language Works: Perth, April 2011 'The course content is rich, well organised, relevant and complex.'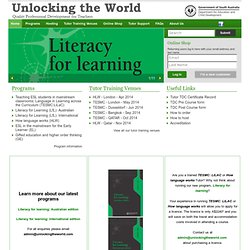 Unlocking The World
Welcome to My Resource Cloud
"I am very happy Bongo exists"Fran, USA "Even my most unmotivated students are engaged by your Apps"Martha, USA "One stop shopping, I love it."Elaine, Australia "The interactivity of your resource is just brilliant"Kath, UK "Students like the interactivity in your Apps – they like to be doing stuff rather than listening"Natalie, UK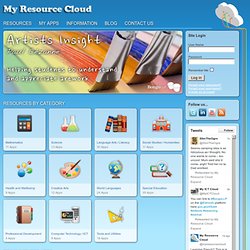 Yesterday, after publishing my post about BBC Quick Fix, I received a few emails asking me for other resources that can be used to learn a new language. Those emails prompted me to round up a selection of the language learning resources that I have reviewed over the years. What follows is a list of 7 good resources for learning a new language. Learn a Language offers flashcards and games for learning eight different languages. Learn a Language offers activities in Spanish, Italian, German, Russian, French, Japanese, Chinese, and English.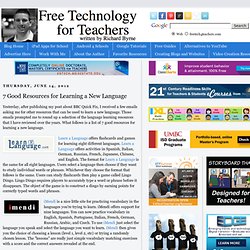 7 Good Resources for Learning a New Language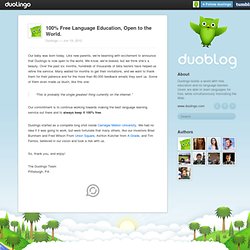 Official Duolingo Blog: 100% Free Language Education, Open to the World.
Our baby was born today. Like new parents, we're beaming with excitement to announce that Duolingo is now open to the world. We know, we're biased, but we think she's a beauty. Over the past six months, hundreds of thousands of beta testers have helped us refine the service. Many waited for months to get their invitations, and we want to thank them for their patience and for the more than 80,000 feedback emails they sent us.
How to learn languages for free? This collection features lessons in 40 languages, including Spanish, French, English, Mandarin, Italian, Russian and more. Download audio lessons to your computer or mp3 player and you're good to go. Arabic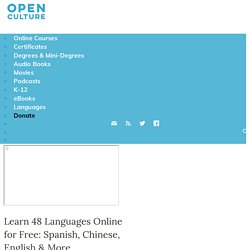 Learn 40 Languages for Free: Spanish, English, Chinese & More
French
l'auberge - Français Langue Etrangère (FLE) - Université de Lille 3
Languages - French - Ma France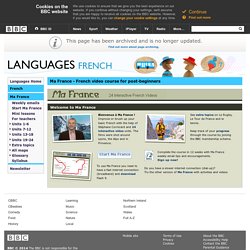 Bienvenue à Ma France ! Improve or brush up your basic French with the help of Stéphane Cornicard and 24 interactive video units. The films were shot around Lyons, the Alps and in Provence.
apprendre le français - cours et exercices de français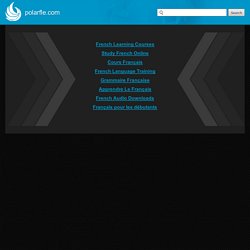 Un meurtre a été commis à Trouville. L'inspecteur Roger Duflair mène l'enquête. Il doit retrouver le coupable, son mobile et les circonstances du crime. Vous êtes son assistant. Pour accomplir votre mission, vous devez choisir votre niveau (débutant, élémentaire, intermédiaire ou avancé) et faire toutes les rubriques dans l'ordre. Dans chacune d'elles, les exercices vous permettent de pratiquer la grammaire et le vocabulaire en contexte et, surtout, d'obtenir toutes les informations nécessaires pour découvrir le(s) coupable(s).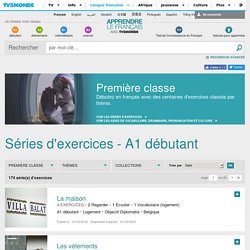 Jump to navigation Formulaire de recherche recherche avancée
Apprendre le français en ligne - cours et exercices – Première classe avec TV5MONDE
International breaking news and headlines
RFI - Radio France International
Enseigner.TV is an interactive platform dedicated to French teachers offering a comprehensive range of tools, services and pedagogic resources developed by TV5MONDE with the help of several professional organizations specializing in the teaching of foreign languages through innovative methods. • In-class activities based on TV5MONDE's renowned news magazine « 7 jours sur la planète » (7 Days on the Planet), with weekly updates from Sept. to June. • Educational index cards to work on music videos subtitled in French, along with pertinent background information such as lyrics scripts, artists' biographies etc., all updated weekly. • Over 40 generic updated index cards about our broadcast programs to provide teachers with suggestions on how to use the content in class.
MONDE : Teach & Learn French
Sites Like Lepointdufle.net - Find 24 French Sites Similar to Lepointdufle.net
Lexique
Languages Online
Cours pour apprendre le fran?ais avec Lexique FLE - learn french
@import '/languages/includes/widgets/potd/css/potd.css'; @import '/languages/css/phase2/shared.css'; British Broadcasting Corporation Home
Languages - Homepage