Learning languages
World Languages Tech Resources - For Language Teachers
Integrating ICT into the MFL classroom:
104-4961910464655811007-Participes_pass_s.pdf
Les règles
Le Cyberprof : les tests essentiels pour réviser son français
French 1
French Links
MFL Teaching Resources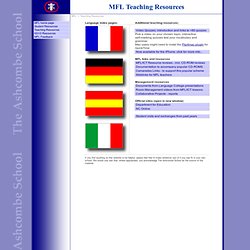 Video Quizzes: introduction and links to >80 quizzes
MFL Sunderland
Languages Resources Index
mflresources
Unlocking The World
Welcome to My Resource Cloud
Yesterday, after publishing my post about BBC Quick Fix, I received a few emails asking me for other resources that can be used to learn a new language. Those emails prompted me to round up a selection of the language learning resources that I have reviewed over the years. What follows is a list of 7 good resources for learning a new language. Learn a Language offers flashcards and games for learning eight different languages. Learn a Language offers activities in Spanish, Italian, German, Russian, French, Japanese, Chinese, and English. The format for Learn a Language is the same for all eight languages.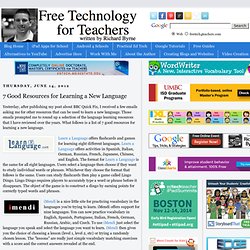 7 Good Resources for Learning a New Language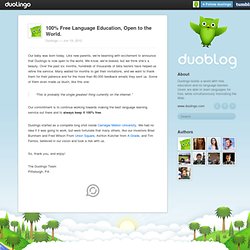 Official Duolingo Blog: 100% Free Language Education, Open to the World.
Our baby was born today.
How to learn languages for free?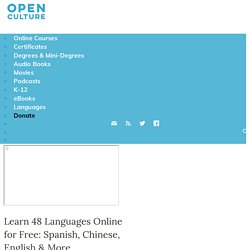 Learn 40 Languages for Free: Spanish, English, Chinese & More
French
l'auberge - Français Langue Etrangère (FLE) - Université de Lille 3
Languages - French - Ma France
apprendre le français - cours et exercices de français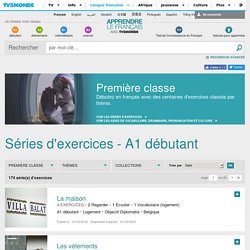 Jump to navigation Formulaire de recherche recherche avancée
Apprendre le français en ligne - cours et exercices – Première classe avec TV5MONDE
International breaking news and headlines
RFI - Radio France International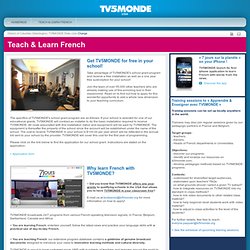 Enseigner.TV is an interactive platform dedicated to French teachers offering a comprehensive range of tools, services and pedagogic resources developed by TV5MONDE with the help of several professional organizations specializing in the teaching of foreign languages through innovative methods.
MONDE : Teach & Learn French
Sites Like Lepointdufle.net - Find 24 French Sites Similar to Lepointdufle.net
Lexique
Languages Online
Cours pour apprendre le fran?ais avec Lexique FLE - learn french
Languages - Homepage