Finger lick'en good
Note: Since this recipe is featured on the Food Network episode this morning, I'm bringing it to the front for easy reference. This really is one of my favorite recipes here on The Pioneer Woman Cooks, and I regularly hear from people who've made it with great success. Crowd-pleaser!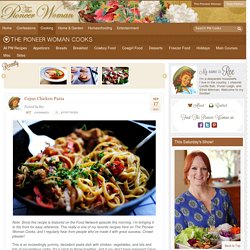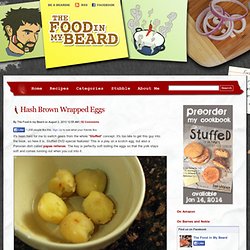 It's been hard for me to switch gears from the whole " Stuffed " concept. It's too late to get this guy into the book, so here it is, Stuffed DVD special features! This is a play on a scotch egg, but also a Peruvian dish called papas rellenas .
Interesting Food Idea: Cinnamon Roll Waffles.. - Fun Pics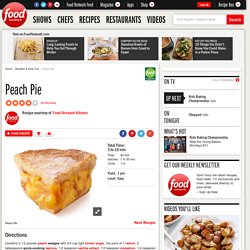 Combine 2 1/2 pounds peach wedges with 3/4 cup light brown sugar , the juice of 1 lemon , 2 tablespoons quick-cooking tapioca , 1/2 teaspoon vanilla extract , 1/2 teaspoon cinnamon , 1/4 teaspoon nutmeg and 1/4 teaspoon salt . Pour into pie shell; dot with 4 tablespoons butter . Perfect All-Butter Piecrust
Peach Pie Recipe : Food Network Kitchens
Peach-Pecan Rugelach Recipe
I went to see tUnE-yArDs on Monday night with some friends, and as always we wanted to cook a meal that somehow related to the show we were heading to. Sometimes this is hard to do , but other times it seems to come naturally . Finding culinary inspiration in Merrill's lyrics seemed like it would be tough, but my sister knew what she wanted to make without hesitation. "How about something layered, because of all the vocal and instrument layering in the music?" From there we worked together to come up with this deep, colorful, and multi-flavored lasagna version of a timpano. If you are using words like deep, colorful, and multi-flavored to describe something inspired by tUnE-yArDs, you already know you got it right!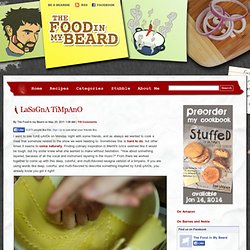 Emeril's Crab Mac & Cheese Appetizer with Roasted Red Pepper Sauce"
Honey Mustard Chicken Fingers
Bubba's Beer Bread Recipe
Fried Green Tomatoes Recipe
Recipe and photo updated July 8, 2011 Ever since that wonderful movie with Jessica Tandy I've wondered about fried green tomatoes. People really eat green tomatoes? I recall being served fried tomatoes for breakfast while visiting London, but they weren't green. Curious as usual, we found some big green tomatoes at the farmer's market last weekend and just had to try them. The verdict at this house?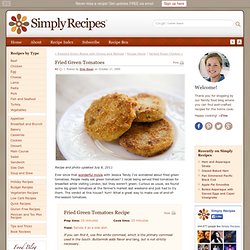 "Finger Licking Good" Dennis Coffey (1975)
Or, call them egg rolls or spring rolls, these beauties are my mom's claim to fame! Egg rolls with sweet soy sauce and rice vinegar dipping sauce Egg rolls hold many treasured memories for me…. The other day I went to pick up some Chinese take out and smiled to myself because in the corner there were 3 teenagers peeling lumpia wrappers for egg rolls and chatting.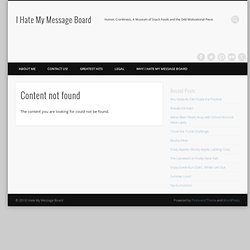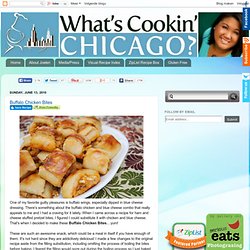 One of my favorite guilty pleasures is buffalo wings, especially dipped in blue cheese dressing. There's something about the buffalo chicken and blue cheese combo that really appeals to me and I had a craving for it lately. When I came across a recipe for ham and cheese stuffed pretzel bites, I figured I could substitute it with chicken and blue cheese. That's when I decided to make these Buffalo Chicken Bites ... yum! These are such an awesome snack, which could be a meal in itself if you have enough of them.
Well folks, not much going on this week. I'm still 800 million degrees, which I guess is normal if you're a human incubator. I've become a stretchy, elastic waisted pants spokesperson, because ohmygah maternity jeans are the most incredible thing I have ever worn , excepting for the sweat pants I model almost daily.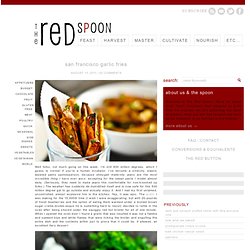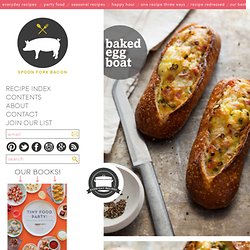 Breakfast is my favorite meal. I like to drink iced coffee and watch the cream climb its way down the chunky ice cubes in a dazy before the caffeine hits. I like to order bacon with whatever I'm eating.
This tastes JUST like P.F. Chang's Mongolian Beef! You can serve it how P.F.