Clothes
July 28, 2010 I'm so excited to post about this! When I met Dana , I fell in love with the skirt she was wearing . She made it herself (obviously) and she showed us how simply she'd shirred the waistband. The next day, during the mystery workshop at Whipstitch, we were encouraged to use thrifted tees. I'm devastatingly terrified of knits so I steered clear and made my (award winning) cotton fabric dress.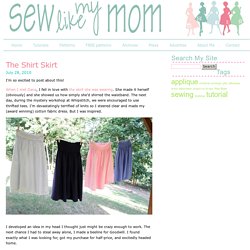 tiered-skirts
Just Pull One On With its elastic waist comfort, this skirt is great casual wear when made in cotton gauze. But you can also dress it up with fancy fabric. The choice is yours. The best thing about this skirt is it can be made without a pattern. Our skirt is sized for 36-38 hips but you can alter it to fit you by following the directions below.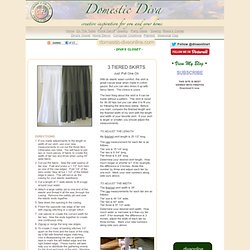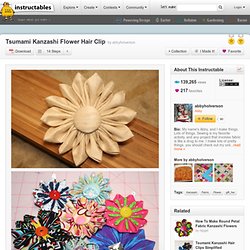 I have recently discovered these beautiful folded flowers, and I absolutely cannot stop making them. Tsumami Kanzashi are traditional Japanese folded flowers, made from small squares of silk, that are typically worn by women as hair ornaments in traditional hairstyles. They seem really complicated and intricate, and they can certainly be that if you really want; but it completely doesn't need to be! I love to make them out of cotton prints that are fun and bright, in addition to scraps of silk and other light fabrics.
When the Night Comes Dress
Ivy Designs Dress Pattern Guest Giveaway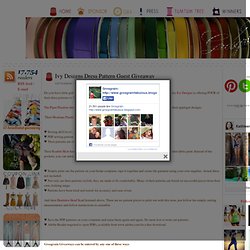 Do you have little girls in your life? Don't you just love little girl dress patterns? Yes.
Made this little dress yesterday for my five-year-old, just in time for the first day of summer. I based the design on a Liberty of London for Target dress that we bought in the spring — a very simple pattern with elastic at the top and simple straps (without elastic). I used just a 1/2 yard of fabric so added the gingham bit at the bottom for length.
Summer Dress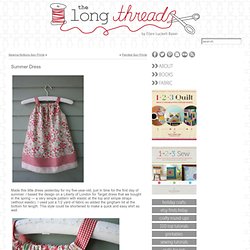 *updated with winner, below* Several months ago, my mom happened upon a local fabric store she hadn't any idea existed a few mere miles from her house. " Bec !
Girl's Gone Child: Gone Style: Fable's Homemade Dresses
My apple green bedsheet dress had a circular bottom. This is how you make one. 1. Measure your waistline, or where you want the waistline of your dress to fall.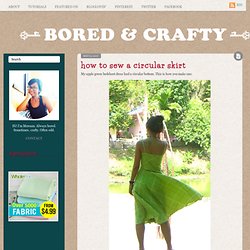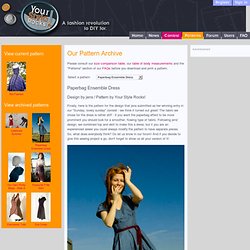 Paperbag Ensemble Dress - Patterns Archive
Please consult our size comparison table , our table of body measurements and the "Patterns" section of our FAQs before you download and print a pattern. Paperbag Ensemble Dress Design by jens / Pattern by Your Style Rocks!
Free Clothes Patterns Posted on | October 9, 2008 | 7 Comments I originally became interested in patternless sewing, many years ago, because I had a hard time finding patterns in my size. Nowadays, patterns in large sizes abound. Nonetheless, I still love my pattern free sewing.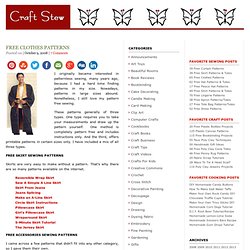 children's sizes
Keep your tots tidy with this adorable project apron. We used the year's hottest new fabric: laminated cotton. Ours is from Heather Bailey's , but everyone who's anyone is adding this fab fabric choice to their new collections. We give you some tips for sewing with it (it's really easy), and a free toddler-sized pattern to download.
Retro Fun: Toddler's Laminated Project Apron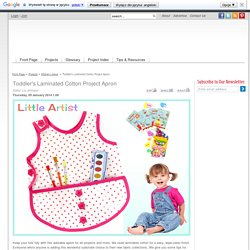 Asian-inspired shirt and dress sewing pattern Sizes 2T, 3T, 4T, 5T, 6 and 7 Chic and sophisticated with an Asian-flair, Kyoko will soon become a favorite in your child's wardrobe. It features a criss-cross bodice with two sleeve length options and a very full attached stripwork skirt in two lengths. Kyoko has a loose-fitting style so there's no need for buttons, zippers or snaps. A sweet obi-style sash pulls everything together and finishes the look.
I've seen a few blog posts for converting men's pants or jeans to toddler-sized jeans, but they all seem to involve a lot of seam-ripping, deconstructing and lots of sewing. I was after a quicker and easier way - I get limited time at the sewing machine each week, and I want to see results! Also, the pants I had picked up cheaply at the thrift store had an unfortunate blow-out, so I needed to work around this: I prefer flat-front pants (where there is only elastic in the back) as I think they look a bit snazzier, but you could erasily do this with a full elastic waist. Here's my quick and easy method to convert thrifted mens pants into toddler/boy pants: Materials Required Men's jeans or pants Elastic to fit in waist-band (I about 9 inches of 1/2 inch wide elastic) Thread Sewing Machine Serger/Overlocker (optional) Scissors Seam ripper Procedure Step 1.
Cook Clean Craft: Men's Jeans to Toddler Pants Tutorial
Free Patterns and Projects for Children's Clothes
Tools and Materials Baby bootie template Felt Fusible webbing tape Iron Needle and thread Sewing machine Binder clips Snaps Baby Booties How-To 1. Download and print baby bootie template . 2.
Baby Booties - Martha Stewart Crafts
As a single mom of 3 under the age of 3 I was always looking to save money by figuring out how to make those neat pricey things that everyone has gotta have! I LOVE baby legs, but with 7.5 month old twin girls at $12-$15 a pair it adds up fast. So I came up with a tutorial to share on my blog for free with other moms just like me.
Everything Your Mama Made & More