Business Models
How To Become A Business Model Architect. Our first article in this series, titled "Include Business Model Review as a New Year Resolution", described a method to reveal weaknesses in your business model.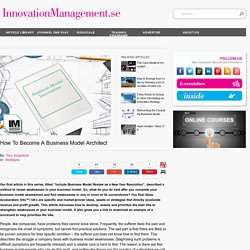 So, what do you do next after you complete your business model assessment and find weaknesses in one or more of its cornerstones? You find Value Accelerators (VA)™! VA's are specific and market-proven ideas, assets or strategies that directly accelerate revenue and profit growth. This article discusses how to develop, assess and prioritize the best VAs to strengthen weaknesses in your business model. It also gives you a link to download an example of a scorecard to help prioritize the VAs. Everything you need to know about Moleskine ahead of its IPO. Moleskine, the Milan-based maker of cardboard-bound notebooks meant to evoke an earlier era of the Parisian arts scene, is going forward with an initial public offering on the Italian Stock Exchange.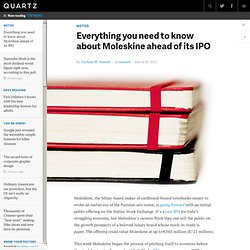 It's a rare IPO for Italy's struggling economy, but Moleskine's owners think they can sell the public on the growth prospects of a beloved luxury brand whose stock-in-trade is paper. The offering could value Moleskine at up to €560 million ($722 million). This week Moleskine began the process of pitching itself to investors before the stock begins trading on April 3. It filed a 771-page prospectus (PDF in Italian) that offers the first detailed look at the company, which fell into the hands of private equity in 2006.
Fighting for the next business model in the pets industry. I had in the last months the chance to apply business model thinking & innovation on several, very diverse industries: the airline and travel industry, the pets industry and some time ago on the media industry, particularly newspaper.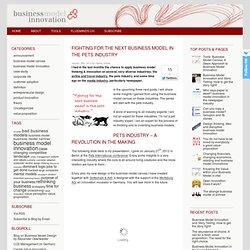 In the upcoming three next posts, I will share some insights I gained from using the business model canvas on these industries. The series will start with the pets industry. A word of warning to all industry experts: I am not an expert for these industries. I'm not a pet industry expert. Behavioral economics summit for startups. Business Models on the Web | Professor Michael Rappa. Business models are perhaps the most discussed and least understood aspect of the web.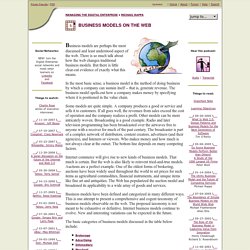 There is so much talk about how the web changes traditional business models. But there is little clear-cut evidence of exactly what this means. Digital Templates. Develop and communicate new business models In addition to the Business Model Kits for brainstorms, you can play around with the digital templates below.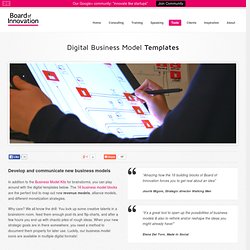 The 16 business model blocks are the perfect tool to map out new revenue models, alliance models, and different monetization strategies. Why care? We all know the drill: You lock up some creative talents in a brainstorm room, feed them enough post-its and flip-charts, and after a few hours you end up with chaotic piles of rough ideas. When your new strategic goals are in there somewhere, you need a method to document them properly for later use. Business Model Evaluator. Business Model Generation Canvas Workshop.Bruno Wattenbergh #swbru. Three Steps to a Sound Business Model. By Tom Taulli Portero, which operates an online market for luxury goods, secured $6.6 million in venture capital financing earlier this month.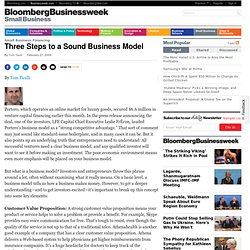 In the press release announcing the deal, one of the investors, LFE Capital Chief Executive Leslie FrÉcon, lauded Portero's business model as a "strong competitive advantage. " That sort of comment may just sound like standard-issue boilerplate, and in many cases it can be. But it also points up an underlying truth that entrepreneurs need to understand: All successful ventures need a clear business model, and any qualified investor will want to see it before making an investment. Silicon Valley may be too smart for its own good. Silicon Valley's greatest asset is the brilliant minds that roam the buildings and inhabit the coffee shops.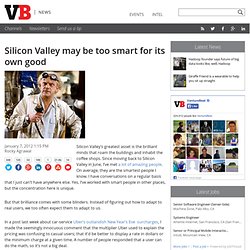 Since moving back to Silicon Valley in June, I've met a lot of amazing people. On average, they are the smartest people I know. I have conversations on a regular basis that I just can't have anywhere else. Jonas M Luster's answer to Are independent restaurants a big enough market for a new product.
---