Academic journals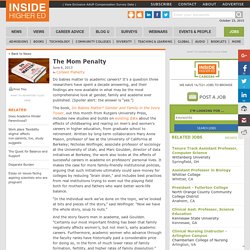 Do babies matter to academic careers? It's a question three researchers have spent a decade answering, and their findings are now available in what may be the most comprehensive look at gender, family and academe ever published.
New book on gender, family and academe shows how kids affect careers in higher education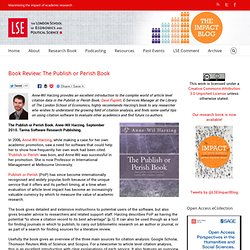 Anne-Wil Harzing provides an excellent introduction to the complex world of article level citation data in the Publish or Perish Book. Dave Puplett, E-Services Manager at the Library of The London School of Economics, highly recommends Harzing's book to any researcher who wishes to understand the growing field of citation analysis, and finds some useful tips on using citation software to evaluate other academics and find future co-authors. The Publish or Perish Book. Anne-Wil Harzing.
Book Review: The Publish or Perish Book
University of Pretoria. Department of Library Services: Open Scholarship Programme (openUP)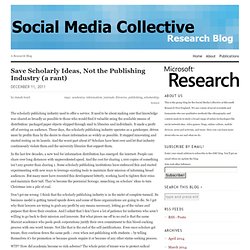 The scholarly publishing industry used to offer a service. It used to be about making sure that knowledge was shared as broadly as possible to those who would find it valuable using the available means of distribution: packaged paper objects shipped through mail to libraries and individuals. It made a profit off of serving an audience.
Save Scholarly Ideas, Not the Publishing Industry (a rant)
The Socialist Register was founded by Ralph Miliband and John Saville in 1964 as 'an annual survey of movements and ideas' from the standpoint of the independent new left. It is currently edited by Leo Panitch and Greg Albo, assisted by an editorial collective of eminent scholars in Africa, Asia, Europe and the Americas. Each volume is focused on a topical theme and characterized by the inclusion of relatively long, sustained analyses which cut across intellectual disciplines and geographical boundaries.
Socialist Register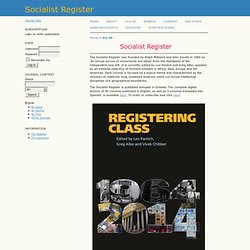 ephemera
New Left Review