Architecture
15 Awesome And Inspiring Offices. I'm sure you've seen this office plenty of times on the internet.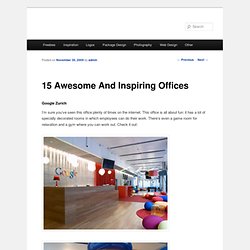 This office is all about fun: it has a lot of specially decorated rooms in which employees can do their work. There's even a game room for relaxation and a gym where you can work out. The Most Frightening Bridge Ever. Storseisundet Bridge (Norwegian: Storseisundetbrua) is the longest of the eight bridges that make up the Atlanterhavsveien ("The Atlantic Road"), the road connection from the mainland Romsdal peninsula to the island of Averøya in Møre og Romsdal county, Norway.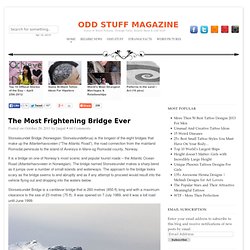 It is a bridge on one of Norway's most scenic and popular tourist roads – the Atlantic Ocean Road (Atlanterhavsveien in Norwegian). The bridge named Storseisundet makes a sharp bend as it jumps over a number of small islands and waterways. The approach to the bridge looks scary as the bridge seems to end abruptly and as if any attempt to proceed would result into the vehicle flying out and dropping into the waters below. Storseisundet Bridge is a cantilever bridge that is 260 metres (850 ft) long and with a maximum clearance to the sea of 23 metres (75 ft).
It was opened on 7 July 1989, and it was a toll road until June 1999. Climate-Friendly Sunken Pool Converts into Radiant Floor. Here's a truly glamorous idea for a pool.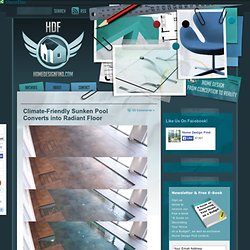 A sinking pool! The apparently permanent stone floor in this room literally slowly drops to reveal the pool underneath. See-through church, Limburg/Belgium by Gijs Van Vaerenbergh. Project Details: Location: Limburg, Belgium Type: Cultural - Public Architects: Gijs Van Vaerenbergh - www.gijsvanvaerenbergh.com Photos: Kristof Vrancken / Z33 – Mine Daelemans photo by Kristof Vrancken / Z33 The church is a part of the Z-OUT project of Z33, house for contemporary art based in Hasselt, Belgium.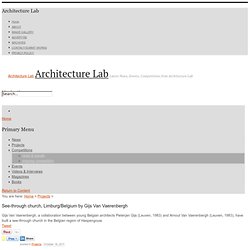 Z-OUT is an ambitious longterm art in public space project that will be realised on different locations in the Flemish region of Limburg over the next five years. photo by Kristof Vrancken. Tangga House by Guz Architects. By Eric • Mar 23, 2011 • Selected Work The Tangga House is another Singapore's dream home designed by Guz Architects.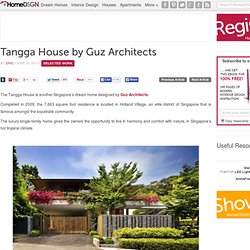 Completed in 2009, the 7,663 square foot residence is located in Holland Village, an elite district of Singapore that is famous amongst the expatriate community. The luxury single-family home gives the owners the opportunity to live in harmony and comfort with nature, in Singapore's hot tropical climate. Tangga House by Guz Architects: Luxury Villa Amanzi, Thailand by Original Vision Studio.
Luxury Villa Amanzi, Thailand by Original Vision Studio The Villa Amanzi by Architect firm Original Vision Studio is a stunning modern vacation residence located in the exclusive Cape Sol on the West coast of Phuket, Thailand.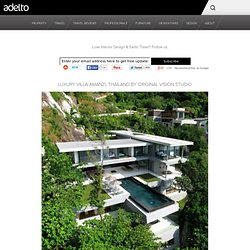 Villa Amanzi is a stunning six bedroom residence with a 15m infinity pool and breathtaking views over the Andaman Sea. This luxury villa enjoys a spectacular headland location along Kamala's exclusive Millionaires Mile and captures cool gentle breezes all year round with uninterrupted sea views from every vantage point, in one of the most breathtaking locations Phuket has to offer. The contemporary design features ultra modern architecture and interiors that combine to provide guests with the optimal environment to relax and unwind in unspoilt luxury. Photograpghy by Marc Gerritsen & Helicam Asia Aerial Photography.
Kuroshio Sea - 2nd largest aquarium tank in the world - (song is Please don't go by Barcelona) Natural architecture - an emerging art movement that is exploring mankind's desire to reconnect to the earth, through the built environment. © copyrights designboom, all rights reserved. all material published remains the exclusive copyright of designboom. no contents, including text, photographs, videos, etc. may be reproduced in whole or in part without the written consent of designboom. in addition, no material or contents may be reproduced on the world wide web by techniques of mirroring, framing, posting, etc. without the written consent of designboom.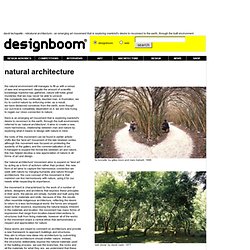 ---