Architecture
Space Saving Tiny Apartment, New York. This tiny but highly sophisticated studio apartment in the East Village of NYC has made us very proud, thanks to JPDA.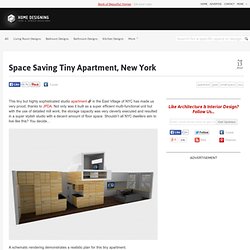 Not only was it built as a super efficient multi-functional unit but with the use of detailed mill work, the storage capacity was very cleverly executed and resulted in a super stylish studio with a decent amount of floor space. Shouldn't all NYC dwellers aim to live like this? You decide… A schematic rendering demonstrates a realistic plan for this tiny apartment. Pour a Glass of Wine and Sink Into One of These Unusual, Luxurious Bathtubs. This is the photo that got me busy writing this ideabook.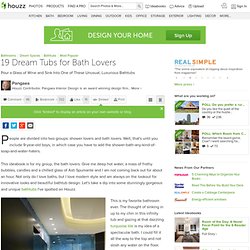 I had never before seen a glass-sided bathtub, and this one completely appeals to my minimalist tendencies. The architect, David Stern, says the client wanted this custom made tub for the kids bathroom and wanted it to feel fresh and fun. Well, he succeeded. But here is what I want to know: Why should the kids have all the fun? I have a rubber ducky. Www.stumbleupon.com/submit?url=http%3A%2F%2Fwww.1kindesign.com%2F2011%2F10%2F22%2Fthe-chimney-house-in-sao-paulo%2F. Exceptional open concept home in Brazil. A tropical summer retreat in Rio de Janeiro. Before and after pictures of kitchen, bath and interior remodeling projects » Products and Inspiration. The Spittal Shower by Drummonds almost makes me reconsider my deeply rooted love for bath tubs.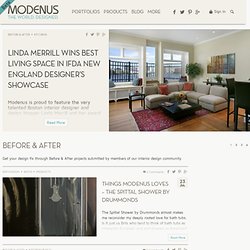 Is it just us Brits who tend to think of bath tubs as inherently European and and showers as American? Possibly, but this particular … Our sincere thanks to Barbara Elza Hirsch of Elza B. Design of Acton Massachusetts for sending in images of a couple of rooms that have undergone her tender attentions. Be still my heart - gravity defying kitchen sculptures by Splinter Works. I love to talk as much as the next blogger and likely even more than some, but on rare occasions I feel that shutting up would be a really good idea.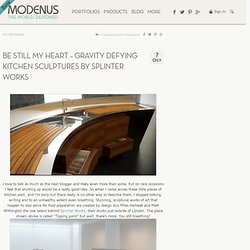 So when I came across these little pieces of kitchen porn, and I'm sorry but there really is no other way to describe them, I stopped talking, writing and to an unhealthy extent even breathing. Stunning, sculptural works of art that happen to also serve for food preparation are created by design duo Miles Hartwell and Matt Withington the raw talent behind Splinter Works, their studio just outside of London. The piece shown above is called "Tipping point" but wait, there's more. You still breathing?
43 Most incredibly inspirational living rooms « 1 Kind Design. Sep25 Advertisement 1.3K Flares1.3K Flares × Your living room is one of the most important rooms in the entire house, and most of the people spend a lot of time in their living room.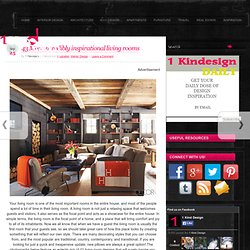 A living room is not just a relaxing space that welcomes guests and visitors; it also serves as the focal point and acts as a showcase for the entire house. Enchanting luxury estate for sale in Whistler « 1 Kind Design. Nov22 Advertisement We discovered this exclusive and one of a kind mountain property on Sotheby's, offering all the privacy and seclusion one could hope for in this perfectly designed home in Whistler, British Columbia.
Most incredible loft space in SoMa. Brilliant Stairs photos. Contemporary | Design Idea & Image Galleries on Dornob. It takes history to define a movement – so what will they call what we now term 'contemporary' in the future?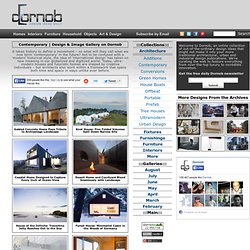 Not to be confused with a 'modern' historical style, the idea of 'international design' has taken on new meaning in our globalized and digitized world. Today, ultra-modern houses and futuristic homes are shaped by creative individuals – but architects also work within a framework that spans both time and space in ways unlike ever before.
---