LANDSCAPE ARCHITECTURE
SWA - Landscape Architecture, Planning and Urban Design
PWP Landscape Architecture
Aberdeen, the Granite City, deserves a green heart that is designed not only for the 21st century but for all time. The Aberdeen City Gardens are blessed with a truly rich and diverse context which can provide the setting for a spectacular piece of urban theatre. With one strong move we will double the size of the garden, tie tog et hera crucial piece of city fabricand createa sun-filled natural auditorium and international arts centre.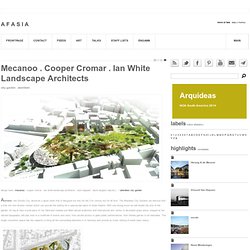 Mecanoo . Cooper Cromar . Ian White Landscape Architects
Landscape Architecture Works | Landezine
Martha Schwartz Partners (MSP)
♥ живые стены
Erick van Egeraat
balmori associates, inc.
index
JENSEN & SKODVIN ARKITEKTKONTOR as
acconci studio
OBRA ARCHITECTS
Tuesday 15 April, 5:30pm IN PROGRESS: Casa Para Un Viñatero in San Juan, Argentina is under construction OBRA in SEOUL: Jennifer Lee will present at the YOUNG ARCHITECT FORUM KOREA CONFERENCE PARTY VOL5 at Daelim Art Gallery at Guseulmoa Billiard Hall, Seoul, Tuesday 26 March 2013, 5:30pm-10:00pm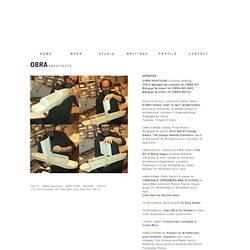 Arriola & Fiol arquitectes
Who We Are Expertise + Passon. About Landworks
Landworks Studio, LLC landscape architecture firm
Claude Cormier + Associés // Architecture de paysage + Design urbain - Landscape Architecture + Urban Design
PAOLO BURGI
Ilex - paysages & urbanisme
Le groupement composé par Ilex [Paysages & Urbanisme] (mandataire), ON (Concepteur Lumière), SOGETI (BET) et Ceryx (Circulation) est retenu par la Communauté Urbaine Lille Métropole, les Villes de Lille et Lambersat pour requalifier l'avenue de Dunkerque et les espaces attenants. Lire l'article Après plus d'un an de travaux le Chantier de l'Espace Brotteaux (Lyon) est réceptionné. Lire l'article Nadia Herbreteau, Architecte Paysagiste chez Ilex interviendra pour une des tables rondes sur le forum ville durable du salon Pollutec 2012.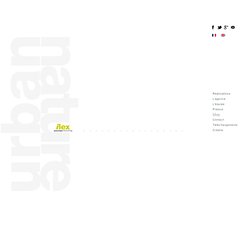 SLA - Urbanity | Strategy | Landscape
LE BALTO: ATELIER FÜR ARCHITEKTUR, LANDSCHAFTSARCHITEKTUR UND MEHR
vetschpartner Landschaftsarchitekten AG
rush\wright associates VicUrban@Cardinia Road Wetland Parkville Neuroscience Facility World Trade Centre
rush\wright associates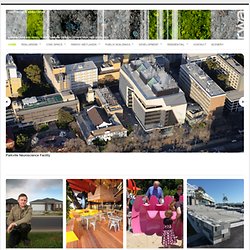 Landworks Studio
deltavormgroep landschapsarchitectuur stedebouw civiele techniek
oslund.and.assoc. - main menu
Atelier Dreiseitl • Startseite
www.burgerlandschaftsarchitekten.de
Home
Buro Sant en Co landschapsarchitectuur - home
Jos van de Lindeloof Tuin- en Landschapsarchitectenbureau
fontaines / fuentes ornamentales / fountains
土人设计网 - 北京土人景观与建筑规划设计研究院 (城市设计、建筑设计、环境设计、城市与区域规划、风景旅游地规划、城市与区域生态基础设施规划)
Taylor Cullity Lethlean – landscape architecture urban design and environmental planning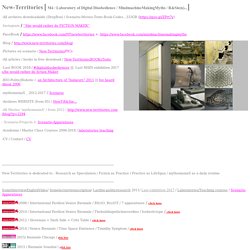 NEW-TERRITORIES / R&Sie(n)
-New-Territories blog / http://www.new-territories.com/blog/ -Twitter / @RSie_n / http://twitter.com/#!/RSie_n -Contest_Fab+Install+Exhibit / FR Curator / January 2012 / -Comput-DIY / INDIA / 25 may-25 June 2012 / -Comput-DIY / Greece / 7 june-27 June 2013 / -Comput-DIY / Thailand / 1-21 July 2014 /
G R O S S . M A X . [GROSS MAX landscape architects]
Landslag - landslagsarkitektar, Reykjavík
JRA | JANET ROSENBERG + ASSOCIATES - Landscape Architecture / Urban Design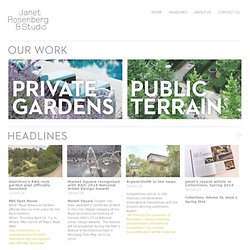 Janet Rosenberg & Studio is pleased to announce that we have been selected, through a multi stage process, to implement our design for the 14th Floor Healing Garden at the Princess Margaret Cancer Centre, Toronto. The intent of the exterior courtyard is to provide patients fighting cancer, their family members, and the dedicated staff with an uplifting and inspiring garden that references nature, but is comprised entirely of artificial materials.
SOFTROOM Architects London
ecosistema urbano . agency
index