Sharing/Gift Economy
Future Positive » GIFTegrity. Timothy Wilken, MDSynergic science is the study of how things can best work together.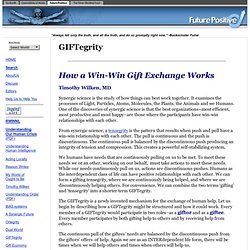 It examines the processes of Light, Particles, Atoms, Molecules, the Plants, the Animals and we Humans. One of the discoveries of synergic science is that the best organizations–most efficient, most productive and most happy–are those where the participants have win-win relationships with each other.From synergic science, a tensegrity is the pattern that results when push and pull have a win-win relationship with each other. Giftegrity. GIFTegrity is a software that allows to organise the gift economy and non-reciprocal exchange, produced by Timothy Wilken and friends at Synearth.org.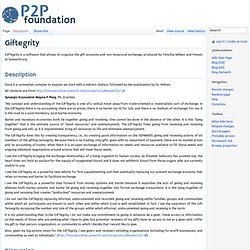 Since it is somewhat complex to explain we start with a indirect citation, followed by the explanation by Dr. Wilken. All citations are from Synergic Economist Wayne F. 37 ways to join the Gift Economy. You don't have to participate in a local currency or service exchange to be part of the cooperative gift economy.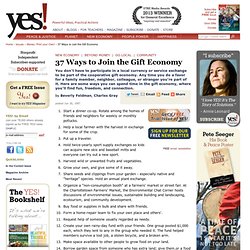 Any time you do a favor for a family member, neighbor, colleague, or stranger you're part of it. Here are some ways you can spend time in the gift economy, where you'll find fun, freedom, and connection. To Build Community, an Economy of Gifts by Charles Eisenstein. For a multitude of reasons, we need to need each other. posted Dec 27, 2011 Wherever I go and ask people what is missing from their lives, the most common answer (if they are not impoverished or seriously ill) is "community.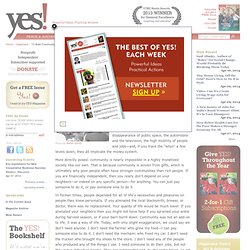 " What happened to community, and why don't we have it any more? There are many reasons—the layout of suburbia, the disappearance of public space, the automobile and the television, the high mobility of people and jobs—and, if you trace the "whys" a few levels down, they all implicate the money system. More directly posed: community is nearly impossible in a highly monetized society like our own.
Occupy Wall St - The Revolution Is Love. Why small is bountiful - and can change systems. Two events last week cast a spotlight on one of the key issues as we try to navigate our way through recession and economic restructuring towards (we presumably hope) a better future: is there any point in localism when the issues we face are so massive?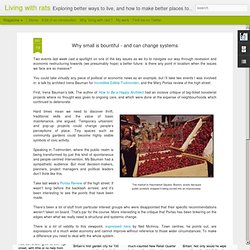 You could take virtually any piece of political or economic news as an example, but i'll take two events I was involved in: a talk by architect Irena Bauman for Incredible Edible Todmorden, and the Mary Portas review of the high street. First, Irena Bauman's talk. The author of How to Be a Happy Architect had an incisive critique of big-ticket boosterist projects where no thought was given to ongoing care, and which were done at the expense of neighbourhoods which continued to deteriorate. Hard times mean we need to discover thrift, traditional skills and the value of basic maintenance, she argued.
---