Sharing/Gift Economy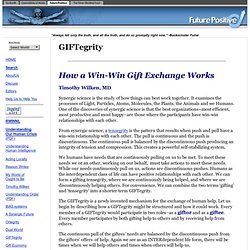 Timothy Wilken, MDSynergic science is the study of how things can best work together. It examines the processes of Light, Particles, Atoms, Molecules, the Plants, the Animals and we Humans. One of the discoveries of synergic science is that the best organizations–most efficient, most productive and most happy–are those where the participants have win-win relationships with each other.From synergic science, a tensegrity is the pattern that results when push and pull have a win-win relationship with each other.
Future Positive » GIFTegrity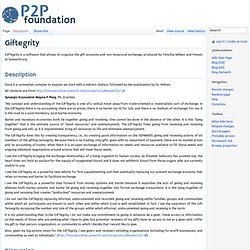 GIFTegrity is a software that allows to organise the gift economy and non-reciprocal exchange, produced by Timothy Wilken and friends at Synearth.org.
Giftegrity
37 ways to join the Gift Economy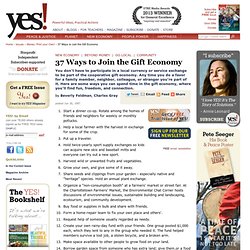 You don't have to participate in a local currency or service exchange to be part of the cooperative gift economy. Any time you do a favor for a family member, neighbor, colleague, or stranger you're part of it. Here are some ways you can spend time in the gift economy, where you'll find fun, freedom, and connection.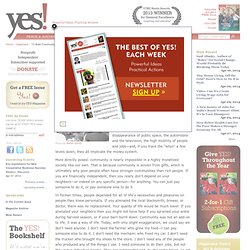 To Build Community, an Economy of Gifts by Charles Eisenstein
For a multitude of reasons, we need to need each other. posted Dec 27, 2011
Why small is bountiful - and can change systems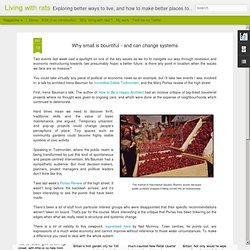 Two events last week cast a spotlight on one of the key issues as we try to navigate our way through recession and economic restructuring towards (we presumably hope) a better future: is there any point in localism when the issues we face are so massive?