Tea
www.missclasses.com/mp3s/Prize CD 2010/Tea/cannaboid.pdf
It's no mystery why Highland Spring is the favourite UK bottled water brand. We bottle what nature gives us and bring it straight to you. That may sound easy, but the hard part is making sure that nothing gets in nature's way. We go to great lengths to look after the source of our water, keeping it pure and protected from anything and everything that doesn't grow, hop or nibble at the wild heathers and grass that cover our land. That's why we're very proud to be recognised by the Soil Association who, in 2001, named the source of Highland Spring in the Ochil Hills, Perthshire, as certified organic land.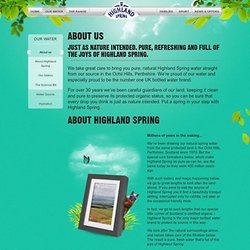 About us — Highland Spring
Hourglass-Inspired Tea Timer both Times & Steeps Hot Tea
No unnecessary bells or whistles (let alone a power cord) are needed for this elegantly simple tea timer-and-steeper to do its job. Just pour, screw, tip and wait. A pair of identical glass vessels twist together mechanically via a plastic joiner piece to form the sealed middle between two hourglass-shaping bulbs, each sized for a single two-person serving of tea. Three settings in the middle allow the user to select a duration for the steeping process, depending on tea types and personal preferences. Once flipped, the top glass drains into the bottom and the loose leaves linger above – beautifully elemental and visually useful. Designed by Pengtao Yu .
Water. Norwegian Glacial Natural Mineral Water
Choosing Water For Tea: A Simple Guide « Kasora.com's World of Tea
There are a great deal of people in the world drinking tea. They may be Chinese, Japanese, English, American, Friesian, Tibetan, Russian, French, Korean, Thai, Indian, or just about anyone from any of the world's 193 different countries. They may drink their tea hot, iced, or lukewarm.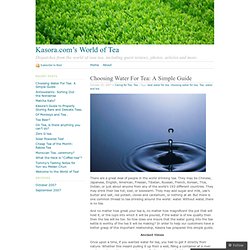 " i love that there is a replacement filter for my inginuitea! yes, it was a bit of a pain to fit into the cup, but a tip: put some hot water into your pot and drop in the new filter. let it sit for maybe 10 minutes. the hot water should make the plastic on the new fliter pliable enough to just pop it into place! "
IngenuiTEA Teapot from Adagio Teas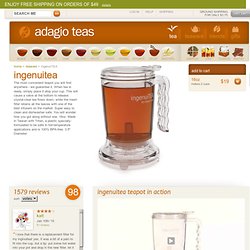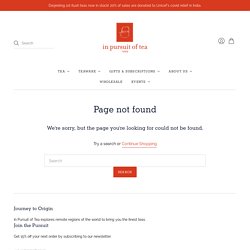 Oolong tea is gently rolled after picking, allowing its essential oils to slowly oxidize. This reaction to the air darkens the leaf and produces distinctive fragrances. Once the leaf has developed properly, the tea maker must stop the oxidation by heating it rapidly in a process called 'panning.' The leaf is then rolled into its final shape. Producing this handcrafted tea properly is extremely labor intensive. The tea maker must carefully balance many elements in the critical first few hours, including weather conditions, leaf quality, and oxidation time.
Oolong Tea
Yi-Xing Wooden Handle
Teapots | Bodum Online Shop
Oolong Tea
Yixing Clay Teapots
Yixing Purple Clay Pottery Year:2006 Sort:Traditional Handicraft Area:Jiangsu Province Serial:Ⅷ-1 Declarer:Yixing City, Jiangsu Province Yixing County, in the southern part of Jiangsu Province in East China, has been the center of Chinese teapot production since the Song Dynasty (960-1279).
Yixing Purple Clay Pottery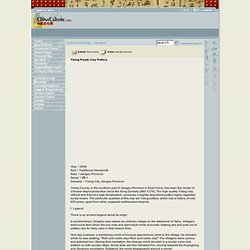 Teaware
By: Brooke Bond Ref: DBE053 490g Over the years, Brooke Bond Taj Mahal Tea has been a symbol of the best of India. Master blenders and tasters painstakingly select the finest teas to create a robust, full-bodied brew with a lingering aroma that makes you say... "Wah Taj!"
Taj Mahal Tea - Brooke Bond
We Are Tea | Buy Award Winning Whole Leaf Tea Online
Japanese Green Tea, Japanese Teapot and Tetsubin: HOJO TEA
Please feel free to send us an e-mail for enquiry at: We accept various kinds of credit card through Paypal. Only if customer prefer other option of payment, we suggest "Bank Transfer".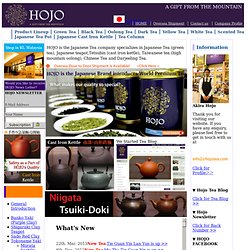 Sourced from: Taiwan Louise the tea taster says Oolong tea, sometimes known as blue tea, is part fermented and this one - tung ting - takes its name from the mountainous region in Taiwan where it is grown.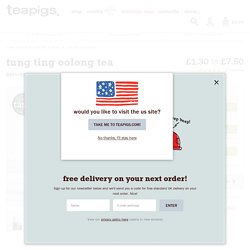 oolong tea