Tea Party
Tea Party Rep. Joe Walsh: Abortion Never Needed To Save Life Of Mother. Wonderful news this morning, ladies!!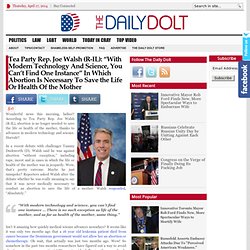 According to Tea Party Rep. Joe Walsh (R-IL), abortion is no longer needed to save the life or health of the mother, thanks to advances in modern technology and science. Nurses Say Letting Uninsured Patients Die Is No Laughing Matter Following Abhorrent Audience Cheers. Press Release Press Release, 9/13/11 Contact Information | Media Center For Immediate ReleaseSeptember 13, 2011Contact: Charles Idelson, (510) 273-2246, Carl Ginsburg, (917) 405-1060, or Donna Smith, (773) 617-4493 Nurses Say Letting Uninsured Patients Die Is No Laughing Matter Following Abhorrent Audience Cheers at CNN-Tea Party Debate.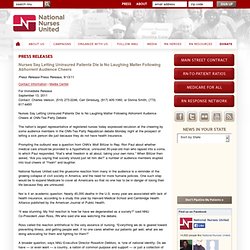 Debt deal: anger and deceit has led the US into a billionaires' coup | George Monbiot. There are two ways of cutting a deficit: raising taxes or reducing spending.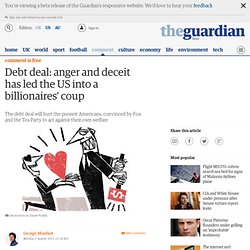 Raising taxes means taking money from the rich. Cutting spending means taking money from the poor. Not in all cases of course: some taxation is regressive; some state spending takes money from ordinary citizens and gives it to banks, arms companies, oil barons and farmers. But in most cases the state transfers wealth from rich to poor, while tax cuts shift it from poor to rich. Tea party to GOP: We could make 'examples' of you over debt ceiling. Tea party activists are closely watching the talks over raising the debt ceiling and putting the squeeze on moderate Republicans.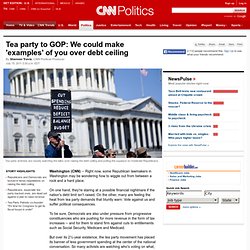 Republicans and Democrats are locked in tense negotiations on raising the debt ceilingRepublicans, especially tea party-backed ones, are dead set against a plan to raise revenueTea Party Patriots co-founder: "It's time for Congress to get its fiscal house in order" Washington (CNN) -- Right now, some Republican lawmakers in Washington may be wondering how to wiggle out from between a rock and a hard place.
On one hand, they're staring at a possible financial nightmare if the nation's debt limit isn't raised. On the other, many are feeling the heat from tea party demands that bluntly warn: Vote against us and suffer political consequences. Tea-Party-Treading.jpg (JPEG Image, 500x353 pixels) An annotated guide to the economics of Michele Bachmann - How the World Works. The wrong John Wayne. Rep.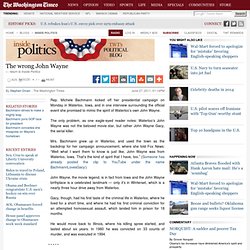 Michele Bachmann kicked off her presidential campaign on Monday in Waterloo, Iowa, and in one interview surrounding the official event she promised to mimic the spirit of Waterloo's own John Wayne. The only problem, as one eagle-eyed reader notes: Waterloo's John Wayne was not the beloved movie star, but rather John Wayne Gacy, the serial killer.
Mrs. Bachmann grew up in Waterloo, and used the town as the backdrop for her campaign announcement, where she told Fox News: "Well what I want them to know is just like, John Wayne was from Waterloo, Iowa. That's the kind of spirit that I have, too." CBS' Bob Schieffer calls out Bachmann for her lies on 'Face The Nation'. She responds by prevaricating. Who steers the Tea Party? Jon Stewart Mocks Sarah Palin | Jon Stewart on Palin on Hannity | Video. Jon Stewart opened The Daily Show tonight by discussing the miraculous recovery of "the victim our nation has been tracking so closely for the last ten days."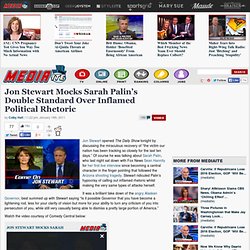 Of course he was talking about Sarah Palin, who last night sat down with Fox News Sean Hannity for her first live interview since becoming a central character in the finger pointing that followed the Arizona shooting tragedy. Stewart ridiculed Palin's hypocrisy of calling out inflamed rhetoric whilst making the very same types of attacks herself. It was a brilliant take down of the angry Alaskan Governor, best summed up with Stewart saying "Is it possible Governor that you have become a lightening rod, less for your clarity of vision but more for your ability to turn any criticism of you into persecution of you, while still very casually being able to dismiss a pretty large portion of America."
Watch the video courtesy of Comedy Central below: 44 'Tea Party Caucus' Members voted to renew Patriot Act - Los Angeles LA County Libertarian. Fourty four out of the 52 Republican members the official 'Tea Party Caucus' voted to renew expiring provisions of the Patriot Act on February 8th.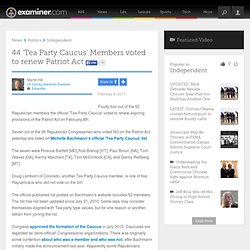 Seven out of the 26 Republican Congressmen who voted NO on the Patriot Act yeterday are listed on Michelle Bachmann's official 'Tea Party Caucus' list. The seven were Roscoe Bartlett [MD],Rob Bishop [UT], Paul Broun [GA], Tom Graves [GA], Kenny Marchant [TX], Tom McClintock [CA], and Denny Rehberg [MT]. Doug Lamborn of Colorado, another Tea Party Caucus member, is one of five Republicans who did not vote on the bill. The official published list posted on Bachmann's website includes 52 members. The list has not been updated since July 21, 2010. Sarah Palin Fans Trying To Rewrite Wikipedia History Of Paul Revere's Ride To Match Her Crazy Version.
Sarah Palin's midnight ride, twice over - The Fact Checker. "We saw where Paul Revere hung out as a teenager, which was something new to learn.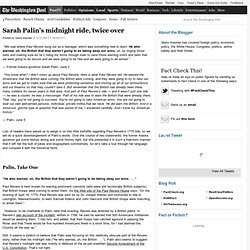 He who warned, uh, the British that they weren't going to be taking away our arms, uh, by ringing those bells and making sure as he's riding his horse through town to send those warning shots and bells that we were going to be secure and we were going to be free and we were going to be armed." — Former Alaska governor Sarah Palin, June 2 "You know what? I didn't mess up about Paul Revere. High schooler challenges Bachmann to debate on U.S. Constitution | Minnesota Independent: News. Politics. Media. A high school sophomore from New Jersey is challenging Rep.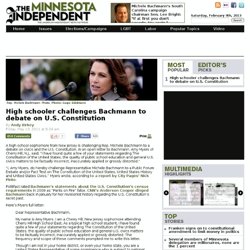 Michele Bachmann to a debate on civics and the U.S. Constitution. In an open letter to Bachmann, Amy Myers of Cherry Hill, N.J., said, "I have found quite a few of your statements regarding The Constitution of the United States, the quality of public school education and general U.S. civics matters to be factually incorrect, inaccurately applied or grossly distorted." Bristol Palin's Nonprofit Paid Her Seven Times What It Spent On Actual Teen Pregnancy Prevention. By Lee Fang on April 5, 2011 at 5:24 pm "Bristol Palin's Nonprofit Paid Her Seven Times What It Spent On Actual Teen Pregnancy Prevention" In 2009, Sarah Palin's daughter Bristol joined a teen pregnancy prevention nonprofit called the Candie's Foundation.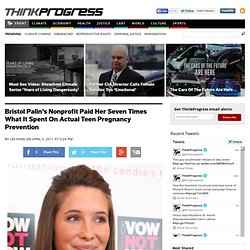 12 Examples of Stunning Hypocrisy from Tea Party Republicans In One Short Month | Tea Party and the Right. February 2, 2011 | Like this article? Join our email list: Why the "birther" myth refuses to die. - By Christopher Beam. The "birther" myth is the political equivalent of a horror-movie villain: Not only does it refuse to die, but every time someone tries to kill it, it only comes back stronger.
The latest incarnation: a bill approved 31-22 by the Arizona House of Representatives on Monday that would require 2012 presidential candidates to offer proof of citizenship in order to qualify for the ballot. The proposal has little chance of becoming law. For that to happen, the state Senate would have to pass it and the governor would have to sign it. But it's still the closest birtherism has come to being codified. Democrats have dutifully condemned the bill. Rand Paul Supporter Stomps Head Of Female MoveOn Member Outside KY Debate (VIDEO) Josh Green flagged an incident that occurred outside of the Rand Paul-Jack Conway debate in Lexington, Kentucky Monday night that's already dominating the news in Kentucky and could easily make headlines nationally.
As the candidates arrived, a group of Paul supporters pulled a female MoveOn member to the ground and held her there as another Paul supporter stomped on the back of her head and neck. According to the Louisville Courier Journal, "Lauren Valle of MoveOn.org approached Paul and tried to give him an "employee of the month award" from Republicorp...a fake business MoveOn created to symbolize what it says is the merger of the GOP and business interests controlling political speech.
" The whole thing was caught on video. Watch: At the end of the clip, Valle is alert and speaking with the press. Tea Party ?founder?: Palin, Gingrich a ?joke? | Raw Story. By Daniel TencerWednesday, October 20, 2010 22:46 EDT A financial blogger and ex-CEO credited with being one of the original "founders" of the Tea Party has come out against the movement, saying it has been hijacked by the very people it was protesting and is now obsessed with "guns, gays and God."
In a "message" to the Tea Party Wednesday, Karl Denninger declared that he "ought to sue" anyone who uses the Tea Party name "for defamation." O'Donnell In 2007: Scientists Have Created Mice With Human Brains! Delaware Republican Senate nominee Christine O'Donnell has previously sounded the alarm against cloning and stem-cell research — and what she's described as the current terror of human-mouse hybrids.
We previously noted that O'Donnell had attacked her primary opponent, Congressman Mike Castle, based on his support for stem-cell research. But it turns out that her interest in the subject goes back much further. Rand Paul Supporter Tim Profitt Wants Stomping Victim To Apologize To HIM. US veteran who killed unarmed Iraqis wins Tea Party support | World news. Tea Party NY Gov Candidate's E-Mails Exposed: Racism, Porn, Bestiality. Poll Finds Tea Party Backers Wealthier and More Educated.
Hate Comes to Orange County. Texas immigration bill has big exception. Girl, 9, and father shot dead by 'anti-immigrant vigilantes' as she begged for life.
---