Nuage de mots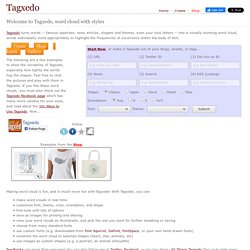 Tagxedo turns words -- famous speeches, news articles, slogans and themes, even your love letters -- into a visually stunning word cloud, words individually sized appropriately to highlight the frequencies of occurrence within the body of text. Create Shop Learn Gallery The following are a few examples to show the versatility of Tagxedo, especially how tightly the words hug the shapes. Feel free to click the pictures and play with them in Tagxedo.
What's a word cloud? An attractive arrangement of randomly positioned words, where the most important words are bigger than the others. What are they for? Mostly for fun! ...and now you can print them automatically onto items: a great idea for making custom gifts!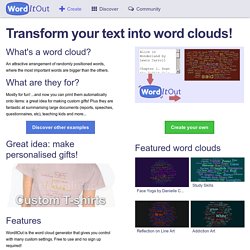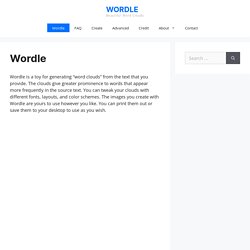 Wordle is a toy for generating "word clouds" from text that you provide. The clouds give greater prominence to words that appear more frequently in the source text. You can tweak your clouds with different fonts, layouts, and color schemes. The images you create with Wordle are yours to use however you like. You can print them out, or save them to the Wordle gallery to share with your friends. Create your own.
Nuage de mots avec WORDLE - partie 2 on Vimeo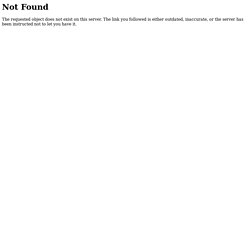 The American Heritage ® Dictionary invites you to create a self-portrait using your words. The words that tell the world who you are. That make you, you. It's easy to do, whether you decide to link to places like Facebook for words you've already written or write something new specifically for your portrait. Either way, you'll create a unique image that can be shared and saved and will remind everyone that You Are Your Words. Image Tips
You Are Your Words - AHD
Voici 6 solutions gratuites en ligne pour créer des nuages de mots-clés : Wordle Il s'agit de l'outil le plus connu de création de nuage de mots-clés. Il offre de nombreuses possibilités de paramétrage et de personnalisation des nuages générés. Il fonctionne (sans inscription) soit à partir d'une sélection de mots, de termes figurant à une adresse URL (possédant un flux RSS ou Atom) ou de mots-clés existants d'un compte Delicious. Wordle fonctionne avec Java et la seule possibilité de sauvegarder le nuage de mots-clés généré est d'en faire une capture d'écran.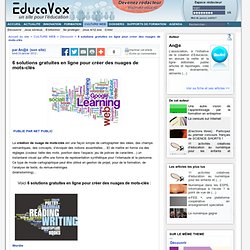 Click where you would like the new target to go The following words could not fit in the word cloud: Tips: try increasing the size of the word cloud or decreasing the size of the text. Size width: 800px ; height: 400px ; ( 1 : 0.5 ) Tips & tricks: Enter a website address to use it's feed as the source text