Food
Ham Stuffed Eggs. 6 eggs, boiled 1/2 cup ham or finely sliced proscuitto, minced 1/2 large Vidalia onion, minced 1 clove garlic, finely minced 2 tablespoons freshly minced parsley 1 tablespoon butter, melted 1/2 teaspoon salt 1/4 teaspoon black pepper pinch of cayenne pepper paprika, for sprinkling (optional) 10 crushed saltines (for coating) 1 egg, beaten (for dipping) olive oil spray Simmer the eggs slowly for 20 minutes.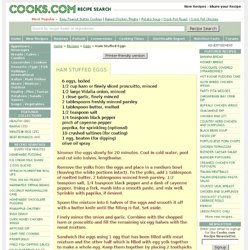 Cool in cold water; peel and cut into halves, lengthwise. Remove the yolks from the eggs and place in a medium bowl (leaving the white portions intact). To the yolks, add 1 tablespoon of melted butter, 2 tablespoons minced fresh parsley, 1/2 teaspoon salt, 1/4 teaspoon black pepper and a dash of cayenne pepper. DIY Pinata Cookies Recipe. 50 Slow Cooker Recipes. Life is busy around my house.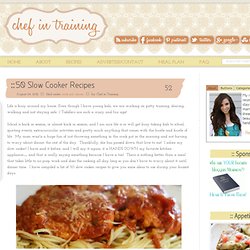 Even though I have young kids, we are working on potty training, sharing, walking and just staying safe :) Toddlers are such a crazy and fun age! School is back in session, or almost back in session, and I am sure life is or will get busy taking kids to school, sporting events, extracurricular activities and pretty much anything that comes with the hustle and bustle of life. My mom was/is a huge fan of just throwing something in the crock pot in the morning and not having to worry about dinner the rest of the day. Thankfully, she has passed down that love to me! I adore my slow cooker! Guinness Chocolate Pudding or "Chocolate Guinness Goodness" Everywhere I look food bloggers are preparing celebratory dishes for St.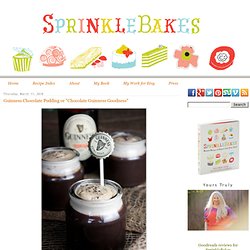 Patrick's day in the same way, with Guinness! While I claim to love everything, (it's a growing problem) I have to say that extra dark stout beers are not high on the list. The last dark beer I tried was on the aforementioned (previous post) Scotland trip, and I didn't even drink half of what was given to me. It was good, but so filling! Afterward, I felt like I had eaten a large, yeasty piece of bread. Brown Butter Double Fudge Chocolate Chip Cookie Dough Cookies. Little bit of a mouthful there.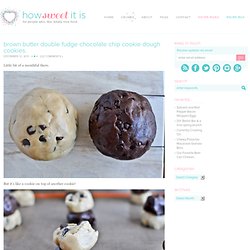 But it's like a cookie on top of another cookie! Yeah. Homemade Junk Food | Spark. Homemade Twix bars.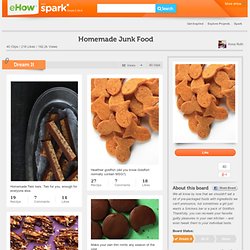 Two for you, enough for everyone else. 19 Reclips 14 Likes Healthier goldfish (did you know Goldfish normally contain MSG?) Don't Make Dad Settle for Boring Potatoes: Hasselback Potatoes. Dad's going to remember exactly why he loves steak and potatoes when you serve him these.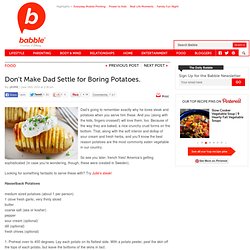 And you (along with the kids, fingers crossed!) Will love them, too. Because of the way they are baked, a nice crunchy crust forms on the bottom. That, along with the soft interior and dollop of sour cream and fresh herbs, and you'll know the best reason potatoes are the most commonly eaten vegetable in our country. So see you later, french fries! Mac-and-cheese-o-matic. Culture Connoisseur Badge Culture Connoisseurs consistently offer thought-provoking, timely comments on the arts, lifestyle and entertainment.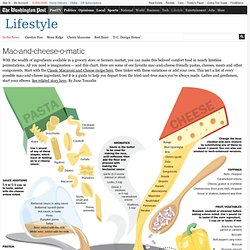 More about badges | Request a badge. Mac and Cheese Cups. Share this image Share It Pin It When I first graduated from college, and was living in a dreary little apartment, mac and cheese was one of my few specialties.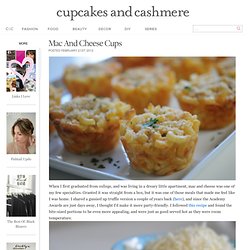 Granted it was straight from a box, but it was one of those meals that made me feel like I was home. Homemade Baked Mozzarella Sticks. Mozzarella sticks are a delicious treat, probably one of the most popular appetizers at restaurants, and a fun party food.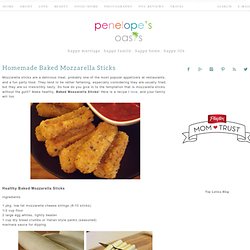 They tend to be rather fattening, especially considering they are usually fried, but they are so irresistibly tasty. So how do you give in to the temptation that is mozzarella sticks without the guilt? Make healthy, Baked Mozzarella Sticks! Here is a recipe I love, and your family will too. Ingredients. Homemade Chicken Nuggets. These homemade chicken nuggets had the right texture, flavor and consistency of a standard McDonald's Chicken McNugget.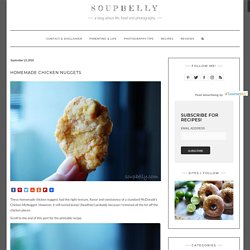 However, it still tasted leaner (healthier) probably because I trimmed all the fat off the chicken pieces. I used a mixture of chicken breast meat and thigh meat, hoping the thigh meat would add some extra richness, flavor and moistness after frying. I remember back in the old days, McDonald's used to only use dark meat, that's when I liked them the most. Fast Dessert Recipes - Quick Desserts to Make at Home. Oreo Cookies-Recipe Oreo-Oreo Recipes-Cheese Cupcakes-Oreo Cheesecakes. Posted by Grace Massa Langlois on Wednesday, 21st July 2010 I have yet to meet a person who doesn't like Oreo cookies or Cream Cheesecake Cupcakes. Who could resist cream-filled chocolate sandwich cookies?
Not Me! Especially the double-stuffed Oreo cookie, it's one of the best cookies for dunking into a cold glass of milk. I went out yesterday to do my weekly shop, came home, and before I was able to bring in the first grocery bag Matt was hunting for the cookies and cream ice cream. Bacon Egg Pancake Cups. Monday, April 11, 2011 Bacon Egg Pancake Cups About a month ago I made some bacon egg toast cups. What I really liked about them is that they have all the breakfast items in one neat package. I started thinking about how it could be better, and I realized what would be a more perfect breakfast for me is to have pancakes, bacon and eggs. So I set out to try making a bacon egg pancake cup.
Chicken Pot Pie Biscuits. Cute & Easy Mini Santa Hat Brownies. *Post Edit:- I had forgotten to mention the step where the sugar goes in the recipe image below….as pointed out by several people in the comments. So, Add the sugar when you melt the chocolate in the butter. =) I have now edited the image to include that and I hope this clears things up. Sorry again for the accidental omission. Jam Filled Butter Cookies Recipe. Kolacky Recipe at Epicurious. First of all, let me say that Kolacky and Kolache are NOT the same thing. It is a totally DIFFERENT dessert -- kolache are more of a sweet yeast bread than a cookie. Therefore, I would disregard the comments made by the Kolache maker that reviewed here.
Many European countries claim this cookie as their own, even Scandanavia. Inspired Entertaining: Homemade Flavored Sugar Cubes. Ditch The Packets With 5 Homemade Hot Drinks. Pumpkin-Pie Cream Cheese Recipe. Mini Pumpkin Pies in a Muffin Tin. Hi Hat Cupcakes. Forgotten Cookies. Mint Chocolate Chip Cake. How To Make Perfect Brownies. Crack brownies. 10-Minute Recipes 10-Minute Dinner Ideas. Dark Chocolate Guinness Cake with Bailey's Buttercream. Easy OREO Truffles Recipe. Food - Beverages - How to Make Instructables. Healthy Diet Tips – Discover The Foods Behind a Healthy Diet at WomansDay.com. Meet the Personal Chef of Pot. Coca-Cola Cupcakes. The Infamous Jacques Torres Chocolate Chip Cookies. Nougat Cookies Recipe. Pull Apart Lemon Coffee Cake. Homemade Protein Bars « askGeorgie.com. Mocha Rum Brownie Bites. Coconut Chicken Salad with Warm Honey Mustard Vinaigrette | Ginas Skinny Recipes.
Easy Meatloaf. Root Beer Float Cupcakes. Cucumber-Basil Egg Salad Recipe at Epicurious. Mint Chocolate Chip Cookies Recipe. Common Ingredient Substitutions Article. Garlic-y Mashed Potato Cakes with Raspberry Ginger Mustard Chutney. Grilled Chicken with Peanut Sauce Recipe. Better Than Takeout Orange Chicken. Chocolate Chip Cookie Dough Truffles. Eggs Fried with Tomato in Bell Pepper Ring Recipe | My Homemade Food Recipes & Tips @EnjoyYourCooking.com. How to Use a Muffin Pan | Feels Like Home. Apple Pie Egg Rolls. Bacon-wrapped Jalapeno Chicken Bites. Top 200 Foods | Food Sources of Nutrients.
---