Recommendation engines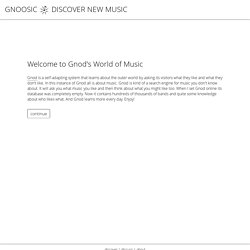 Gnoosic - Discover new Music
Welcome to Gnod's world of music... Even if you don't know what you are looking for - gnod will find it. Gnod is a self-adapting system that learns about the outer world by asking its visitors what they like and what they don't like. In this instance of gnod all is about music. Gnod is kind of a search engine for music you don't know about. It will ask you what music you like and then think about what you might like too.
Important: You must only upload images which you have created yourself or that you are expressly authorised or licensed to upload. By clicking "Publish", you are confirming that the image fully complies with TV.com's Terms of Use and that you own all rights to the image or have authorization to upload it. Please read the following before uploading Do not upload anything which you do not own or are fully licensed to upload.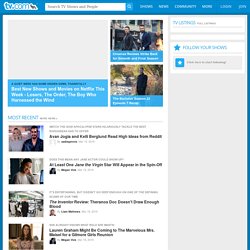 Watch TV Online for Free - Clicker
TV Show Recommendation
ShowFilter: Personalized TV Show Recommendations
Find movies, TV shows matching your taste & watch online - Jinni
Posted by RatingZone on 09/3/07 in Featured The RatingZone website is currently undergoing renovations. We hope to return as an awesome social site soon! RatingZone is a patented recommendation technology that we feel is the most accurate on earth. This site is an opportunity to discuss RatingZone and other recommendation technologies as well as a place to just discuss some great books, movies, music, games and even TV shows. The RatingZone Recommendation Center seeks to empower consumers to take control of their entertainment choices to get exactly what they want, exactly when they want it.
RatingZone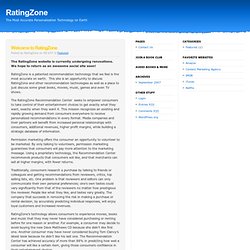 Movielens
LibraryThing
Bookins
FilmAffinity
Anime-Planet
Watch Instantly
mufin: Simply Discover Music With Your Music Discovery Engine
mufin is a leading expert for audio identification and music recommendation software solutions powered by its own patented advanced audio fingerprinting technology. mufin's software solution for audio identification allows you as a broadcaster, content producer, advertiser, brand, app developer or service provider to bridge the gap between TV (on-air) and a companion device (online), enabling Real-time identification of any audio content, e.g. recognition of TV or radio channel, TV series or shows, TV advertisement, movies etc.