Desserts
Hot cocoa cookies
I am a teeny bit obsessed with the cookies from the most recent issue of EveryDay with Rachael Ray magazine. This recipe is the second of many cookie recipes on my list to make this holiday season. Sweets are taking over my life! Just ask my coworkers. They get my leftovers, and I think they are starting to resent the way I am forcing them to eat sinful treats.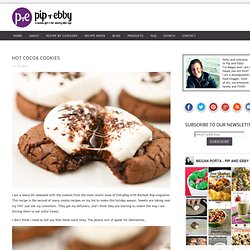 September 16, 2011 | Print | E-mail | Filed under coffee, espresso, pumpkin Note: This post was originally published on September 1st, 2009. I have since revised the recipe and instructions for a much easier-to-make syrup that is even better than the original version. I hope you enjoy the syrup, and I hope you enjoy saving money on pumpkin spice lattes!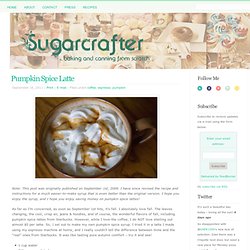 Pumpkin Spice Latte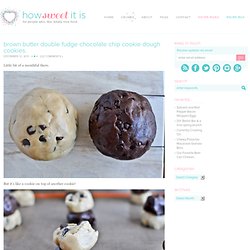 Brown Butter Double Fudge Chocolate Chip Cookie Dough Cookies
Little bit of a mouthful there. But it's like a cookie on top of another cookie! Yeah. Like total dirty cookie on cookie action. Except these ones down below wanted to try a few different positions. I dunno… they're all mixed up.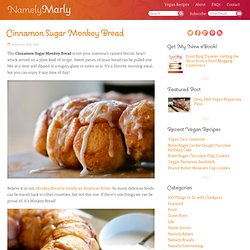 This Cinnamon Sugar Monkey Bread is not your mamma's canned biscuit, heart-attack served on a plate kind of recipe. Sweet pieces of yeast bread can be pulled one bite at a time and dipped in a sugary glaze or eaten as is. It's a favorite morning meal, but you can enjoy it any time of day! Believe it or not, Monkey Bread is mostly an American fetish. So many delicious foods can be traced back to other countries, but not this one. If there's one things we can be proud of, it's Monkey Bread!
Monkey Bread
Nutter Butter- Peanut Butter Pie If you hadn't heard already, our food blogging friend Jennie lost her husband Mikey last week. It was a sudden and unexpected loss. The kind of loss that is unfair in every way. In the midst of grieving for her lost love, she asked the world to make a peanut butter pie (Mikey's favorite) and share it with someone they love.
Nutter Butter Peanut Butter Pie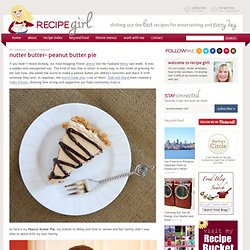 This past weekend my husband and I got together with some friends and had a game night. Game nights are fun, aren't they? Aren't they? Well, they are supposed to be fun. Until…
Santa Hat Party Mix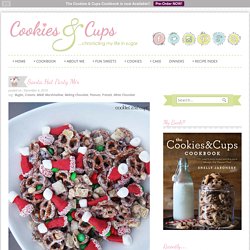 Triple-Chocolate Flourless Brownies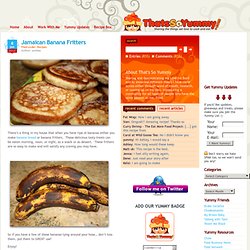 There's a thing in my house that when you have ripe ol bananas either you make banana bread or banana fritters. These delicious tasty treats can be eaten morning, noon, or night, as a snack or as dessert. These fritters are so easy to make and will satisfy any craving you may have. So if you have a few of these bananas lying around your hose… don't toss them, put them to GREAT use!
Jamaican Banana Fritters - ThatsSoYummy.com
Oreo and Peanut Butter Brownie Cakes
Well these naughty little treats are well….naughty but oh so necessary. There are a bit like my Brownie Covered Oreo's from last Christmas but enhanced with layers of peanut butter and a double decker stack of Oreos in each little brownie cake. They are simply prepared in cupcake liners. Hope you enjoy this ultra sweet little cake Ok, I have to brag about this brownie mix from Trader Joes for a second.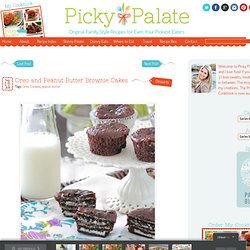 Slutty Brownies
Now I don't want to over sell this, so I'm going to be conservative and simply say, that these are... The Best Brownies In The WORLD. I know, big statement. They're called Slutty Brownies because they're oh so easy, and more than a little bit filthy. They're best served warm from the oven, with good quality vanilla ice cream (devastatingly I didn't have any in the freezer this time, so I guess I'll just have to make them again).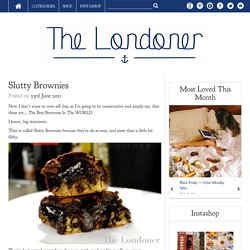 I know, I've made a few pies lately. But see how these are different? Look at how adorable these are! I mean, come on. Could you resist?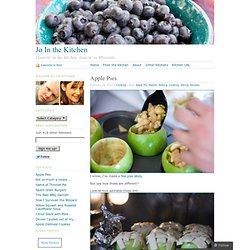 Apple Pies
Recipe Print 5 Minute Chocolate Mug Cake recipe - All recipes Australia NZ
Snickerdoodle Muffins
Snickerdoodle Muffins I have been obsessed with Pinterest lately! Pinning this and that all while trying not to drool all over my computer. While I like pinning lots of different things, as you can imagine, I love pinning recipes.
I am so in love with these darn chocolate lava cookies! What is it about a warm, gooey chocolate chip cookie stuffed with decadent, rich, melted chocolate that makes it so irresistible?? Especially when topped with vanilla ice cream. These are one of Kev's favorite homemade treats, and he usually asks me to make them at least once a week. They are so simple to whip up, and such a treat! Let's make some right now :)
Chocolate Chip Lava Cookies
This No Bake Chia Cheesecake vegan dessert is cool and creamy with a thick, rich, "cream cheese" flavor. Each chia-studded slice has a mellow, cozy sweetness from the agave syrup - a hint of tart too. I like to call this a soft serve cheesecake because it has a silky texture that melts in your mouth - yet it still stands up to being sliced like a traditional cheesecake. The nutty oat crust is cheerfully healthy and rustic - with walnuts and oats.
No-Bake Vegan Chia Cheesecake. Crumble Crust
SUNDAY BAKER: Peanut Butter Slice Cookies
One of the most frequent questions I get from blog readers is: "How do you eat all this food and stay so thin?" Never trust a skinny chef. I will tell you how it works for me (I know everyone is different). I've had comments that suggest maybe I don't eat any of the food I make.
This "cookie" is not very cookie-like, but I really love them. They're more like a "chewie" and are so good for you, with no processed sugars, flour, or artificial sweeteners. This is not Grandma's big, soft oatmeal cookie. Not at all. These are chewy and not real sweet, but have just enough natural sweetness to make you smile. The smile part is because it satisfies the sweet tooth and the waist line!
SUNDAY BAKER: Maple & Oats Cookie Chews (Flourless)
SUNDAY BAKER: Pumpkin & Cream Bread (low calorie)
Valentine's Day / chex mix
Recipe: Sticky Lemon Rolls with Lemon Cream Cheese Glaze
Snickerdoodle Bars
Green Juice Sorbet
One Bowl Vanilla Cupcakes For Two
Graham Cracker S'mores Cookies
Baked Cinnamon Bun Donuts with Vanilla Cream Cheese Glaze
Chocolate Cheesecake Cake
Chocolate Chip Cookie Dough Dip
peanut butter pretzel bites « Two Tiny Kitchens
A brownie by any other name…
Fluffernutter Cookies, 3 Ingredients!
cinnamon mini-cheesecakes with pumpkin pie frosting
Nutella and Peanut Butter Stripe Bread
Dark Chocolate Pumpkin Truffles
Pumpkin Cupcakes With Cinnamon Cream Cheese Frosting
» Hot Chocolate on a Stick {Gift Idea} » Whipperberry
espresso chocolate chip shortbread cookie recipe
The Infamous Jacques Torres Chocolate Chip Cookies
Cinnamon Toast Rolls
White Chocolate Peppermint Bark Cheesecake
Chai Tea Eggnog Cookies Recipe