Iraq / Irak
The U.S. government may be considering military action in response to chemical strikes near Damascus. But a generation ago, America's military and intelligence communities knew about and did nothing to stop a series of nerve gas attacks far more devastating than anything Syria has seen, Foreign Policy has learned.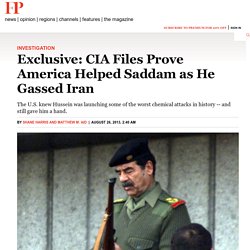 Exclusive: CIA Files Prove America Helped Saddam as He Gassed Iran - By Shane Harris and Matthew M. Aid
BAGHDAD: Bomb attacks in Shi'ite areas of Baghdad and in northern Iraq killed more than 30 people on Wednesday, following weeks of violence by Sunni Islamist insurgents determined to spark sectarian confrontation. Tensions between minority Sunni Muslims and the Shi'ites who now lead Iraq are at their highest since U.S. troops pulled out in 2011, with relations coming under more pressure by the day from the largely sectarian conflict in neighbouring Syria. A string of car bombings hit Shi'ite neighbourhoods across the Iraqi capital Baghdad on Wednesday evening, including one outside a cafe, killing at least 18 people, police said.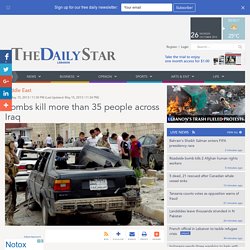 Bombs kill more than 30 people across Iraq | News , Middle East | THE DAILY STAR - Pale Moon
An al-Qaeda-linked group has claimed responsibility for a coordinated suicide bomb and gun attack on the country's justice ministry last week that killed at least 18 people. Islamic State of Iraq (ISI), an umbrella group for al Qaeda-linked fighters, said in a statement published online on Sunday that it had ordered the suicide bombers to attack the building floor by floor and "liquidate" its enemies inside.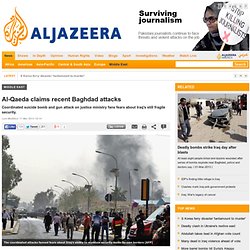 Al-Qaeda claims recent Baghdad attacks - Middle East
Interviewee: Richard N. Haass, President, Council on Foreign RelationsInterviewer: Bernard Gwertzman, Consulting Editor March 14, 2013
The Iraq Invasion Ten Years Later: A Wrong War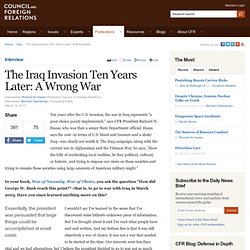 US ex-defence head Rumsfeld defends Iraq war handling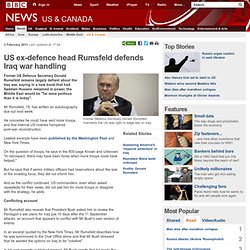 3 February 2011Last updated at 12:24 ET Former Defence Secretary Donald Rumsfeld maintains the US was right to wage war on Iraq Former US Defence Secretary Donald Rumsfeld remains largely defiant about the Iraq war, saying in a new book that had Saddam Hussein remained in power, the Middle East would be "far more perilous than it is today". Mr Rumsfeld, 78, has written an autobiography due out next week.
Fewer Iraqi civilians met violent deaths in 2010 than any year since the 2003 U.S.-led invasion, a human rights group reported today. It warned, however, that a persistent, low-level conflict may continue to kill civilians "for years to come."
Iraq Civilian Deaths Drop to Lowest Level Since 2003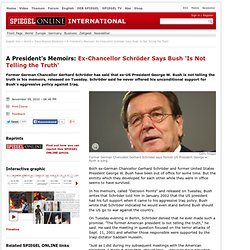 Both ex-German Chancellor Gerhard Schröder and former United States President George W. Bush have been out of office for some time. But the enmity which they developed for each other while they were in office seems to have survived. In his memoirs, called "Decision Points" and released on Tuesday, Bush writes that Schröder told him in January 2002 that the US president had his full support when it came to his aggressive Iraq policy. Bush wrote that Schröder indicated he would even stand behind Bush should the US go to war against the country. On Tuesday evening in Berlin, Schröder denied that he ever made such a promise.
A President's Memoirs: Ex-Chancellor Schröder Says Bush 'Is Not Telling the Truth' - SPIEGEL ONLINE - News - International
The Official Web Site | United States Forces - Iraq
Iraq Wardiary, one more leak, one more pearltree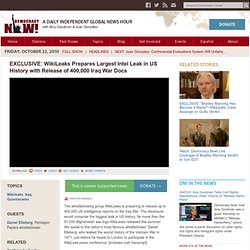 EXCLUSIVE: WikiLeaks Prepares Largest Intel Leak in US History with Release of 400,000 Iraq War Docs
This is a rush transcript. Copy may not be in its final form. JUAN GONZALEZ: The whistleblowing group WikiLeaks plans to release the largest cache of classified US documents in history tomorrow. The group is expected to post up to 400,000 intelligence reports on the Iraq war.
Michael Eisenstadt The overthrow of Saddam Hussein's regime provided Iran with a historic opportunity to transform its traditional Iraqi enemy into a partner or ally. A long, porous border and extensive political, economic, religious and cultural ties provide Iran the potential for significant influence in Iraq. Iranian attempts to wield this influence, however, have often backfired, leading to a nationalist backlash by Iraqis and tensions with the Iraqi government.As the United States withdraws its forces from Iraq, the uncertain security situation will present both risks and opportunities for Iran.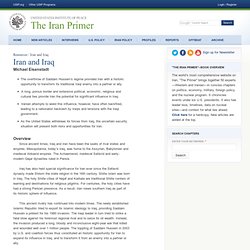 Iran and Iraq | The Iran Primer
Iraq Invites France to Build Nuclear Reactor - Defense News - Mo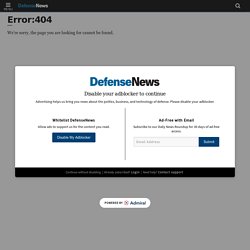 By AGENCE FRANCE-PRESSE Published: 22 Feb 08:19 EST (13:19 GMT) BAGHDAD - Iraq Electricity Minister Karim Wahid on Feb. 22 invited France to help Iraq build a nuclear power plant, three decades after Paris constructed a reactor near Baghdad that was bombed by Israeli warplanes. "We have had very good relationships with French companies," the minister told AFP in an interview. "I am willing to enter into contacts with the French nuclear agency and to start to build a nuclear power plant, because the future is nuclear," he said. "This is my perspective."
2009-02-22 - Une invitation qui plaira sans doute à Israël. by alcide Mar 1
Dans l'Irak actuel, où la nouvelle Constitution adoptée en 2005 a instauré un régime fédéral, les Conseils régionaux, en attendant de se transformer en véritables gouvernements régionaux, sont dotés d'importants pouvoirs, notamment financiers. Quels sont les enjeux et que signifie les résultats ? L'un des enseignements le plus significatif de ces élections réside dans le retour de la communauté arabe sunnite dans le jeu politique irakien alors qu'elle en fut relativement absente jusqu'à aujourd'hui. En boycottant les précédents scrutins, les sunnites sont restés en quelque sorte sur le quai pour voir passer le train. Effectivement, ces deux ou trois dernières années, on a assisté au développement des provinces du Sud (chiites) et du Nord (kurdes), tandis que les provinces arabes sunnites apparaissaient comme les plus grandes perdantes.
Élections provinciales en Irak : un pas vers la stabilisation ?
The Iraq War via the National Security Archive