US "war on terror" - Iraq
Indicting the US Government for crimes against humanity – unsealing the evidence
It is opportune that only a couple of weeks after three-times human rights awardee Bradley Manning presented his case against the US Government for war crimes committed in Iraq and Afghanistan, details have been released (see video trailer above) of a 15 month investigation by the Guardian and the BBC into torture centres in Iraq, coordinated by US Special Forces commander, James Steele, and former US General Petraeus.
An exclusive golf course backs onto a spacious two-storey house. A coiled green garden hose lies on the lawn. The grey-slatted wooden shutters are closed.
From El Salvador to Iraq: Washington's man behind brutal police squads | World news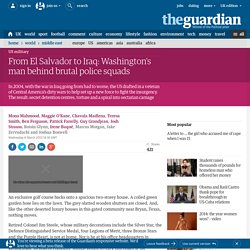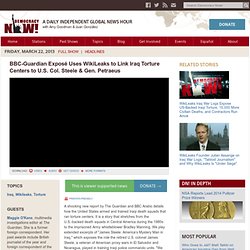 This is a rush transcript. Copy may not be in its final form.
BBC-Guardian Exposé Uses WikiLeaks to Link Iraq Torture Centers to U.S. Col. Steele & Gen. Petraeus | Democracy Now!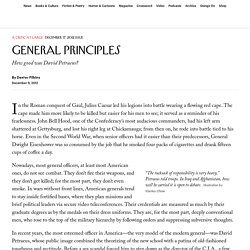 In the Roman conquest of Gaul, Julius Caesar led his legions into battle wearing a flowing red cape. The cape made him more likely to be killed but easier for his men to see; it served as a reminder of his fearlessness.
Dexter Filkins: How Good a General was David Petraeus?
It has been seven years since the end of the second siege of Fallujah – the US assault that left the city in ruins, killed thousands of civilians, and displaced hundreds of thousands more; the assault that poisoned a generation, plaguing the people who live there with cancers and their children with birth defects. It has been seven years and the lies that justified the assault still perpetuate false beliefs about what we did. The US veterans who fought there still do not understand who they fought against, or what they were fighting for. I know, because I am one of those American veterans.
I am sorry for the role I played in Fallujah | Ross Caputi | Comment is free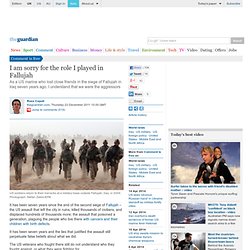 Research links rise in Falluja birth defects and cancers to US assault | World news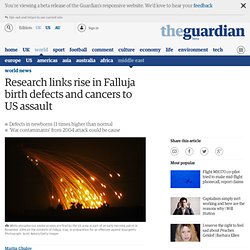 The following correction was printed in the Guardian's Corrections and clarifications column, Wednesday 5 January 2011 The story below reported the authors of a study as saying that birth defects in the Iraqi city of Falluja could have been caused by weaponry used in US assaults in 2004, and added by way of background that this suggestion might add to the dispute over whether rounds containing depleted uranium have residual effects. But a line of explanation went wrong in saying that such rounds "contain ionising radiation to burst through armour".
US invasion leaves lasting Iraq scars
"I mean, whether it's a result of our action or other action, you know, discovering 20 bodies, throats slit, 20 bodies, you know, beheaded, 20 bodies here, 20 bodies there," Col. Thomas Cariker, a commander in Anbar Province at the time, told investigators as he described the chaos of Iraq. At times, he said, deaths were caused by "grenade attacks on a checkpoint and, you know, collateral with civilians."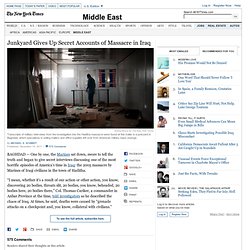 Marines' Haditha Interviews Found in Iraqi Junkyard
The findings contrast with public statements by U.S. diplomatic and military officials in Iraq and come as Washington awaits a final decision by Iraqi leaders on whether they want U.S. troops to stay in the country beyond the expiration of a three-year security agreement in December. U.S. officials have said they are willing to extend the American military presence into 2012 only after receiving a formal request from Iraqi leaders.
Iraq more dangerous than a year ago, U.S. review finds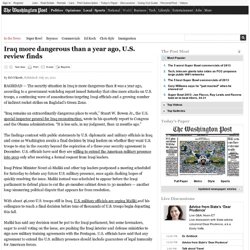 U.S. wastes $34 billion in Afghan and Iraq contracting