Land art
CDOT: Christo's Over the River will get serious traffic review
Christo's Over The River project, which calls for draping huge fabric panels from cables over parts of the Arkansas River, will be carefully scrutinized for its potential impact on traffic on U.S. 50 — just like any other huge project, Colorado Department of Transportation officials said today. The $50 million art installation is being attacked by a group from Cañon City as being dangerous, especially to anyone living near the headwaters of the Arkansas River and in Bighorn Sheep Canyon. The group, Rags Over the Arkansas River (ROAR), offered their objections to the state Transportation Commission today.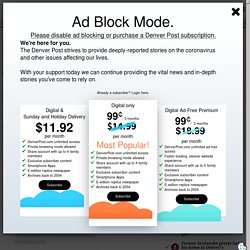 first image 'big air package' by christo and jeanne-claude, germany image © wolfgang volz all images courtesy of christo and jeanne claude big air package gasometer oberhausen, germany on view now through 30 december 2013 in his first major public work since the death of his partner jeanne-claude in 2009, christo's 'big air package' is already reported to be both the largest ever inflated frameless envelope and the most expansive indoor sculpture ever created. while the artist typically works at the monumental scale of the city or building, the 90 meter high inflatable boasts a volume of 177,000 cubic meters and uses 20,350 square meters of semitransparent polyester fabric as well as 4,500 meters of rope. despite lacking a skeleton, the 5 ton form fills the interior of a former gas tank, amplifying the ethereal quality of the space with diffused light. christo describes the experience as 'virtually swimming in light' as a result of the vast expanses of fabric.
christo's big air package opens in germany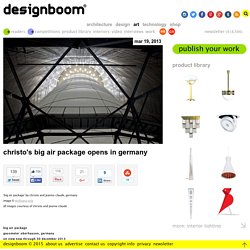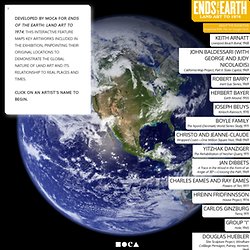 Developed by MOCA for Ends of the Earth: Land Art to 1974 , this interactive feature maps key artworks included in the exhibition, pinpointing their original locations to demonstrate the global nature of Land art and its relationship to real places and times.
ENDS OF THE EARTH: LAND ART TO 1974 | MOCA
San Francisco-area landscape artist Andreas Amador etches massive sand drawings onto beaches during full moons when his canvas reaches its largest potential.
Impermanent Sand Paintings by Andres Amador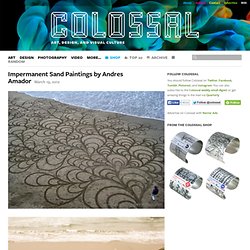 The Art of Jim Denevan
Jim Denevan makes temporary drawings on sand
earth and ice that are eventually erased by
waves and weather. by agnesdelmotte Jan 29
The RedBall Project : Artist Statement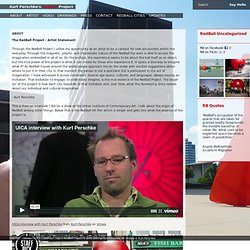 ABOUT | RedBall Project
the work is able to access the imagination embedded in all of us by agnesdelmotte Jan 2
RedBall Project@Bopiliao Historic Block | Flickr : partage de photos !
Bopiliao Historic Block - Taipei - by swanky by agnesdelmotte Jan 2