Color Pencil
Dessin. Colored Pencils Art. Drawing Techniques: Lessons, Tutorials, and Tips for Artists and Illustrators. Lifting Color: Two Methods -- This tutorial from Bet Borgeson demonstrates how an artist can make changes or fix problems in any colored pencil drawing.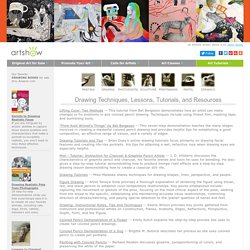 Techniques include using frisket film, masking tape, and burnishing tools. "From Aunt Wilmot's Things" by Bet Borgeson -- This seven-step demonstration teaches the many stages involved in creating a masterful colored pencil drawing and provides helpful tips for establishing a good composition, an effective range of values, and a variety of edges.
Drawing Tutorials and Tips -- Brian Duey's online drawing tutorials focus primarily on drawing facial features and creating life-like portraits. Realistic Portrait Art: How to draw in Prismacolor colored pencils & mixed Media; An Art lesson in drawing & shading techniques & Ladies Portrait Gallery by Howard David Johnson. Who is Artist and Photographer Howard David Johnson?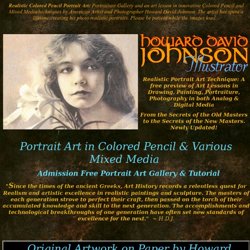 In David's invitation to the Florence Biennale Contemporary Art Exhibition, (a partner in the United Nations' Dialog among Nations), UN Secretary General Kofi Anon wrote him: "Artists have a special role to play in the global struggle for peace. At their best, artists speak not only to people; they speak for them. Annkullberg.com - for all things Colored Pencil! Colored Pencil Techniques. • Colored pencils • Bristol or white cardstock • Tortillons, stumps, or colorless blenders.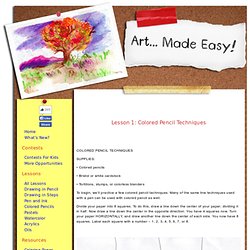 Coloured Pencils - Resources for Artists. If you want to find out more about coloured pencils - start here!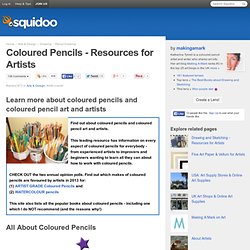 * information about and reviews of different coloured pencil brands - with links to websites for all the different brands of coloured pencils * two polls where you can vote for your favourite brand of artist grade coloured pencil and watercolour pencil and find out the results of what everybody else thinks! * information about associated products for working with coloured pencils * learning about how to use coloured pencils - including books about coloured pencils and links to the websites of coloured pencil artists and art societies offering workshops and classes about using coloured pencils. Fine Art in Colored Pencil-Peter Kripgans Ann Kullberg Lessons...colored, pencil, coloured, pencil, art, ann kullberg, artist, portraits, portrait, drawing. Tokyo-born Ann Kullberg brings a sensitivity to colored pencil artistry that goes back to her childhood.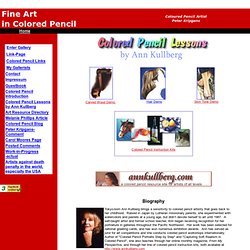 Raised in Japan by Lutheran missionary parents, she experimented with watercolors and pastels at a young age, but didn't devote herself to art until 1987. A self-taught artist and former school teacher, Ann began receiving recognition for her portraiture in galleries throughout the Pacific Northwest. Her work has been selected for national greeting cards, and has won numerous exhibition awards. Ann has served as juror for art competitions and she conducts colored pencil workshops internationally.
Colored Pencil Techniques. By Tiffanie L.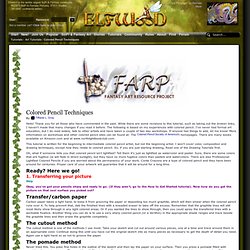 Gray Hello! Thank you for all those who have commented in the past. While there are some revisions to this tutorial, such as taking out the broken links, I haven't made that many changes if you read it before. Colored Pencil Techniques by Kristy Kutch. Color Pencil Lessons. Colored Pencil Technique | Free Techniques & Lessons. Colored Pencil Basics. This lesson introduces some basic color pencil strokes which will be useful in your drawing.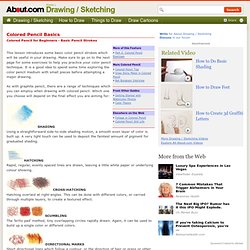 Make sure to go on to the next page for some exercises to help you practice your color pencil technique. It is a good idea to spend some time exploring the color pencil medium with small pieces before attempting a major drawing. Colored Pencil Tips And Techniques. I purchased my first set of Berol colored pencils back in 1983, for an illustration class, in art college.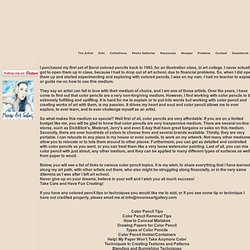 I never actually got to open them up in class, because I had to drop out of art school, due to financial problems. So, when I did open them up and started experimenting and exploring with colored pencils, I was on my own. I had no teacher to explain or guide me on how to use this medium. They say an artist can fall in love with their medium of choice, and I am one of those artists. Over the years, I have come to find out that color pencils are a very non-forgiving medium. Color Pencil Lessons from HomeSchoolArts.com, Color Pencil Lesson Index Page. The "Color Pencil" offers another relatively environmentally safe and convenient media to the parent of the home schooled student or to the artist that likes the portably and ease of use while in the field that the color pencil affords.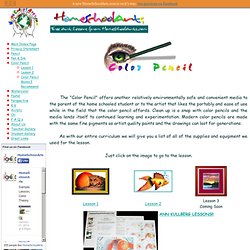 Clean up is a snap with color pencils and the media lends itself to continued learning and experimentation. Modern color pencils are made with the same fine pigments as artist quality paints and the drawings can last for generations. As with our entire curriculum we will give you a list of all of the supplies and equipment we used for the lesson. Colored Pencil Lessons, Tips & Techniques. Colored Pencil Drawing Tutorial Step by Step About Veronica Native of Russia, Veronica Winters was born in 1976 in Smolensk Region.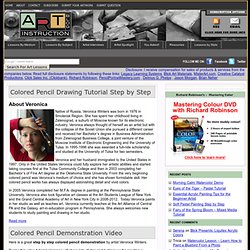 How to Color With Colored Pencils: Drawing & Shading Lessons. Colored Pencil: Techniques & Tutorial. Pencil Sharpness and Pressure : If you work with a pencil that is dull, it will skip over the valleys of your textured paper allowing the background color to show through. This can give a nice effect but if you want complete coverage you will need to use sharper pencils and smoother paper.
A dull pencil can also be used to cover an area quickly with a block of color, but edges will not be sharp and clean. Sharp pencils are good to cover paper more completely, filling any dips in the surface and give increases control in edges and detail. Borgeson Studio Online Drawing Courses. Learn a natural and intuitive way to build color. This eye-opening course allows you to build color that can boldly project across a room or can be quietly complex and nuanced-filled.
Using Bet Borgeson's straightforward and time-tested techniques can also bring a new spontaneity and vitality to your artwork.
---