La cartographie pour aider à trouver
Flash Earth ...satellite and aerial imagery of the Earth in Flas. Stamen design | big ideas worth pursuing. Hans Rosling shows the best stats you've ever seen | Video on TE. OpenStreetMap. Microsoft Bing Maps for Enterprise - Integrated Mapping, Imaging. Most Windows Store apps for consumer audiences can be licensed free of charge under our Bing Maps Terms of Use.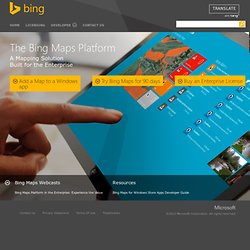 To confirm which Windows Store app license is right for you, visit our licensing tool, evaluate your requirements, and find the right Bing Maps Key to authenticate your application. If your Windows Store app is for use on a Private network (CRM, Business Intelligence or Asset Tracking), an Enterprise License for a Windows Store app will be required. For technical and community resources: click here. Google Maps. MapsViews Explorer Se connecter.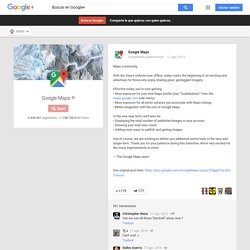 FUTUR EN SEINE - Fête de la ville numérique. Unnamed. Ministère de la Relance. Ministère de la Relance. AroundMe. Wikimapia - décrivons le monde entier !
---