MKT content, cases, ..
Case Study « AppsGeyser Blog AppsGeyser Blog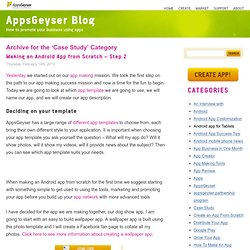 Making an Android App from Scratch – Step 2 Thursday, February 14th, 2013 Yesterday we started out on our app making mission. We took the first step on the path to our app making success mission and now is time for the fun to begin. Today we are going to look at which app template we are going to use, we will name our app, and we will create our app description. Deciding on your template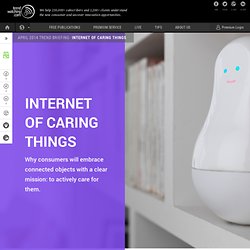 Consumers are more demanding, time-starved, informed, and choice-saturated than ever-before.
Booksi: Old Books Reborn As iPhone Chargers
Seth Godin on standing out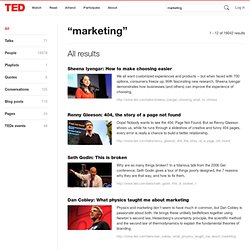 TED: Ideas worth spreading Search results for "marketing" 1-10 of 23,894 results Playlist: Work smarter (11 talks) This isn't your father's business advice.
Search
It may be obvious that Corn Flakes and Frosted Flakes are both made by Kellogg's, but did you know that Hot Pockets and L'Oreal share a parent company in Nestlé? A ginormous number of brands are controlled by just 10 multinationals, according to this amazing infographic from French blog Convergence Alimentaire . Now we can see just how many products are owned by Kraft, Coca-Cola, General Mills, Kellogg's, Mars, Unilever, Johnson & Johnson, P&G and Nestlé.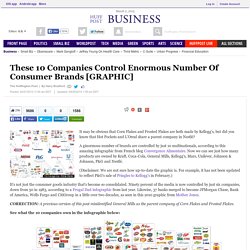 These 10 Companies Control Enormous Number Of Consumer Brands [GRAPHIC]
The Largest Private Companies in the U.S.
Just yesterday, I watched a webinar talking about the secrets of funnel management and what sales metrics will give you the best insight into your actual sales activity and potential. Let's talk about this because finding the best path for actionable success is always important and even more so in a tight economy. Ken Rudin, founder and vp of market development of LucidEra , tells his clients that to increase sales and decrease the sales cycle, the secret is to focus on the deals your company (and its individual sales reps) are most likely to win based on historical data. More specifically, what are the characteristics of the deals that your individual sales reps are best able to close (and it may vary across reps).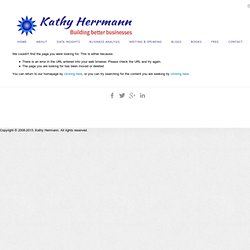 Sparks - Business transformation blog - KathyHerrmann.com
Salesgids: verkooptrainingen, sales artikelen, downloads en voorbeelden voor uw verkoopproces of verkoopplan
American Express Tops FI Social Media Report
Management | Managementvaardigheden verbeteren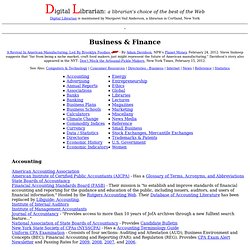 D igital L ibrarian: a librarian's choice of the best of the Web Digital Librarian is maintained by Margaret Vail Anderson, a librarian in Cortland, New York
We hope that you'll find these concepts as inspiring as we do, and that they spark even more innovation in the year to come! 1. Thermodynamic 'stones' help keep coffee at the right temperature We are always excited to see a dose of genuinely new product innovation, and this idea from the US struck us with the simplicity and elegance of its solution. Aiming to help keep coffee at the ideal temperature for longer, Coffee Joulies are small stone-like devices that can be immersed in hot drinks — cooling them while they're too hot, and then heating them as they cool down. Coffee Joulies launched as a project on Kickstarter, quickly earned its target funding goal, and they now on sale via the website.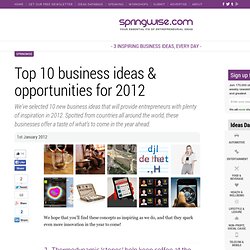 Top 10 business ideas & opportunities for 2012
Marketing Management Articles, Papers, Marketing Case Studies, Notes, Tips, Strategies, Resources
Marketing Projects, Dissertation, Thesis, Marketing Case Studies, Working Papers, Examples, Tips, Research Work, Resources and Information The role of interactive media in relationship marketing This dissertation is about how a organization in the healthcare sector can use interactive media in customer communication, as a way to strengthen relations. The aim is to discuss how the consumers in Europe would love to get information and ... A study on linking consumer satisfaction to profits
Marketing Projects, Dissertation, Thesis, Marketing Case Studies, Working Papers, Examples, Tips, Research Work, Resources and Information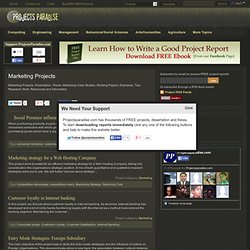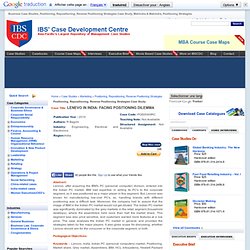 LENEVO IN INDIA: FACING POSITIONING DILEMMA Case Study | Positioning, Repositioning, Reverse Positioning Strategies Case Studies
Case Title: Publication Year : 2010 Authors: R Bagchi Industry: Engineering, Electrical and Electronics