Arduino
Theremin is one of the most exiting musical instruments ever made, mainly because of its "quite odd" playing method. Infact, its working principle is based on near-filed coupling between the hands of the theremin player and two metal antennas, used to determine the pitch of a variable-frequency oscillator and to adjust the volume of the output signal, respectively. Several theremin implementation are possible, such as the "original" analog one (based on the mixing of two sine waves originated by a fixed-frequency oscillator and a variable-frequency one) and those based on digital techniques. LabIII guys implemented a nice and simple Arduino theremin module , based on a TTL LC-type oscillator, usable not only to play electronic music, but also as a generic sensing-device, for example to control motors and/or to work with Processing, Max etc. The detailed description of the project, together with schematics and source code, can be found here . [Via: elektor.it ]
Blog » Blog Archive » Arduino-based theremin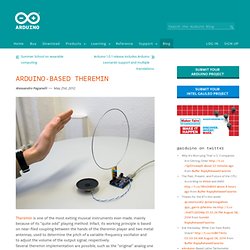 Blog » Blog Archive » Arduino GRANDE at Maker Faire
(photo by Cesare Griffa) Last friday in Torino, Italy a new kind of company opened its doors. Officine Arduino Torino is a combination of Makerspace, Fablab and an Arduino "office" dedicated to further the development of the platform and open source hardware. Officine Arduino is born out of the experience of creating the first FabLab in Italy during an exhibition that lasted throughout 2011. We experienced the positive energy that came out of the encounter between the local community of makers, students, designers and our team based in Torino. After the exhibition shut down we though that Arduino could act as an "incubator" to empower the people we work with to setup a company that would share our resources and equipment with the local community.
Blog » Blog Archive » Welcome Officine Arduino Torino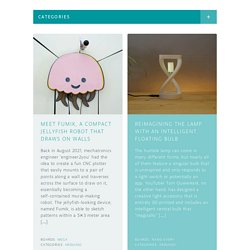 The human side of Arduino
For Banzi, this is perhaps the most important impact of Arduino: the democratization of engineering. "Fifty years ago, to write software you needed people in white aprons who knew everything about vacuum tubes. Now, even my mom can program," Banzi says. "We've enabled a lot of people to create products themselves." Not all engineers love Arduino. The more persnickety ones bemoan the product for dumbing down product creation and flooding the hobbyist market with lackluster goods.
The Making of Arduino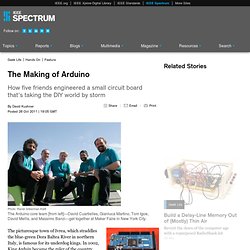 Esta lista fue iniciada por chiva en el foro de arduino, pasándose a la wiki para que cualquiera pudiera añadir más recursos. Nota : Si quieres añadir un enlace de un proyecto o blog personales, hazlo en Projects .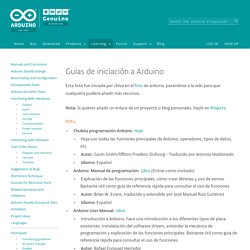 playground - Guias
Click here for my Introduction to Arduino comic as a PDF. This is version 1.0, let me know what you think, particularly if you find any errors. I'm changing some things right away, some may wait for version 2.0. The Arduino Playground has a version of the PDF I prepared with blank word balloons and text fields, and also my script with notes if you want to translate it. http://arduino.cc/playground/Main/ArduinoComic . They also have versions in other languages. If you translate it, please let me know, I am going to post all the links here as well.
Introduction to Arduino | Jody Culkin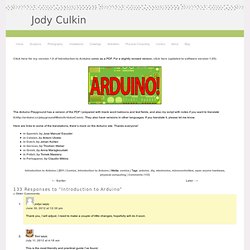 Arduino Labs - Home Page browse
playground - Arduino en Español - Wiki Comunitaria - Arduino Barcamps
Una 'hackaton' de 48 h. para desarrollar proyectos arduino documentados en castellano.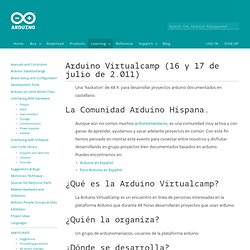 adafruit
Digilent Inc. - Digital Design Engineer's Source
HomePage
Store - community and electronics
Test the Pachube library running on Arduino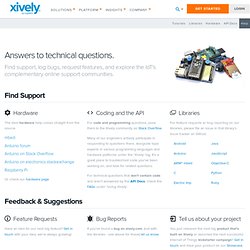 @2v6 I'm using the sketch below and can't reproduce your issue. All the six datastreams can be updated successfully. Could you paste your skecth? Then I can help you triage the issue. Another concern, what's the size of you hardware memory?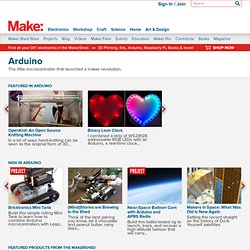 How-To: Romance Pants Brought to you by Team Instructables is the hilariously clever Romance Pants project. The zipper being pulled down triggers the room lights dimming and the stereo volume going up. When the waist button is undone, the candles automatically light.
GettingStartedWithArduino_ch04
Make 25: Arduino Revolution
Arduino-callouts1
Make25_Getting-Started-With_MCUs