Plutot Arduino
Welcome to the Parallax KickStart wiki! Here you'll find dozens of programming examples to help you jump start your use of Parallax sensors and accessories sold through retail stores such as RadioShack, Microcenter, and Fry's Electronics.These KickStarts give you hands-on help for connecting R/C servos, GPS modules, accelerometers, digital compasses, ultrasonic distance sensors, XBee wireless radios, and more to three of the world's most popular microcontrollers: the BASIC Stamp 2, Parallax Propeller, and Arduino.KickStarts are basic, no-frills coding samples, made so you can get started, fast. Each example takes no more than a few minutes to set up and try.Many of the Parallax sensors and accessories offer enhanced features and functionality not covered in the example code.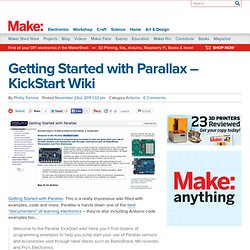 Getting Started with Parallax – KickStart Wiki
little-scale's arduino page
Paja
Making an everyday object playful Drawdio – a Pencil that draws sounds
in order of perceived usefulness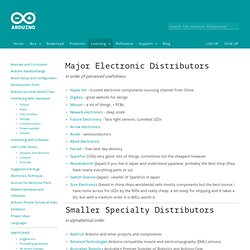 playground - Resources
start [DokuWiki]
playground - Resources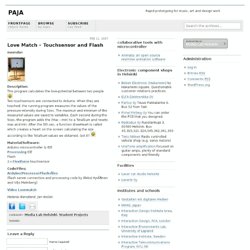 Description: This program calculates the love-potential between two people Two touchsensors are connected to Arduino.
Love Match – Touchsensor and Flash - Paja
Guilherme Martins : The beginning of a Timeline
i/o blog
Guilherme Martins : The beginning of a Timeline
Arduino and watchdog timer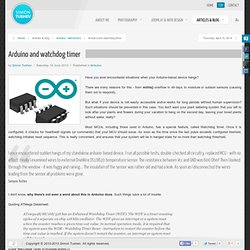 Have you ever encountered situations when your Arduino-based device hangs? There are many reasons for this - from millis() overflow in 49 days to moisture in outdoor sensors (causing them not to respond)... But what if your device is not easily accessible and\or works for long periods without human supervision? Such situations should be prevented in this case. You don't want your plant watering system that you left to look after your plants and flowers during your vacation to hang on the second day, leaving your loved plants without water, really? Most MCUs, including those used in Arduino, has a special feature, called Watchdog timer.
My Arduino
Motoruino | GUIBOT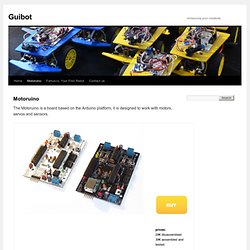 The Motoruino is a board based on the Arduino platform, it is designed to work with motors, servos and sensors.