Plutot Arduino
Welcome to the Parallax KickStart wiki! Here you'll find dozens of programming examples to help you jump start your use of Parallax sensors and accessories sold through retail stores such as RadioShack, Microcenter, and Fry's Electronics.These KickStarts give you hands-on help for connecting R/C servos, GPS modules, accelerometers, digital compasses, ultrasonic distance sensors, XBee wireless radios, and more to three of the world's most popular microcontrollers: the BASIC Stamp 2, Parallax Propeller, and Arduino.KickStarts are basic, no-frills coding samples, made so you can get started, fast. Each example takes no more than a few minutes to set up and try.Many of the Parallax sensors and accessories offer enhanced features and functionality not covered in the example code.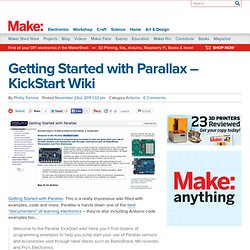 Getting Started with Parallax – KickStart Wiki
little-scale's arduino page
Paja
Making an everyday object playful Drawdio – a Pencil that draws sounds The world's deepest bin: The fun theory Let it snow: Google Search during Christmas vacation The Speed Camera Lottery: The fun theory Ningen Gakki, Turn Your Body Into a Musical Instrument
in order of perceived usefulness Hqew.net - trusted electronic components sourcing channel from China Digikey - great website for design Mouser - a lot of things, + PCBsNewark electronics - deep stock Future Electronics - Taos light sensors, Lumileds LEDsArrow electronicsAvnet - semiconductors Allied ElectronicsFarnell - free next day delivery Sparkfun (USA) very good, lots of things, sometimes not the cheapest however Akizukidenshi (Japan) if you live in Japan and understand japanese, probably the best shop (they have nearly everything parts or so) Switch-Science (Japan) : reseller of Sparkfun in Japan Sure Electronics (based in china ships worldwide) sells mostly components but the best source i have come across for LEDs by the 100s and really cheap, a bit steep for shipping and it takes a bit, but with a medium order it is WELL worth it. in alphabetical order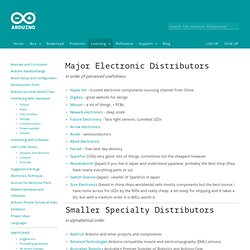 playground - Resources
start [DokuWiki]
playground - Resources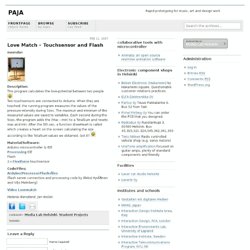 Description: This program calculates the love-potential between two people Two touchsensors are connected to Arduino. When they are touched, the running program measures the values of the pressure-intensity during 5sec. The maximun and minimum of the measured values are saved to variables. Each second during the 5sec, the program adds the (Max – min) to a TotalSum and resets max and min. After the 5th sec. a function drawHeart is called which creates a heart on the screen calculating the size according to the TotalSum values we obtained.
Love Match – Touchsensor and Flash - Paja
Guilherme Martins : The beginning of a Timeline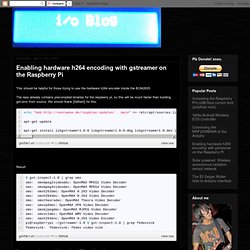 I designed a system a few months ago that had the aim to track the amount of radiation of my backyard over a period of time. I figured that the least cumbersome way to keep track of the count-rate was to make the radiation sensor post the data directly to the internet, via cosm Xively. Cosm Xively is basically an 'internet-of-things' platform where devices can freely post, access and share data points. This project can be particularly interesting for those who, like me, want to keep track of the relative radiation rates for some reason.
i/o blog
Guilherme Martins : The beginning of a Timeline
Arduino and watchdog timer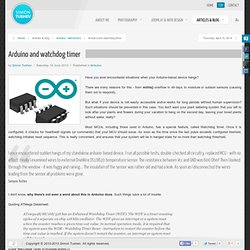 Have you ever encountered situations when your Arduino-based device hangs? There are many reasons for this - from millis() overflow in 49 days to moisture in outdoor sensors (causing them not to respond)... But what if your device is not easily accessible and\or works for long periods without human supervision? Such situations should be prevented in this case. You don't want your plant watering system that you left to look after your plants and flowers during your vacation to hang on the second day, leaving your loved plants without water, really? Most MCUs, including those used in Arduino, has a special feature, called Watchdog timer.
Fri, Apr 9 2010: Filed under Projects Posted by Jonathan Oxer When whittling down the list of projects for Practical Arduino I never expected the Weather Station Receiver project to be one that gained so much attention. To be honest I was dubious about whether enough people would build it to justify its inclusion, but felt that even if it wasn't built very often it was still worthwhile as an example of how to do signal timing analysis and bitstream decoding. I'm glad we put it in, because it seems to be one of the more popular projects! Reader Kelsey Jordahl contacted me yesterday with details of a modified version that reads data from a La Crosse TX4U system, using the circuit from Practical Arduino but with modified software to deal with the different data format.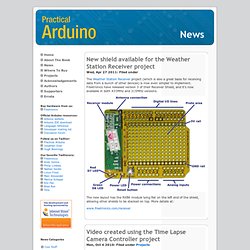 My Arduino
En ce moment je délaisse un peu ma petite Arduino (malgré que je m'en serve pour le prototypage de mon projet de BTS) pour une belle Bulgare rousse répondant au nom de AVRUSB162 (son schematic) de chez Olimex. Cette petite carte de 10cm par 8 abrite un microcontrôlleur que je convoite depuis un certain temps: le AT90USB162 un microcontrôleur de chez ATMEL intégrant un contrôleur USB (finit le FTDI). Tout les micros de la famille des AT90USB son pré-chargé avec un bootloader permettant de les programmer directement en USB à l'aide du logiciel Flip pour les Windows Users mais surtout DFU-programmer pour les Mac Users ! Une combinaison de touches (bouton sur PD7 + bouton reset) permet d'entrer dans ce bootloader.La programmation du uC se fait dans le terminale (je me renseigne sur comment développer un GUI sous mac) avec une petite commande du type: dfu-programmer at90usb162 flash main.hex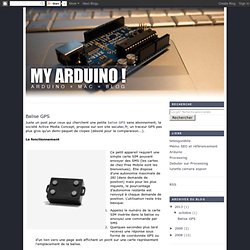 Motoruino | GUIBOT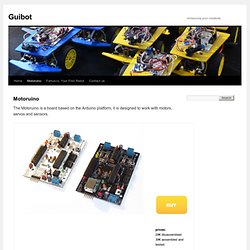 The Motoruino is a board based on the Arduino platform, it is designed to work with motors, servos and sensors. Motoruino most important features: easy to use, understand, play withplug-and-roll boardcompatible with Arduino Diecimilla/Duemillanove and Shieldsone H-Bridge (L293D) allows you to control 2 dc motorsthe usage of the H-Bridge is open, i.e., there aren't any Arduino output pins assigned, the user can use the H-Bridge the way he/she wantstwo jumpers allow the motors power supply and the PWM pins to be either connected to the external supply (Vin) or regulated 5 voltsmotors have 3 different connectors, screw terminals, male headers, JST connectorsservos and sensors can be easily plugged in due to dedicated power and ground headers on each pintwo possible FTDI/USB connections available:USB / TTL convertor, there are some choices on the market for this one, you can have it in the form of a cable, or in the form of a small pcb or using a USB adaptor with the FTDI chip embedded
Welcome OpenEnergyMonitor is a project to develop open-source energy monitoring tools to help us relate to our use of energy, our energy systems and the challenge of sustainable energy. The OpenEnergyMonitor system is an end-to-end open-source energy monitoring system that is Arduino IDE compatible: The openenergymonitor system is made up of four main parts: emonTx | emonGLCD | emonBase | emoncms. These can be assembled and configured to work for a variety of applications from a home energy monitor to solar PV import/export monitoring and more. It is also possible to go beyond monitoring to start controlling things: diversion of surplus P.V energy to domestic hot water is an active openenergymonitor research project see Diverting surplus PV Power: Mk2 and Diverting surplus PV Power: PLL