GTD
How I Learned to Rely on My Own Memory (and Stop Depending on Technology) Jerry Seinfeld's Productivity Secret. Influence Yourself With a "Why-Do" List. It's Wednesday evening after work and you have a ton of things on your To-Do list.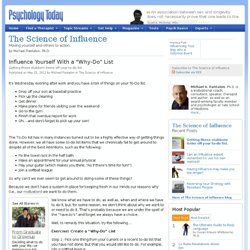 Drop off your son at baseball practice Pick up the cleaning Get dinner Make plans for friends visiting over the weekend Go to the gym. Five Things You Should Stop Doing in 2012 - Dorie Clark. By Dorie Clark | 2:55 PM December 15, 2011 I recently got back from a month's vacation — the longest I've ever taken, and a shocking indulgence for an American.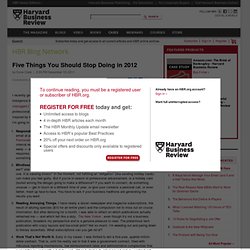 (Earlier this summer, I was still fretting about how to pull off two weeks unplugged.) 7 Things Highly Productive People Do. You probably don't want to admit it but you love distractions.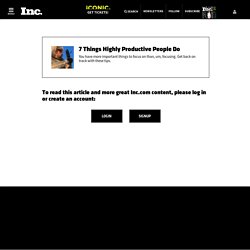 In fact, just like monkeys, you get a shot of dopamine every time something pulls you in another direction. Why do you think you check your email so much? Want to be more productive and get your focus back? 50 Tricks to Get Things Done Faster, Better, and More Easily - S. We all want to get stuff done, whether it's the work we have to do so we can get on with what we want to do, or indeed, the projects we feel are our purpose in life.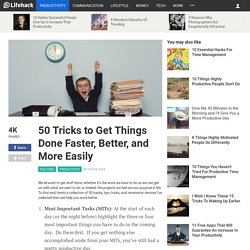 To that end, here's a collection of 50 hacks, tips, tricks, and mnemonic devices I've collected that can help you work better. Most Important Tasks (MITs): At the start of each day (or the night before) highlight the three or four most important things you have to do in the coming day. Do them first. To-Do List : the 3 + 2 Rule. There are SO many grammar and spelling problems in this article, I found it VERY difficult to follow what the author was trying to say.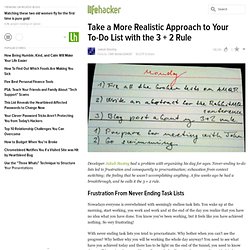 Normally I can look the other way, but when the grammar is so bad it interferes with the message, it needs to be fixed. "Why bother why you will be working the whole day anyway? " * should be: Why bother when you will be working the whole day anyway? "Or sometimes I haven't been switching for a longer time and then I completely loose track about the project and it took me hours to get on the track again. " * s/b: Or sometimes I go a long time without switching and then I completely lose track of the project and it takes me hours to get on track again.
Two Lists You Should Look at Every Morning - Peter Bregman. By Peter Bregman | 11:00 AM May 27, 2009 I was late for my meeting with the CEO of a technology company and I was emailing him from my iPhone as I walked onto the elevator in his company's office building.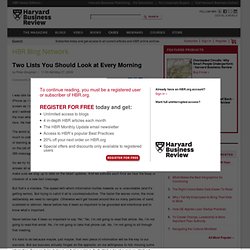 I stayed focused on the screen as I rode to the sixth floor. I was still typing with my thumbs when the elevator doors opened and I walked out without looking up. 7 Things You Should Add to Your Stop Doing List...Right Now! You probably make lists of things to do and follow them through.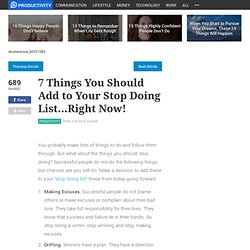 But what about the things you should stop doing? Successful people do not do the following things but chances are you still do. Make a decision to add these to your "stop doing list" these from today going forward: Making Excuses. The Magic of Doing One Thing at a Time - Tony Schwartz. By Tony Schwartz | 8:53 AM March 14, 2012 Why is it that between 25% and 50% of people report feeling overwhelmed or burned out at work? It's not just the number of hours we're working, but also the fact that we spend too many continuous hours juggling too many things at the same time.
---