Progressive Magazines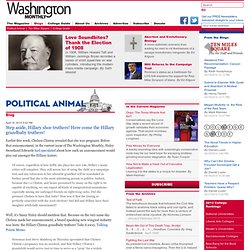 Political Animal Blog January 16, 2014 5:39 PMDay's End and Night Watch Since we're commemorating the beginning of Prohibition today, I should note there is still a Prohibition Party operating in this country, though it did split into two factions in a money wrangle in 2013. According to Wikipedia, the Party's 2012 presidential nominating convention was held at the Holiday Inn Express, in Cullman, Alabama.
The Washington Monthly
YES! Magazine — Powerful Ideas, Practical Actions
Coal-ateral Damage Appalachian environmentalists call a proposed 110-mile expressway 'mountaintop removal disguised as a highway.' By Cole Stangler American Hustle Has Nothing To Say (And That's Okay) Downton Abbey, Season 4, Episode 2: Downton's Rape Fail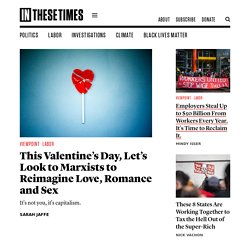 In These Times
openDemocracy
ProPublica
CounterPunch: Tells the Facts, Names the Names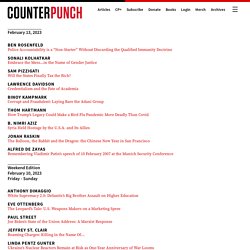 Last month, the ruling Japanese coalition parties quickly rammed through Parliament a state secrets law. We Americans better take notice. Under its provisions the government alone decides what are state secrets and any civil servants who divulge any "secrets" can be jailed for up to 10 years.
The American Prospect
[Note for TomDispatch Readers in or around New York City: On Friday, January 17th at 7 pm, Nick Turse will be discussing his bestselling book, Kill Anything That Moves: The Real American War in Vietnam (just out in paperback), with TomDispatch regular Chase Madar at a favorite independent bookstore of mine -- Brooklyn's Book Court. For more details, click here. Tom] These days, when I check out the latest news on Washington's global war-making, I regularly find at least one story that fits a new category in my mind that I call: What Could Possibly Go Wrong?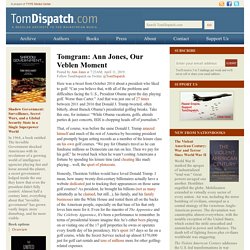 TomDispatch
Utne Press
Want to gain a fresh perspective? Read stories that matter? Feel optimistic about the future? It's all here! Utne Reader offers provocative writing from diverse perspectives, insightful analysis of art and media, down-to-earth news and in-depth coverage of eye-opening issues that affect your life.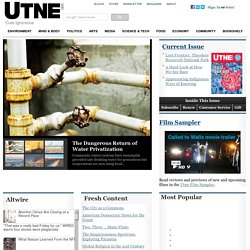 The Raw Story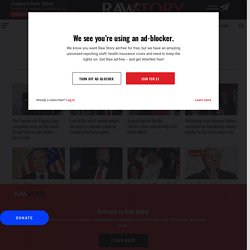 N. Korea slams hawkish 'militarist maniac' Japanese Prime Minister Shinzo Abe North Korea on Sunday lashed out at Japan's hawkish prime minister for seeking to revise Tokyo's pacifist post-World War II… Aussie legs bared for annual No Pants commute Trains and trams in Australia's major cities were awash with bare legs and briefs Sunday as pranksters travelled trouserless for… Israelis pay last respects to founding father Ariel Sharon
Talking Points Memo | Breaking News and Analysis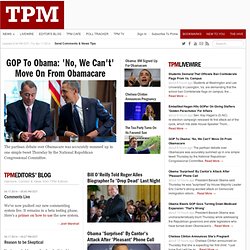 The geniuses who run the Multnomah County Republican Party in Multnomah County, Oregon are honoring Martin Luther King Jr and Abraham Lincoln by raffling off a rifle in their honor. Read More → One of the most interesting things out of the BridgeGate story today was former Governor, now State Senator Richard Codey's claim that "Democratic Power Brokers" were and still are trying to block the investigation into the bridge closure. I don't know Jersey politics enough to be sure.
Forget the Polar Vortex. Australia is very hot. Australia is so hot its meteorologists issued a special statement documenting the "highly significant" heat wave and had to add torrid new colors to its weather maps. It's so hot a new website, Scorcher, has begun tracking the unprecedented 122-degree-and-counting temperatures. And over 100 "catastrophic" wildfires are raging, many out of control, having already hit a nuclear research facility, and 100,000 bats have fallen dead from the sky, and parrots, kangaroos and other wildlife are collapsing, and you are not advised to try to use your iPad or other electronics, which will likely die. But it's cold here in Myopia, so there's no global warming.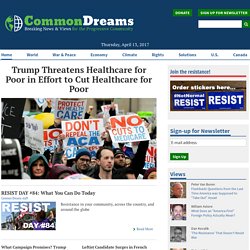 Common Dreams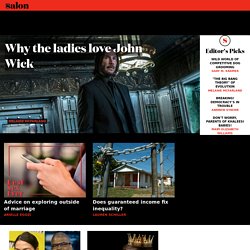 Up close at the Egyptian revolution Jehane Noujaim's thrilling Oscar nominee "The Square" stays on the Cairo streets through two revolutions Andrew O'Hehir Friday, Jan 17, 2014 12:00 AM UTC Entertainment Movies, Documentaries, Our Picks "SNL" finalist on audition: "It was such a historic moment"
Salon.com
Truthout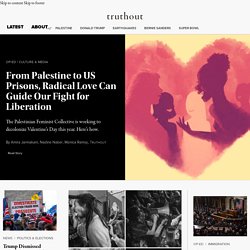 (Image: Addiction via Shutterstock)Voters and policy makers are slowly moving toward reforms to reduce the harm of skyrocketing numbers of opiate-related overdoses, but in the meantime, many like Truthout Writer Mike Ludwig and friends will share skills that "help us keep each other alive, healthy and safe." Maria pulls out a thick-gauged intramuscular syringe and a vial of naloxone hydrochloride, a drug known commonly by the brand name Narcan. She shows the people gathered around me how to draw up 1 cubic centimeter of naloxone into the syringe.
Get FREE BuzzFlash News Alerts! Truthout Contact
BuzzFlash - Daily Headlines and Breaking News | Progressive News and Commentary with an Attitude
Mother Jones
Huffington Post
Ramune Golysenkiene via Getty Images I've been tweezing, shaving, moisturizing, defrizzing, flat-ironing, bikini-waxing, gym-joining (notice I said gym-joining, not gym-going?) exfoliating and manicuring since 8th grade, all while sleeping on a silk pillowcase to reduce wrinkles. I'm ready to grow a beard and just RELAX. If you have a "bring your own device" policy in place, employees need be informed that your company is monitoring data on their devices. You need to be clear that you are not interested in their personal data.
The Nation
The bill now being pushed by the neocons and AIPAC could destroy the most promising developments in a decade. He's not the only Republican governor who has abused his office to destroy political enemies. Oh, how we love those Republican "straight-shooters."
AlterNet