Street Art
Blek le Rat meets Banksy in the Mission
Photos De Street-art A Marseille
53237747.jpg (Image JPEG, 1600x1071 pixels)
street art
Blek le Rat, the man who gave birth to Banksy - Times Online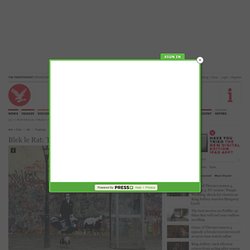 Now, with auction houses aflutter at the prospect of bagging a work by the elusive Bristolian, and Brad Pitt among those eagerly queuing to pay tens of thousands of pounds for a piece, even the most entrenched critics are being forced to re-evaluate their position on the subject of that formerly dirty word. Late last year a grainy photo of a crouched figure in front of a wall filled news pages and news channels alike, below the headline: "Is This Banksy?" Such is the hype surrounding the shadow that creeps in the night, that Banksy – in his absence – has been crowned the Daddy of anti-Establishment street art. Yet, if Banksy is indeed the Daddy of politically-conscious graffiti, let me introduce the Godfather, Blek Le Rat. The 56-year-old Frenchman was stencilling city walls while Banksy was getting to grips with crayons.
Blek le Rat: This is not a Banksy - Features, Art
Stencil Graffiti / Blek le rat - my vibe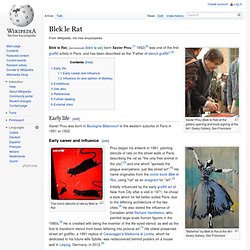 Xavier Prou (Blek le Rat) at the gallery opening and book signing at the 941 Geary Gallery, San Francisco Blek le Rat, (pronounced: [blɛk lə ʁa]; born Xavier Prou,[1] 1952)[2] was one of the first graffiti artists in Paris, and has been described as the "Father of stencil graffiti".[3] Early life[edit] Xavier Prou was born in Boulogne-Billancourt in the western suburbs of Paris in 1951 or 1952. Early career and influence[edit]
Blek le Rat
All sizes | Ambition
street art - a set on Flickr
Metanamorph
Graffiti in Brazil
Wanted "Drone" Poster Artist Discusses How He Punked the NYPD on Vimeo
4704135_.jpg (Image JPEG, 12830x597 pixels) - Redimensionnée (11%)
Massive Art Nouveau-Inspired Mural in Montreal
For 16 days straight, from dawn to dusk, five highly determined Montreal-based artists (who make up the artist run collective A'shop) worked on a graffiti mural of a Mother Nature-esque Madonna or a modern-day version of "Our Lady of Grace." Inspired by Czech Art Nouveau painter Alphonse Mucha, the crew created this breathtakingly beautiful five story mural using 500 cans of spray paint in over 50 different colors. "We been doing graffiti for a long time but this is our first large project involving the whole team," Fluke of A'shop told The Montreal Gazette.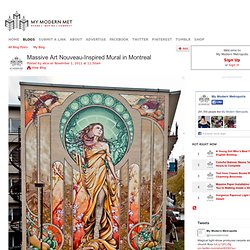 street art
Inside Out
Wooster Collective
STREET ART UTOPIA | We declare the world as our canvas
Armamento Visual, MAAU
We declare the world as our canvas106 of the most beloved Street Art Photos - Year 2012
Best Street Art of 2011
Mear One - NWO:The Enemy of Humanity HD (Official Video)
Creative Street Art
"Street art"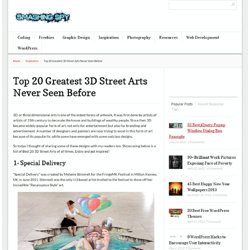 3D or three dimensional arts is one of the oldest forms of artwork. It was first done by artists of artists of 15th century to decorate the house and buildings of wealthy people. Since then 3D became widely popular form of art, not only for entertainment but also for branding and advertisement. A number of designers and painters are now trying to excel in this form of art because of its popularity, while some have emerged with some outclass designs. S o today I thought of sharing some of these designs with my readers too. Showcasing below is a list of Best 20 3D Street Arts of all times.
Top 20 Greatest 3D Street Arts Never Seen Before | Smashing Spy | Smashing Spy
All sizes | The Feral Diagram: Graffiti and Street Art. 2011.
71 BiG Walls – A Street Art Collection | STREET ART UTOPIA
Street-art et Graffiti | FatCap
Le street art ou art urbain
Il s'agit de toutes formes d'art réalisé dans la rue ou dans des endroits publiques et englobe diverses méthodes telles que le graffiti, le graffiti au pochoir, les stickers, les posters, la projection vidéo, les installations de lumière, la céramique, etc. Le street-art parsème l'univers visuel des grandes cités. On en retrouve sur les murs, les trottoirs, les rues, dans les parcs ou sur les monuments.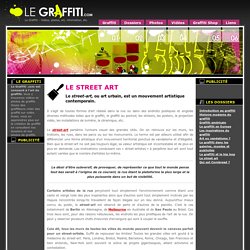 Art Is Not Dead
59 Amazing Street Art collected by @themadray | Designerscouch #thecritiquenetwork
Street in Motion
Urban Art Prints by Paul Baines
14 Most loved Street Art Photos – February 2011 | STREET ART UTOPIA
heaven-hell-glasgow_by-smug.jpg
Paris Street Art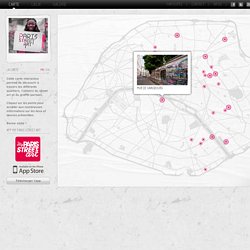 Cette carte interactive permet de découvrir à travers les différents quartiers, l'univers du street art et du graffiti parisien. Cliquez sur les points pour accéder aux nombreuses informations sur les lieux et œuvres présentées. Bonne visite ! This interactive map enables anyone to discover the universe of Paris' street art and graffiti, in many of its neighborhoods. Click on the dots to have access to plenty of information on the places and works presented. Have a nice visit!
Street Art from Bristol | Graffiti art, stencil art, graffs, paste-ups, murals, sidewalk art
Où est la limite entre street art et profanation?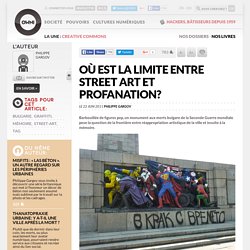 Barbouillée de figures pop, un monument aux morts bulgare de la Seconde Guerre mondiale pose la question de la frontière entre réappropriation artistique de la ville et insulte à la mémoire. Le street-art a-t-il une éthique ? Les street-artistes doivent-ils s'imposer des limites quant aux lieux qu'ils détournent ? La question est d'actualité : la semaine dernière, les soldats de bronze du monument à l'Armée Soviétique de Sofia (Bulgarie) se sont réveillés barbouillé.
nick drake
bus.jpg (960×459)
Seattle Street Art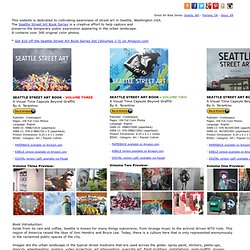 Book Introduction: Aside from its rain and coffee, Seattle is known for many things subversive, from Grunge music to the activist driven WTO riots. This region of America raised the likes of Jimi Hendrix and Bruce Lee. Today, there is a culture here that is only represented anonymously in the reclaimed public spaces of the city.
Metamorphosis by Mrinalini Sardar
▶ SOFLES — LIMITLESS.
Rua Augusta, october 2011
Anjo + Graphis, MAAU
Graffiti Research Lab Archive
14 Most loved Street Art Photos – February 2011 | STREET ART UTOPIA
street art « Home is where the HARD DISK is
RTS (London) HOME
Reclaim the Streets
david_walker_street_art_3_london1.jpeg (Image JPEG, 1024x682 pixels)
RED BULL STREET ART VIEW
Art urbain
The 50 Best Street Art Work Selected in 2011
Street art
100 of the Best Street Art Made in 2012 – Part 1 | Your Amazing Places
.BLATANT Ink.
Street Artists • TheDustyRebel
Constitution
aero.jpg (650×694)
Binho, MAAU