World
Syllabus
Home - 80 Days That Changed Our Lives - ABC Archives
May Day: Hope for Slaves
A History of the World - Home
worldhistoryteacher's Channel
Welcome to YouTube! The location filter shows you popular videos from the selected country or region on lists like Most Viewed and in search results.To change your location filter, please use the links in the footer at the bottom of the page. Click "OK" to accept this setting, or click "Cancel" to set your location filter to "Worldwide". The location filter shows you popular videos from the selected country or region on lists like Most Viewed and in search results.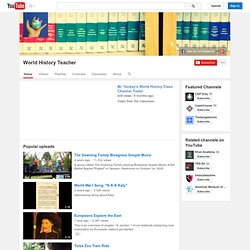 Economics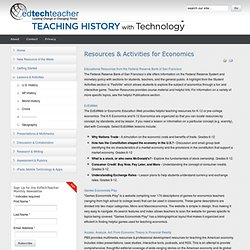 Educational Resources from the Federal Reserve Bank of San Francisco The Federal Reserve Bank of San Francisco's site offers information on the Federal Reserve System and monetary policy with sections for students, teachers, and the general public. A highlight from the Student Activities section is "FedVille" which allows students to explore the subject of economics through a fun and interactive game. Teacher Resources provides course material and helpful link.
Holocaust Study Tour
World History
Cultural "Art"-ifacts: Learning About World Cultures Through Art In this New York Times lesson, students explore how culture is reflected through art. After researching the art of a specific culture, students create replicas of art objects that reflect the ideals, values, and history of the culture. Stonehenge: Solving Ancient Mysteries In this high school lesson, students become detectives as they investigate a mystery at Stonehenge, featured on the Thirteen/WNET New York program, SECRETS OF THE DEAD: MURDER AT STONEHENGE. They learn about archeologists and anthropologists and the tools and methods they use to gather and interpret scientific evidence. They research current archaeological excavations and contact the scientists working at these digs. Students then advise a colleague on how to proceed with the excavation of a mysterious skeleton.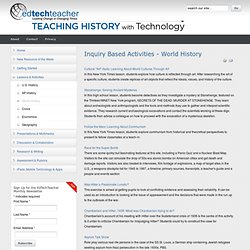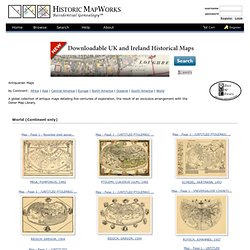 Home Browse Search Help About Register Cart United States | Points of Interest | World | Directories | Special Collections
Historic Map Works, Residential Genealogy ™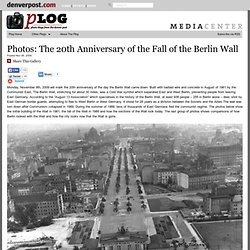 Captured: The 20th Anniversary of the Fall of the Berlin Wall
Posted Nov 06, 2009 Monday, November 9th, 2009 will mark the 20th anniversary of the day the Berlin Wall came down. Built with barbed wire and concrete in August of 1961 by the Communist East, The Berlin Wall, stretching for about 30 miles, was a Cold War symbol which separated East and West Berlin, preventing people from leaving East Germany.
Home - Poverty Over - Christian Aid
The corruption map of the world | News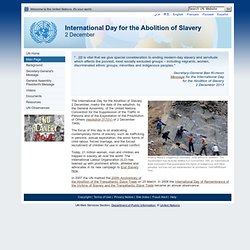 International Day for Abolition of Slavery - 2 December
"Today, governments, civil society and the private sector must unite to eradicate all contemporary forms of slavery. ... Together, let us do our utmost for the millions of victims throughout the world who are held in slavery and deprived of their human rights and dignity." Secretary-General Ban Ki-moon Message for the International Day for the Abolition of Slavery 2 December 2012 Former child soldiers from the Sudan People's Liberation Army (SPLA), about to be demobilized, during a visit by the Special Representative of the Secretary-General for Children and Armed Conflict in November 2009.
ViewChange.org - Home