World
What's So Scary About Smart Girls? WHEN terrorists in Nigeria organized a secret attack last month, they didn't target an army barracks, a police department or a drone base.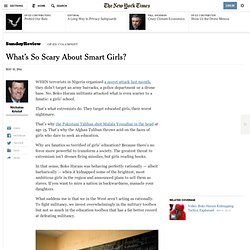 No, Boko Haram militants attacked what is even scarier to a fanatic: a girls' school. That's what extremists do. World History. Syllabus. ORBIS. Home - 80 Days That Changed Our Lives - ABC Archives. May Day: Hope for Slaves. A History of the World - Home. Free Audio Tours AudioViator. HistoryWorld - History and Timelines. MIT Visualizing Cultures. Worldhistoryteacher's Channel. Economics. Educational Resources from the Federal Reserve Bank of San Francisco The Federal Reserve Bank of San Francisco's site offers information on the Federal Reserve System and monetary policy with sections for students, teachers, and the general public.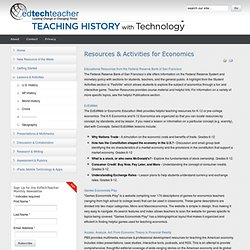 A highlight from the Student Activities section is "FedVille" which allows students to explore the subject of economics through a fun and interactive game. Teacher Resources provides course material and helpful link. Holocaust Study Tour. World History. Cultural "Art"-ifacts: Learning About World Cultures Through ArtIn this New York Times lesson, students explore how culture is reflected through art.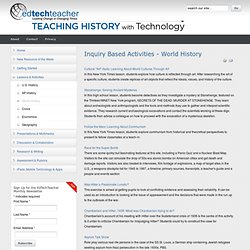 After researching the art of a specific culture, students create replicas of art objects that reflect the ideals, values, and history of the culture. Stonehenge: Solving Ancient MysteriesIn this high school lesson, students become detectives as they investigate a mystery at Stonehenge, featured on the Thirteen/WNET New York program, SECRETS OF THE DEAD: MURDER AT STONEHENGE. They learn about archeologists and anthropologists and the tools and methods they use to gather and interpret scientific evidence.
They research current archaeological excavations and contact the scientists working at these digs. Students then advise a colleague on how to proceed with the excavation of a mysterious skeleton. Historic Map Works, Residential Genealogy ™ Home Browse Search Help About Register Cart Antiquarian Maps.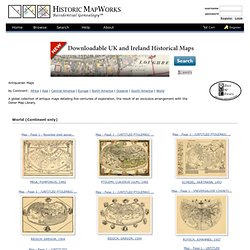 Captured: The 20th Anniversary of the Fall of the Berlin Wall. Posted Nov 06, 2009 Share This Gallery inShare1 Monday, November 9th, 2009 will mark the 20th anniversary of the day the Berlin Wall came down.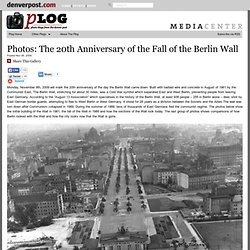 Darfur Is Dying - Play mtvU's Darfur refugee game for change. Newspaper map. IfItWereMyHome.com. ProductsOfSlavery. Slavery Footprint - Made In A Free World. Patrimonium-mundi.org : UNESCO World Heritage sites in panophotographies - immersive and interactive panoramic images. Home - Poverty Over - Christian Aid. The corruption map of the world | News. International Day for Abolition of Slavery - 2 December. "...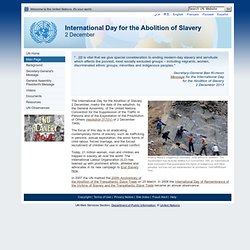 [I]t is vital that we give special consideration to ending modern-day slavery and servitude which affects the poorest, most socially excluded groups – including migrants, women, discriminated ethnic groups, minorities and indigenous peoples. " Secretary-General Ban Ki-moon Message for the International Day for the Abolition of Slavery 2 December 2013 Among Nepal's indigenous minorities, child labour is common. ViewChange.org - Home.
---