Facebook
5 Things you can do to make your Facebook fans want to see your content. Guest post by Jim Belosic, CEO of ShortStack in response to my earlier Fast Company post I recently read Ekaterina's interesting Fast Company piece about the number of people who hide or block Facebook content even if they "Like" the brand or business.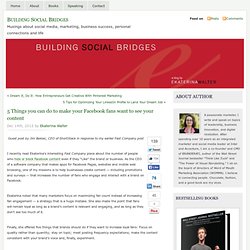 As the CEO of a software company that makes apps for Facebook Pages, websites and mobile web browsing, one of my missions is to help businesses create content — including promotions and surveys — that increases the number of fans who engage and interact with a brand on Facebook. Ekaterina noted that many marketers focus on maximizing fan count instead of increasing fan engagement — a strategy that is a huge mistake.
How Facebook reveals human migration: User data shows London, Lagos and Istanbul are among the top places to relocate. The social network compared users' hometowns with their current homes Data found that Lagos, Nigeria grew 18.6 per cent between 2000 and 2012 Istanbul was second most popular city with migrants from within TurkeyLondon was listed as the 10th most popular region with a growth of 1.4 per cent between 2000 and 2012 - mostly from within the UK By Ellie Zolfagharifard Published: 13:59 GMT, 27 December 2013 | Updated: 20:55 GMT, 27 December 2013 Over 15 per cent of the Earth's population use Facebook, with 1.19 billion users logging on each month.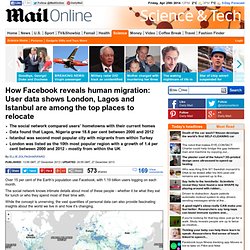 The social network knows intimate details about most of these people - whether it be what they eat for lunch or who they spend most of their time with. How Facebook's Top Engineer Is Trying to Read Your Mind | Wired Business. It's been a great year for the Facebook platform, but Mike Vernal wants more.
Facebook's director of engineering tells us the social network is trying to pump up user posts, favoring longer stories and content and adding data that will help Facebook and its partners repurpose even the simplest status updates. Vernal oversees Facebook's Open Graph, the platform apps and websites use to take the data connected to your collection of friends out of Facebook and to push content into it – like what Spotify playlists your friends have assembled for New Year's Eve. Open Graph has proven enormously popular with developers, but Vernal keeps pushing for ever richer, ever deeper sharing between Facebook and the outside world. Does Facebook want to know what you're watching on TV? Firm set to start allowing users to 'check in' to favourite shows. New feature would add to the detailed picture the social network is building of its users' livesIt is one of a raft of 'second-screen' apps being developed to exploit trend of consumers to watch TV while on social mediaInformation will allow the social network to better target advertising on behalf of corporate clients By Damien Gayle Published: 14:20 GMT, 11 February 2013 | Updated: 14:20 GMT, 11 February 2013 Facebook is asking users to reveal even more details of their lives with a new feature which asks them what television programmes they are watching.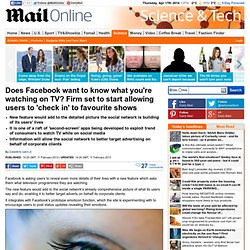 Truly embarrassing Facebook status updates exposed by website. Oh, word.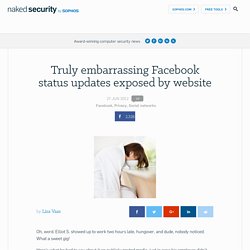 Elliot S. showed up to work two hours late, hungover, and dude, nobody noticed. What a sweet gig! Facebook: How posts give away your age, gender and personality says Penn University. Researchers were correct 92 per cent of the time when predicting genderIn more than half of cases they predicted someone's age within three yearsWomen used more adjectives, while men used more swear wordsAges could be identified based on the topics and subjects discussedStatuses can also determine whether a person is extrovert or neuroticPenn University analysed over 700 million words and topics By Victoria Woollaston Published: 15:35 GMT, 27 September 2013 | Updated: 18:30 GMT, 27 September 2013 We live in an age of oversharing where people offer up all sorts of information online from what they're having for dinner to the toilet habits of their children.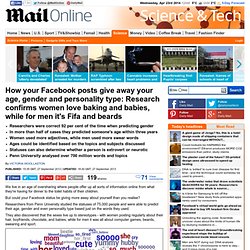 But could your Facebook status be giving more away about yourself than you realise? Facebook Black? Beware widespread scam hitting social networkers. Faces of Facebook: Discover profile pictures of all 1.15 billion members in ONE place. The Faces of Facebook interactive image lets you browse the public profile pictures of 1.15 billion membersIts designer claims it would take 36 years, 5 months, 9 days and 6 hours to view all of the images individuallyMembers can find their own image by connecting a Facebook account to the Faces of Facebook appAll the pictures are shown in chronological order and the number of a face is their member numberUsers can also search for a friend's name to see whether they joined the social network before or after them By Victoria Woollaston Published: 14:13 GMT, 30 September 2013 | Updated: 08:09 GMT, 1 October 2013.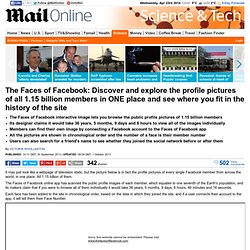 Quit Posting Facebook Copyright/Privacy Messages — It's a Hoax. Have you seen the one where you're supposed to post a legal notice to your Facebook profile to ensure the social networking titan can't use anything you've written without your permission?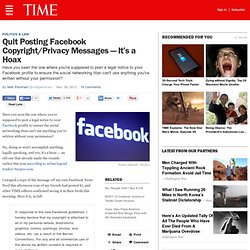 No, doing so won't accomplish anything legally speaking, and yes, it's a hoax — an old one that already made the rounds earlier this year according to urban legend tracker Snopes.com. I scraped a copy of the message off my own Facebook News Feed this afternoon (one of my friends had posted it), and other TIME editors confirmed seeing it in their feeds this morning. Here it is, in full: In response to the new Facebook guidelines, I hereby declare that my copyright is attached to all of my personal details, illustrations, graphics, comics, paintings, photos, and videos, etc. Facebook accused of massive 'data grab' with new service that automatically uploads your phone pictures.
Facebook Photo Sync: Nine things you should know. Facebook Makes A Huge Data Grab By Aggressively Promoting Photo Sync. Facebook was already taking in 300 million photos a day, and that rate is about to dramatically increase.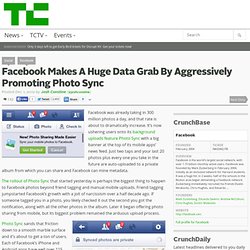 It's now ushering users onto its background uploads feature Photo Sync with a big banner at the top of its mobile apps' news feed. Just two taps and your last 20 photos plus every one you take in the future are auto-uploaded to a private album from which you can share and Facebook can mine metadata. Security adviser accuses Facebook of playing 'five subtle tricks' to get users accepting app requests without thinking what info they are giving away. By Eddie Wrenn Published: 18:08 GMT, 28 August 2012 | Updated: 08:09 GMT, 29 August 2012 Facebook's security has long been one of the most high-profile issues facing the social networking site.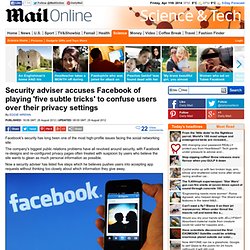 The company's biggest public relations problems have all revolved around security, with Facebook re-designs and re-configured privacy pages often treated with suspicion by users who believe the site wants to glean as much personal information as possible. Now a security adviser has listed five steps which he believes pushes users into accepting app requests without thinking too closely about which information they give away. Watch out Google? Facebook plans to 'improve search' - and starts by logging what you look for on social network.
Facebook for Business
FACEBOOK: LIKE? From the Archive: the chances are, you have a Facebook profile yourself. But have you thought about what it's doing to real life? Robert Lane Greene reports, starting with a visit to Facebook's offices From INTELLIGENT LIFE magazine, May/June 2012 Wooooh! Yeah! Facebook Releases Demo Video on Promoted Posts. Facebook began a gradual rollout of promoted posts for brand pages about a week ago and the social networking site has now posted its first demo video today, letting advertisers know what to expect from the feature.
The video explains that a promoted post will show up as a sponsored story in a fan's newsfeed, both on desktop and mobile, and as Facebook users interact with the post, their friends will see it as well. The video also walks users through how to promote a post, so that once the feature is available on their pages, they can get to highlighting the best of their updates straight away. Telling users to "select the price that best fits your budget and goals", what the video doesn't tell you is that the more you pay, the more users your post will reach. Facebook 'pay to highlight post' feature makes posts appear higher in news feed for 2$ Users can pay $2 to create a 'highlighted post'Posts appear higher in friends' news feedsLatest in a series of efforts by social network giant to boost profitability By Rob Waugh Published: 16:16 GMT, 11 May 2012 | Updated: 12:04 GMT, 13 May 2012.
How Facebook could cost you your job! One in five applicants rejected after bosses check out their profiles on social media sites. Facebook world. Facebook hit by 'two-hour blackout' across Europe, Middle East and Africa. Facebook Urges Members to Add Organ Donor Status. Losing your friends on Facebook? Maybe you are sharing too much. More privacy fears as Facebook buys facial-recognition startup for undisclosed sum. Facebook's "Premium" - A User's Nightmare? You Might Run Into Mark Zuckerberg on Airtime. A Louisiana sex offenders Facebook law will force convicted to list criminal background on social media. Facebook's New App Center Is Here: The Details.
Facebook slammed for game that allows visitors to gamble with REAL money. Facebook launches app store to take on Apple and Google - and you'll have to PAY for some up front. 20+ Overlooked Facebook Timeline Tips You Must Know! Right or wrong? Facebook monitors chat conversations and informs the police of anything suspicious - but the privacy breach does catch paedophiles. Is not joining Facebook a sign you're a psychopath? Some employers and psychologists say it's 'suspicious' Now Facebook wants to put adverts in your NEWSFEED. Victim of internet trolls wins High Court backing to reveal identities of those who targeted her.
---