facebook tools
Get flash to fully experience Pearltrees
Deleting messages on Facebook is not as easy as deleting your email, as Facebook intends to keep your conversation history in Messages and Facebook Chat intact.
* "Friendsheet is a photo discovery app. Browse through your Facebook photos like never before!" > (Pinterest like) by agnesdelmotte Mar 26
Facebook now has over 800 million active users around the world. If it were a country, it would be the third largest in the world (right behind China and India), and more than twice the size of the United States. So it's pretty much vital for anyone trying to promote a product, service, event, or cause to create a Facebook page. While other social networks (Google+ among them) are making gains, Facebook is still the largest and most popular out there, and that's unlikely to change in the immediate future (and besides, Google+ doesn't even allow brand pages yet).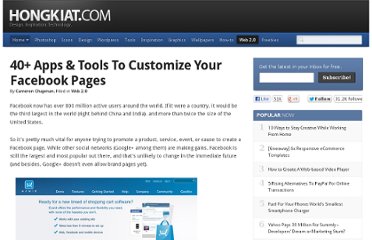 L'existence d'une marque, sur le web et dans l'imagination de ses clients, ne se réduit pas à son nom et son logo. Pourquoi alors les marques devraient-elles ne capter et n'adresser des communautés que sous ce nom global, via leur Page Facebook ? Le bouton "J'aime" introduit par Facebook permet de faire de chaque url un objet social que les visiteurs vont pouvoir partager sur leur Mur et de la part de qui ils pourront recevoir des publications dans leur fil d'actualité facebook. Likemastr permet de gérer, manuellement via un back-office en ligne, ou programmatiquement via des APIs, un vaste univers d'objets sociaux (pensez, tous les produits en vente sur En particulier : Publier vers un objet donné ou un groupe d'objets réunis par un même "tag". Identifier sur une période donnée et dans un groupe donné les objets ayant reçu le plus de nouveaux "j'aime".