Twitter/Facebook
What, When, And How To Share On Social Media. The currency of social media is the share.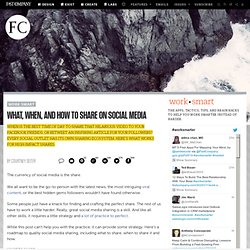 We all want to be the go-to person with the latest news, the most intriguing viral content, or the best hidden gems followers wouldn't have found otherwise. Some people just have a knack for finding and crafting the perfect share. The rest of us have to work a little harder. 10 Words That Will Increase (or Decrease) Your Twitter. If you like social media data and science like this, my latest book "Zarrella's Hierarchy of Contagiousness" is now only $1.99 in Kindle Edition (which will work on any computer or device).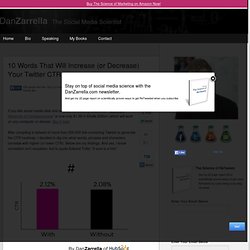 Buy it now! After compiling a dataset of more than 200,000 link-containing Tweets to generate the CTR heatmap, I decided to dig into what words, phrases and characters correlate with higher (or lower CTR). 7 Powerful Facebook statistics you should know for a more engaging Facebook page. 2.7K Flares Filament.io 2.7K Flares × One of the things we focus on most at Buffer is the best time to post to Twitter and Facebook.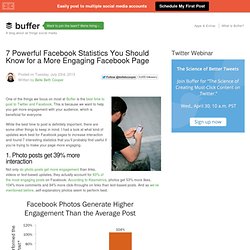 This is because we want to help you get more engagement with your audience, which is beneficial for everyone. While the best time to post is definitely important, there are some other things to keep in mind. Stealthy Trick Makes Facebook Look Like an Excel Spreadsheet. Now you can get away with cruising around Facebook at work, even when your boss is peering over your shoulder.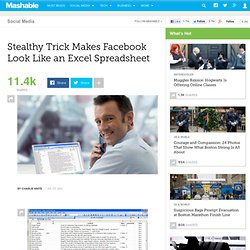 Well, as long as the boss doesn't look too closely. Even the laziest slacker can look busy in a jiffy with this interactive adaptation of many of Facebook's functions. Kids hate-tweet Obama, echoing what they hear at home. The reelection of President Obama has hardly dimmed the enthusiasm of hardcore GOP racists.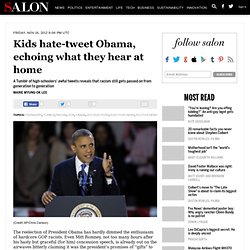 Even Mitt Romney, not too many hours after his hasty but graceful (for him) concession speech, is already out on the airwaves bitterly claiming it was the president's promises of "gifts" to the unwashed 47 percent (read: minority) that got him reelected. Paul Ryan blames the unexpected high turnout of the "urban" vote (if you feel at all that the GOP uses the word "urban" to mean anything other than black, please refer to this video of Lee Atwater and the birth of the GOP's "Southern strategy"). Karl Rove, who should have his own TV show called "The Biggest Loser," has been petulantly invoking a high "urban" turnout, even bafflingly labeling a large and enthusiastic voter turnout as "voter suppression" — he must mean that lots of minority voters are considered suppressors of the white vote.
How Did They Know I Unfollowed Them On Twitter? I had the experience recently of unfollowing someone on Twitter.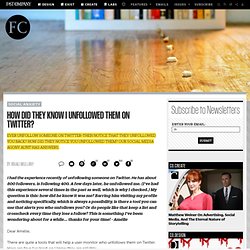 He has about 800 followers, is following 400. A few days later, he unfollowed me. (I've had this experience several times in the past as well, which is why I checked.) The Twitter Trap. The 'Busy' Trap. The Day Yahoo Decided I Liked Reading About Child Murder - Sarah Kendzior - Technology. Algorithms are shaping how we see the world around us, with big consequences.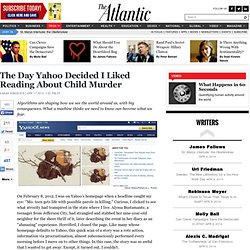 What a machine thinks we need to know can become what we fear. Yahoo News/Rebecca J. Rosen. What Fuels the Most Influential Tweets? - Jared Keller - Technology. The number of followers you have and the exact wording matter less than you think.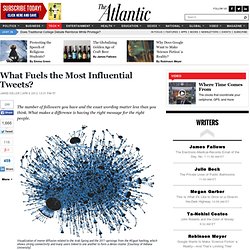 What makes a difference is having the right message for the right people. Visualization of meme diffusion related to the Arab Spring and the 2011 uprisings from the #Egypt hashtag, which shows strong connectivity and many users linked to one another to form a dense cluster. [Courtesy of Indiana University] 4 Great Twitter Applications for Teachers Using Twitter In The Classroom. These tools offer free functionality that extend and enhance the possibilities for instructional uses of Twitter.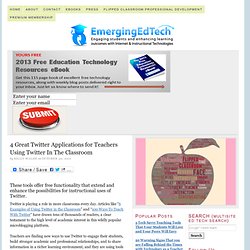 Twitter is playing a role in more classrooms every day. Articles like "6 Examples of Using Twitter in the Classroom" and "100 Ways To Teach With Twitter" have drawn tens of thousands of readers, a clear testament to the high level of academic interest in this wildly popular microblogging platform. The Landscape: Twitter Tweet Sheet: Tips, Tricks, and Resources. " Twitter is a social network used by millions of people, and thousands more are signing up every day to send short messages to groups of friends.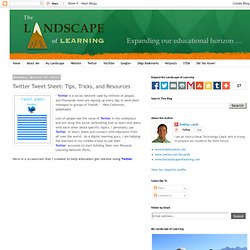 " - Pete Cashmore, @Mashable Lots of people see the value of Twitter in the workplace and are using this social networking tool to learn and share with each other about specific topics. I personally use Twitter to learn, share and connect with educators from all over the world. As a digital learning guru, I am helping the teachers in my middle school to use their Twitter accounts to start building their own Personal Learning Network (PLN).
Where in the World Are Your Twitter Followers? TweepsMap Knows. The Spark of Genius Series highlights a unique feature of startups and is made possible by Microsoft BizSpark. If you would like to have your startup considered for inclusion, please see the details here. Name: TweepsMap Quick Pitch: TweepsMap provides a visual, interactive map of your Twitter followers by country, state or city. Genius Idea: Measures the effectiveness of Twitter campaigns by analyzing the locations of your followers. Knowing where your Twitter followers are located can not only feed your curiosity, but it can also help you measure the success of your social campaigns. How to Leverage Backchanneling & the Long Tail of Learning. We've all been there. Two colleagues across the room tap away at their phones, while the principal describes the rationale for cutbacks in funding for new technology initiatives.
(Or switch out the colleagues for students while you are delivering an essential lecture on freedom of speech.) Top 100 Tools for the Twittering Teacher.
---