réseaux "vie pratique"
Annonces, dons, rencontres, sorties, échanges, ventes, locations,PAP... noosquest Oct 31
Get flash to fully experience Pearltrees
Gowalla
Dating Watch : L'Observatoire des Sites de Rencontre
Where To Get Engaged - Engagement and Wedding Social Network. Plan your proposal. Find Engagement Ring. Plan your wedding.
ALADOM, LE GÉNIE DES SERVICES À DOMICILE
Avis d'hôtels, restaurants, activités, voyage, hébergements et séjours - TripAdvisor
TrustedOnes - Recommendations you can trust. Find, decide & share your experience with friends!
Agissez, apprenez, partagez, changez - Meetup
San Francisco Restaurants, Dentists, Bars, Beauty Salons, Doctors
Where Are You Now?): The world's largest travel and lifestyle social network
Modernity and history intermingle harmoniously in energetic Cairo. This is a city to delight culture-vultures, budding historians, and shopaholics alike. Get lost in the hubbub of Khan al-Khalili, a site where Cairenes have traded since the 14th century.
foursquare
Sencities - guide de sorties web et mobile sur Paris : restaurants, bars, discothèques
ma-residence.fr
Kickstarter
quirky | social product development
Etsy - Your place to buy and sell all things handmade, vintage, and supplies
Le blog de la Consommation Collaborative
Guide pour expatriés - Portail de la Mobilité Internationale: Guide de la vie à l'étranger - Easy Expat
Participate in Creating a Better World, One Couch At A Time
Expat blog, the expatriate community
Communauté d'expatriés français vivant à l'étranger - Expatriation - Expatlive.com
Swotti Opinion Analizer. Search, Rate and Compare
Services entre particuliers - Annonces d'échanges de service
Covoiturage carpooling.fr
Don contre don, Troc en réseau d'objets gratuits et services : je donne, tu récupères, il échange
Mesh - the pulse of the sharing economy
Covoiturage.fr - Le site du covoiturage en Europe
lePotiron.fr - Trouvez, vendez et échangez des produits du jardin
Zilok - Location particulier et pro. Tout louer.
Location entre particuliers ou professionnels de tout type d'objet - e-loue
Location vacances, chambres privées, sous-louez à la nuit - Proprietes sur Airbnb
Locations de vacances, chambres privées, locations à la nuit - Hébergements sur Airbnb
Livop L'autopartage - La location de voitures entre particuliers
Les Groupes Freecycle en France
donnons.org - site de dons d'objets sur internet
RECUPE - Donner au lieu de jeter - Site de Dons
Co-Recyclage : Recyclage, Récupe & don d'objets gratuits. Donnez, Récupérez, Co-Recylez, ici tout est gratuit
Le-Dindon.fr - Dons d'objets - Ne plus jeter et recuperer
Echange de biens culturels
Echange, troc, petites annonces gratuites
eBay - Achetez et vendez vos objets neufs ou d'occasion. Enchères, prix fixe, petites annonces - Et vous, vous achetez comment ?
PriceMinister - Achat et vente d'occasion ou neuf - DVD, VHS, Jeux Vidéo, Consoles, PC, CD, Disques, Livres, BD, Vidéos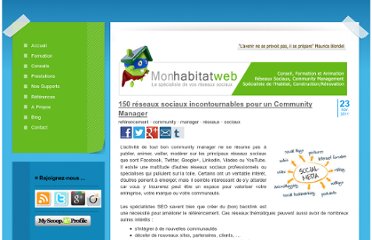 L'activité de tout bon community manager ne se résume pas à publier, animer, veiller, modérer sur les principaux réseaux sociaux que sont Facebook, Twitter, Google+, Linkedin, Viadeo ou YouTube. Il existe une multitude d'autres réseaux sociaux professionnels ou spécialisés qui pullulent sur la toile. Certains ont un véritable intérêt, d'autres peinent à émerger, mais il semble intéressant de s'y attarder car vous y trouverez peut être un espace pour valoriser votre entreprise, votre marque ou votre communauté.
150 réseaux sociaux incontournables pour un Community Manager - Mon Habitat Web, le spécialiste de vos réseaux sociaux
PETITES ANNONCES GRATUITES . VivaStreet le N°1 de l'Annonce Gratuite
100 sites de consommation collaborative |
Petites annonces gratuites d'occasion
Troc et échange - Tout échanger sur consoGlobe : livre, film, dvd, jeux video, ...
Les Prix Numériques - Comparer les prix
Annonces gratuites immobilier, voiture occasion, auto, moto, emploi...
vide-greniers, brocantes et marchés aux puces
Emmaüs Ile-de-France
Green, Healthy, & Safe Product Ratings & Reviews
Amazee is social collaboration
Trade Books, CDs, Video Games, Movies, Find Swap Events; Swap4Schools
What's Mine is Yours: The Rise of Collaborative Consumption
CC Lab
Posted by venessa miemis on Sunday, October 3, 2010 · 68 Comments The general theme of the book is that we're shifting away from a society of hyper-consumption and equating personal self-worth with amount of material good accumulated, and instead to a world where our ability to access and exchange resources, develop a reputation, and build community and social capital takes precedence in how we choose to express who we are and what we choose to define us.
The Rise of Collaborative Consumption