Pretties
Beauty is in the eye of the beholder.
Exhibition - Drawing | Miss Led Illustration. Coloring Work 2 on the Behance Network. Фото и рисунки, арт и креативная реклама. Sky Series Selected Works & Eric Cahan. "Technicolor Muse" on the Behance Network. Picturesque of Green Tsunami from Moravia. Here you will find a selection of stunning photos from the Polish photographers Kedrovsky Marek and Krystof Brovko, Green Hills form the amazing waves, which from some angles look like a great green tsunami, check out the amazing beauty… Moravia – the historical region of the Czech Republic to the east of the Czech Republic.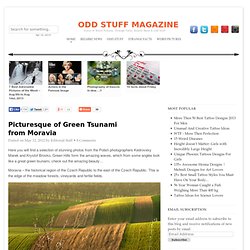 This is the edge of the meadow forests, vineyards and fertile fields. This land, once bore the name of Great Moravia, famous for its rich history and folklore traditions, and became the trademark green fields, stretching beyond the horizon. Impressive Graffiti by Shok 1. The Art of Gina Kiel - Draw As A Maniac. We Find Wildness. Pie Face. 2008.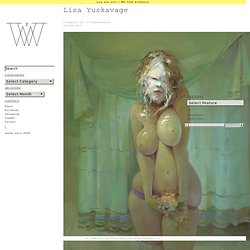 Oil on linen. 48 x 40 inches Pie Face. 2007. oil on linen. 8.5 x 8.5 inches Faucet. 1995. oil on linen. 72 x 60 inches Big Little Laura. 1998. oil on linen. 76 x 96 inches. The Beauty of Steampunk Fashion. Beautiful/Decay Cult of the Creative Arts. Allusion Yellena James uses pen and ink to create truly exquisite forms.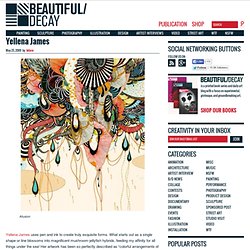 What starts out as a single shape or line blossoms into magnificent mushroom-jellyfish hybrids, feeding my affinity for all things under the sea! Enze.net - StumbleUpon. Le Royaume. :: maggie taylor :: - StumbleUpon. Illustrations 2010 on the Behance Network. Only Have Eyes For Disney: Pics, Videos, Links, News. - StumbleUpon. Everyday Objects Come Alive - Part 3 - My Modern Metropolis - StumbleUpon. Cookie Crumbs Terry Border is one of our favorite creative people on the planet.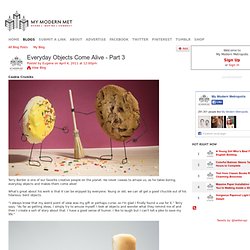 He never ceases to amaze us, as he takes boring, everyday objects and makes them come alive! What's great about his work is that it can be enjoyed by everyone. Stella Im Hultberg - StumbleUpon. Gallery. Everything but the Paper Cut: Eye-popping Ways Artists Use Paper | Fast Company - StumbleUpon. In the year since the Museum of Art and Design reopened in its new digs on Columbus Circle, they've been delivering consistently compelling shows--from punk-rock lace to radical knitting experiments.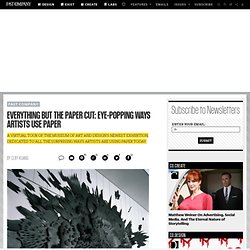 The newest, "Slash: Paper Under the Knife", opened last weekend and runs through April 4, 2010. The focus is paper--and the way contemporary artists have used paper itself as a medium, whether by cutting, tearing, burning, or shredding. Your Browser has Failed. - StumbleUpon. Artworks / Kris Kuksi - StumbleUpon. A u d r e y * k a w a s a k i - StumbleUpon. Ethereal Digital Paintings Capture The Look Of Loneliness | The Creators Project - StumbleUpon. Loneliness never looked so depressingly good.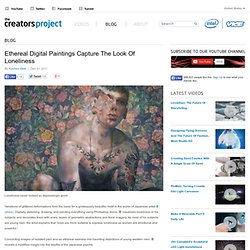 Variations of glittered deformations form the basis for a grotesquely beautiful motif in the works of Japanese artist 非(xhxix). Digitally sketching, drawing, and painting everything using Photoshop alone, 非 visualizes loneliness in his subjects and decorates them with scars, layers of geometric abstractions and floral imagery. As most of his subjects are young men, the artist explains that "boys are more suitable to express loneliness as women are emotional and powerful."
Concocting images of isolated pain and an ethereal sadness into haunting depictions of young western men, 非 reveals a mystified insight into the depths of the Japanese psyche. - StumbleUpon. DOUBLE EXPOSURE PORTRAITS on the Behance Network - StumbleUpon. Rainbow Gathering. Piccsy :: Recent posts - StumbleUpon. Juli Jah - StumbleUpon. Happy New Year" - StumbleUpon. I've spent the last couple of days wondering what to post to close out the year and then came across this entry on momentaryawe.com (run by my good friend Catalin Marin): his twelve favourite shots from 2009, one from each month.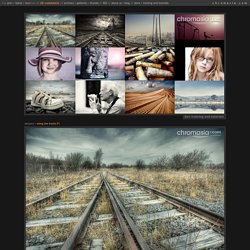 So, with credit to Catalin for the idea, here are my twelve favourites for the preceding year. Had I selected images from the year as a whole I suspect that there would be a couple of changes, and I also suspect that some of you would make different choices from each month, but when I looked back through the images I'd posted this year these are the ones that gave me most pleasure to produce. As always, let me know what you think. A Doodle A Day Keeps The Stress Away | Blog of Francesco Mugnai - StumbleUpon. Sketchbook by Terra Belle A Photographer by Lei Melendres Unfinished Doodle by Lei Melendres Lucky Lucky Lucky by Voz Perkins.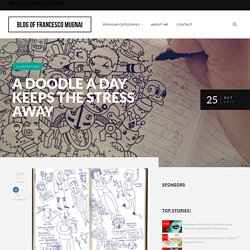 About the Exhibition | Alexander McQueen: Savage Beauty | The Metropolitan Museum of Art, New York - StumbleUpon. The exhibition, organized by The Costume Institute, celebrated the late Alexander McQueen's extraordinary contributions to fashion.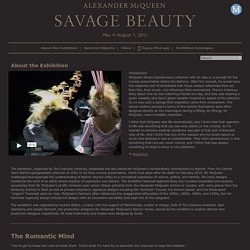 From his Central Saint Martins postgraduate collection of 1992 to his final runway presentation, which took place after his death in February 2010, Mr. McQueen challenged and expanded the understanding of fashion beyond utility to a conceptual expression of culture, politics, and identity. His iconic designs constitute the work of an artist whose medium of expression was fashion. The exhibition featured approximately one hundred ensembles and seventy accessories from Mr. - StumbleUpon. Explore Modern Art | SFMOMA ArtScope - StumbleUpon. Z.L. Feng International Award Winning Artist Landscape. Drawn in Black. Sketchbook on the Behance Network - StumbleUpon. Living in My Head & Illusion & The Most Amazing Creations in Art, Photography, Design, and Video. - StumbleUpon.
Artist Silvia Pelissero - watercolor paintings - StumbleUpon. Minjae Lee - StumbleUpon. Tattoo Brighton. Victor Wangs Paintings - StumbleUpon. Julias Photo Blog: Peter Callesen - A Single Sheet of Paper - StumbleUpon. F E R I C - StumbleUpon.
Ananas à Miami: Illustrations by Mike Mitchell. - StumbleUpon. The Street Vandal - Scene 360 - The Online Film and Arts Magazine. Natural Pools or Swimming Ponds - StumbleUpon. Alphonse Mucha - Posters and designs. Art Nouveau posters - StumbleUpon. A u d r e y * k a w a s a k i - StumbleUpon. Dazzling Photos of Gold Fireflies in Japan.
---