Media Watch
Fourteen Propaganda Techniques Fox "News" Uses to Brainwash Americans | Truthout
There is nothing more sacred to the maintenance of democracy than a free press. Access to comprehensive, accurate and quality information is essential to the manifestation of Socratic citizenship - the society characterized by a civically engaged, well-informed and socially invested populace. Thus, to the degree that access to quality information is willfully or unintentionally obstructed, democracy itself is degraded. It is ironic that in the era of 24-hour cable news networks and "reality" programming, the news-to-fluff ratio and overall veracity of information has declined precipitously.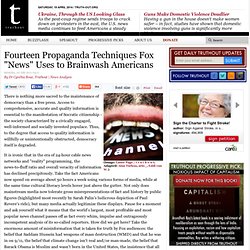 New York, April 10, 2014--Swaziland police on Wednesday re-arrested veteran editor Bheki Makhubu and human rights lawyer Thulani Maseko three days after they had been released from prison, according to news reports. The two, who were first jailed on March 18 and held until Sunday, had written articles that criticized Swaziland's chief justice, the reports said. On Wednesday, High Court Judge Mpendulo Simelane issued new arrest warrants for Makhubu, editor of the independent newsmagazine The Nation, and Maseko, alleging that the two had failed to heed an April 1 court order to appear before him, the state-run Swazi Observer reported. Makhubu and Maseko appeared at the High Court in the capital, Mbabane, today, and were sent back to prison pending a court date on April 14, according to the Southern Africa Litigation Centre, a regional human rights group.
Press Freedom Online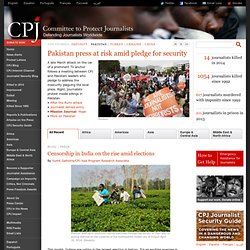 Reviews and Ratings for Family Movies, TV Shows, Websites, Video Games, Books and Music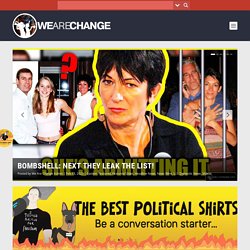 BLM ends Bundy cattle roundup, citing safety issues www.mynews3.com BUNKERVILLE – The gathering of rancher Cliven Bundy's cattle in northeast Clark County has been stopped by the director of the Bureau of Land Management.
We Are Change | Be the change you wish to see in this world
Les Bobards d'Or – à Paris le 20 mars 2012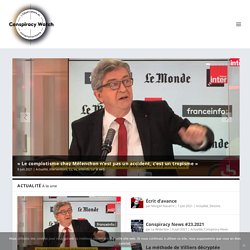 Tête de liste Front national aux prochaines élections européennes en Ile-de-France, Aymeric Chauprade est une personnalité bien connue dans la complosphère. Conseiller «relations internationales» de Marine Le Pen, ce géopolitologue «engagé» a été licencié en 2009 du Collège interarmées de défense (l'ex-Ecole de guerre) après qu'un article du Point a révélé sa dilection pour la version conspirationniste des attentats du 11 septembre 2001. Or, depuis qu'il a officialisé son ralliement à Marine Le Pen lors de l'université d'été du FN de septembre dernier, Aymeric Chauprade semble éprouver quelques difficultés à assumer ses convictions sur le 11-Septembre. « Pour vous, le 11-Septembre, c'est pas Ben Laden, c'est pas Al-Qaïda ?
Conspiracy Watch / Observatoire du conspirationnisme
How the Big Papers Remember Ariel SharonHow the New York Times and the Washington Post whitewashed some of the bloodiest incidents from Israeli leader Ariel Sharon's record. FAIR TV January 10, 2014Media are looking back at Iraq--but what do they forget about Fallujah? Plus: Crossfire's climate 'balance' and ABC discusses the 'resurgent left'--without the left. Stephen Pimpare on War on Poverty, Carl Hart on MarijuanaAuthor Stephen Pimpare talks about the War on Poverty--past and present-- while Carl Hart talks about marijuana misconceptions.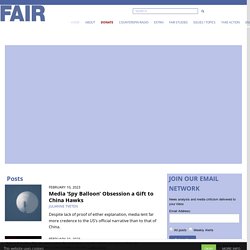 ness & Accuracy In Reporting (FAIR)
Your Guide to Good Journalism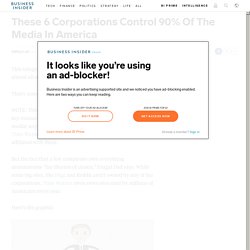 These 6 Corporations Control 90% Of The Media In America
This infographic created by Jason at Frugal Dad shows that almost all media comes from the same six sources. That's consolidated from 50 companies back in 1983. NOTE: This infographic is from last year and is missing some key transactions. GE does not own NBC (or Comcast or any media) anymore. So that 6th company is now Comcast.
11. The Media Can Legally Lie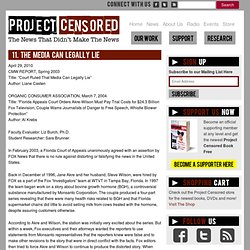 CMW REPORT, Spring 2003 Title: "Court Ruled That Media Can Legally Lie" Author: Liane Casten ORGANIC CONSUMER ASSOCIATION, March 7, 2004 Title: "Florida Appeals Court Orders Akre-Wilson Must Pay Trial Costs for $24.3 Billion Fox Television; Couple Warns Journalists of Danger to Free Speech, Whistle Blower Protection" Author: Al Krebs Faculty Evaluator: Liz Burch, Ph.D. Student Researcher: Sara Brunner In February 2003, a Florida Court of Appeals unanimously agreed with an assertion by FOX News that there is no rule against distorting or falsifying the news in the United States.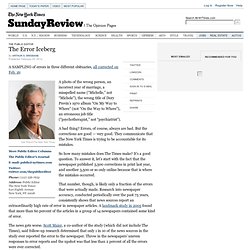 A photo of the wrong person, an incorrect year of marriage, a misspelled name ("Michelle," not "Michele"), the wrong title of Dory Previn's 1970 album "On My Way to Where" (not "On the Way to Where"), an erroneous job title ("psychotherapist," not "psychiatrist"). A bad thing? Errors, of course, always are bad. But the corrections are good — very good. They communicate that The New York Times is trying to be accountable for its mistakes. So how many mistakes does The Times make?
The Error Iceberg
The Reuters Photo Scandal A Taxonomy of Fraud A comprehensive overview of the four types of photo fraud committed by Reuters, August, 2006 The recent discovery that the Reuters news agency released a digitally manipulated photograph as an authentic image of the bombing in Beirut has drawn attention to the important topic of bias in the media. But lost in the frenzy over one particular image is an even more devastating fact: that over the last week Reuters has been caught red-handed in an astonishing variety of journalistic frauds in the photo coverage of the war in Lebanon. This page serves as an overview of the various types of hoaxes, lies and other deceptions perpetrated by Reuters in recent days, since the details of the scandal are getting overwhelmed by a torrent of shallow mainstream media coverage that can easily confuse or mislead the viewer.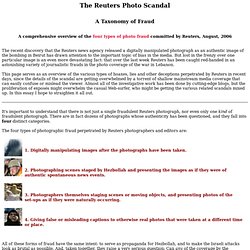 Reuters Photo Fraud
Internet-Manifesto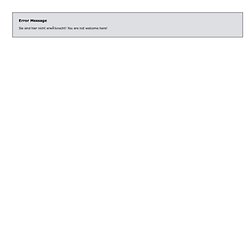 Deutsche Fassung | Version française | Versión en español | Versione in italiano | Versão em português | Česká verze | Srpsko-Hrvatski | Türk Versiyon | Ελληνική έκδοση |Русская версия | Versiunea in limba romana | 日本語版 | 한국어 버젼 | ฉบับภาษาไทย | النسخة العربية 1 | النسخة العربية 2 | فارسی 1. The Internet is different. It produces different public spheres, different terms of trade and different cultural skills.
A gay performer faces legal action after criticising "homophobic" journalists. But does this signal the weakness of traditional views on sexuality? Padraig Reidy reports Turkey's proposed internet law met with strong opposition
Index on Censorship | for free expression
Reporters sans frontières
Free Press | Media reform through education, organizing and advocacy
Center for Media and Democracy | Publishers of PR Watch
Media Standards Trust
Projects Press Reform In February 2009, the MST published A More Accountable Press, a critique of the current system of press self-regulation, including the Press Complaints Commission. In January 2010 the MST published its recommendations for reform of the PCC; 19 of these […]... More
Columbia Journalism Review
Evgeny vs. the internet - Evgeny Morozov wants to convince us that digital technology can't save the world, and he's willing to burn every bridge from Cambridge to Silicon Valley to do it The great story - In the run-up to the Great Recession, accountability journalism saw the story that access journalism missed The love affair is over - America's relationship with the automobile is changing. The transportation beat has to catch up.
Who Owns What | Columbia Journalism Review
In 1983, 50 corporations controlled the vast majority of all news media in the U.S. At the time, Ben Bagdikian was called "alarmist" for pointing this out in his book, The Media Monopoly. In his 4th edition, published in 1992, he wrote "in the U.S., fewer than two dozen of these extraordinary creatures own and operate 90% of the mass media" -- controlling almost all of America's newspapers, magazines, TV and radio stations, books, records, movies, videos, wire services and photo agencies. He predicted then that eventually this number would fall to about half a dozen companies.
Media Reform Information Center
Is this plagiarism? A new web extension can help answer that question
Suspicious about the origins of an article you're reading online? A new browser extension and website, Churnalism U.S., claims to help detect plagiarism by comparing web content to Wikipedia and a database of press releases. Churnalism was built by the Sunlight Foundation, a Washington, DC-based nonprofit that aims to make government more transparent and accountable, and Media Standards Trust, a U.K.-based nonprofit that advocates for transparency in news.
Churnalism | Search
Churnalism Search
L'Observatoire des médias
[Observatoire français des médias]
Ojim.fr | Observatoire des Journalistes et de l'Information Médiatique
Classement des aides à la presse
Aides à la presse en France
SourceWatch
Before it's News
Media Watch