Media Watch
Fourteen Propaganda Techniques Fox "News" Uses to Brainwash Americans | Truthout
There is nothing more sacred to the maintenance of democracy than a free press. Access to comprehensive, accurate and quality information is essential to the manifestation of Socratic citizenship - the society characterized by a civically engaged, well-informed and socially invested populace. Thus, to the degree that access to quality information is willfully or unintentionally obstructed, democracy itself is degraded. It is ironic that in the era of 24-hour cable news networks and "reality" programming, the news-to-fluff ratio and overall veracity of information has declined precipitously.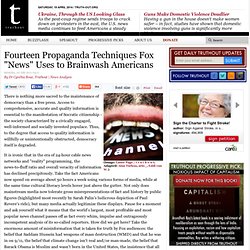 Press Freedom Online
Reviews and Ratings for Family Movies, TV Shows, Websites, Video Games, Books and Music
We Are Change | Be the change you wish to see in this world
Les Bobards d'Or – à Paris le 20 mars 2012
Conspiracy Watch / Observatoire du conspirationnisme
ness & Accuracy In Reporting (FAIR)
Your Guide to Good Journalism
11. The Media Can Legally Lie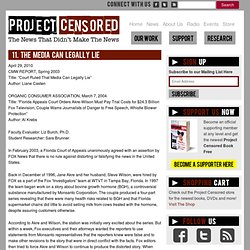 CMW REPORT, Spring 2003 Title: "Court Ruled That Media Can Legally Lie" Author: Liane Casten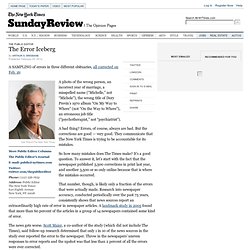 A photo of the wrong person, an incorrect year of marriage, a misspelled name ("Michelle," not "Michele"), the wrong title of Dory Previn's 1970 album "On My Way to Where" (not "On the Way to Where"), an erroneous job title ("psychotherapist," not "psychiatrist"). A bad thing? Errors, of course, always are bad. But the corrections are good — very good. They communicate that The New York Times is trying to be accountable for its mistakes. So how many mistakes does The Times make?
The Error Iceberg
The Reuters Photo Scandal A Taxonomy of Fraud A comprehensive overview of the four types of photo fraud committed by Reuters, August, 2006 The recent discovery that the Reuters news agency released a digitally manipulated photograph as an authentic image of the bombing in Beirut has drawn attention to the important topic of bias in the media. But lost in the frenzy over one particular image is an even more devastating fact: that over the last week Reuters has been caught red-handed in an astonishing variety of journalistic frauds in the photo coverage of the war in Lebanon. This page serves as an overview of the various types of hoaxes, lies and other deceptions perpetrated by Reuters in recent days, since the details of the scandal are getting overwhelmed by a torrent of shallow mainstream media coverage that can easily confuse or mislead the viewer.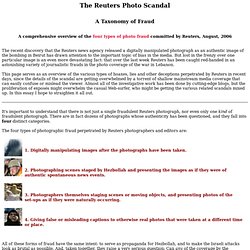 Reuters Photo Fraud
Internet-Manifesto
Index on Censorship | for free expression
Reporters sans frontières
Free Press | Media reform through education, organizing and advocacy
Center for Media and Democracy | Publishers of PR Watch
Media Standards Trust
Columbia Journalism Review
Who Owns What | Columbia Journalism Review
Evgeny vs. the internet - Evgeny Morozov wants to convince us that digital technology can't save the world, and he's willing to burn every bridge from Cambridge to Silicon Valley to do it The great story - In the run-up to the Great Recession, accountability journalism saw the story that access journalism missed The love affair is over - America's relationship with the automobile is changing.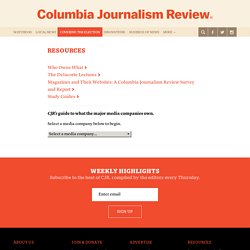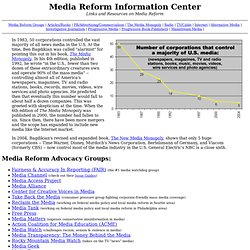 In 1983, 50 corporations controlled the vast majority of all news media in the U.S.
Media Reform Information Center
Is this plagiarism? A new web extension can help answer that question
Suspicious about the origins of an article you're reading online? A new browser extension and website, Churnalism U.S., claims to help detect plagiarism by comparing web content to Wikipedia and a database of press releases. Churnalism was built by the Sunlight Foundation, a Washington, DC-based nonprofit that aims to make government more transparent and accountable, and Media Standards Trust, a U.K.-based nonprofit that advocates for transparency in news.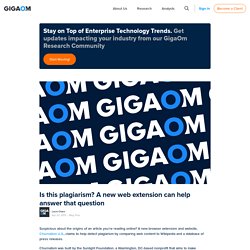 Churnalism | Search
Churnalism Search
L'Observatoire des médias
[Observatoire français des médias]
Media Watch
Why Is the Franklin Center's "Wisconsin Reporter" and "Watchdog.org" Attacking the John Doe?
SourceWatch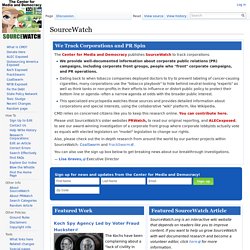 Before it's News
These 6 Corporations Control 90% Of The Media In America