Legend
'Atlantis' All mythologies. Norse Mythology. Conspiracy Theorists. Alternative History / Independent Perspectives - Videos/Articles. Plato's Symposium.
The Symposium is one of the foundational documents of Western culture and arguably the most profound analysis and celebration of love in the history of philosophy.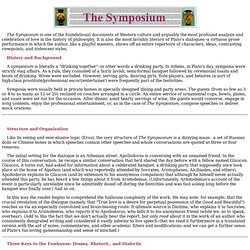 It is also the most lavishly literary of Plato's dialogues--a virtuoso prose performance in which the author, like a playful maestro, shows off an entire repertoire of characters, ideas, contrasting viewpoints, and iridescent styles. History and Background. Robin Hood - The Facts and the Fiction - Legends, Stories, Songs. IRISH LITERATURE, MYTHOLOGY, FOLKLORE, AND DRAMA. Irish PlayographyIrish Writers OnlineStudy Ireland: Poetry - BBCIrish Women Writers - M.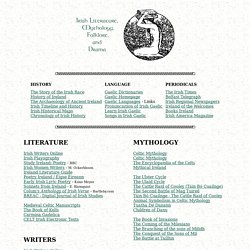 OckerbloomThe Irish and LiteratureLyra CelticaIreland Literature Guide2002 Irish Author RoundtablePoetry Ireland / Éigse ÉireannEarly Irish Lyric Poetry - Kuno Meyer Sonnets from Ireland - E. Blomquist Colum's Anthology of Irish Verse - Bartleby.com Medieval Celtic ManuscriptsThe Book of KellsCarmina GadelicaCELT Irish Electronic Texts.
Family tree of the Greek gods. Loch Ness Monster. The Loch Ness Monster is a cryptid, a creature whose existence has been suggested but is not discovered or documented by the scientific community.[3] It is reputedly a large unknown animal that inhabits Loch Ness in the Scottish Highlands.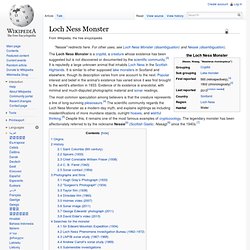 It is similar to other supposed lake monsters in Scotland and elsewhere, though its description varies from one account to the next. Popular interest and belief in the animal's existence has varied since it was first brought to the world's attention in 1933. Evidence of its existence is anecdotal, with minimal and much-disputed photographic material and sonar readings. Folktexts: A library of folktales, folklore, fairy tales, and mythology, page 1. Page 1 edited and/or translated by D.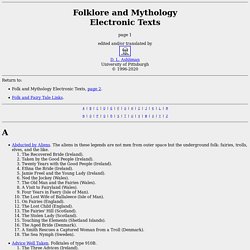 Greek mythology. Greek mythology is explicitly embodied in a large collection of narratives, and implicitly in Greek representational arts, such as vase-paintings and votive gifts.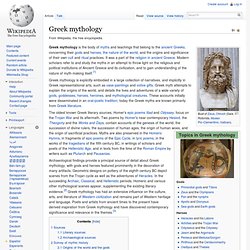 Greek myth attempts to explain the origins of the world, and details the lives and adventures of a wide variety of gods, goddesses, heroes, heroines, and mythological creatures. These accounts initially were disseminated in an oral-poetic tradition; today the Greek myths are known primarily from Greek literature. Sea monster. Sea monsters are sea-dwelling mythical or legendary creatures, often believed to be of immense size.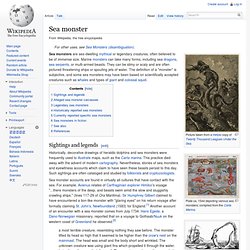 Marine monsters can take many forms, including sea dragons, sea serpents, or multi-armed beasts. They can be slimy or scaly and are often pictured threatening ships or spouting jets of water. The definition of a "monster" is subjective, and some sea monsters may have been based on scientifically accepted creatures such as whales and types of giant and colossal squid. Sightings and legends[edit] Hittite/Hurrian Mythology. The Hurrians occupied the land between the Hittites and Assyria, having descended from the mountains south of the Caspian Sea.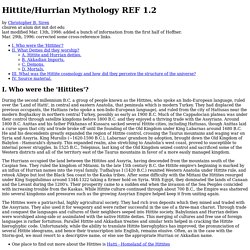 They ruled the kingdom of Mitanni. In the late 15th century B.C. the Hittite empire's beginning is marked by an influx of Hurrian names into the royal family. Tudhalyas I (1420 B.C.) reunited Western Anatolia under Hittite rule, and retook Allepo but lost the Black Sea coast to the Kaska tribes. Myths and legends. Chinese mythology. Chinese mythology refers to those myths found in the historical geographic area of China: these include myths in Chinese and other languages, as transmitted by Han Chinese as well as other ethnic groups (of which fifty-six are officially recognized by the current administration of China).[1] Chinese mythology includes creation myths and legends, such as myths concerning the founding of Chinese culture and the Chinese state.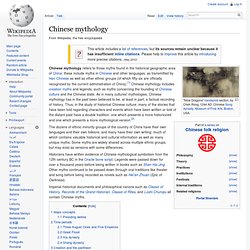 As in many cultures' mythologies, Chinese mythology has in the past been believed to be, at least in part, a factual recording of history. Thus, in the study of historical Chinese culture, many of the stories that have been told regarding characters and events which have been written or told of the distant past have a double tradition: one which presents a more historicized and one which presents a more mythological version.[2] Moai. Moai facing inland at Ahu Tongariki, restored by Chilean archaeologist Claudio Cristino in the 1990s Moai i/ˈmoʊ.aɪ/, or mo'ai, are monolithic human figures carved by the Rapa Nui people from rock on the Chilean Polynesian island of Easter Island between the years 1250 and 1500.[1] Nearly half are still at Rano Raraku, the main moai quarry, but hundreds were transported from there and set on stone platforms called ahu around the island's perimeter.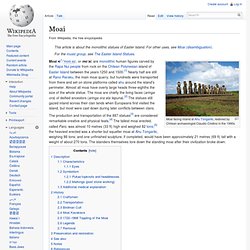 Almost all moai have overly large heads three-eighths the size of the whole statue. List of mythologies. This is a list of mythologies of the world, by culture and region.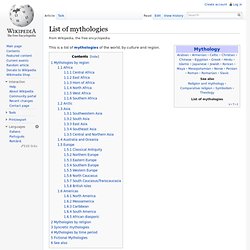 Mythologies by region[edit] Africa[edit] Aztec mythology. Mictlantecuhtli (left), god of death, the lord of the Underworld and Quetzalcoatl (right), god of wisdom, life, knowledge, morning star, patron of the winds and light, the lord of the West. Together they symbolize life and death. Aztec mythology is the body or collection of myths of Aztec civilization of Central Mexico.[1] The Aztecs were Nahuatl speaking groups living in central Mexico and much of their mythology is similar to that of other Mesoamerican cultures.
Fairy tale. In cultures where demons and witches are perceived as real, fairy tales may merge into legends, where the narrative is perceived both by teller and hearers as being grounded in historical truth. However, unlike legends and epics, they usually do not contain more than superficial references to religion and actual places, people, and events; they take place once upon a time rather than in actual times.[3] Fairy tales are found in oral and in literary form. Roman mythology. Roman mythology is the body of traditional stories pertaining to ancient Rome's legendary origins and religious system, as represented in the literature and visual arts of the Romans. "Roman mythology" may also refer to the modern study of these representations, and to the subject matter as represented in the literature and art of other cultures in any period. The Romans usually treated their traditional narratives as historical, even when these have miraculous or supernatural elements.
The stories are often concerned with politics and morality, and how an individual's personal integrity relates to his or her responsibility to the community or Roman state. Heroism is an important theme. When the stories illuminate Roman religious practices, they are more concerned with ritual, augury, and institutions than with theology or cosmogony.[1] John William Waterhouse: Comprehensive Painting Gallery. All mythologies. Mermaid. A mermaid is a legendary aquatic creature with the upper body of a female human and the tail of a fish.[1] Mermaids appear in the folklore of many cultures worldwide, including the Near East, Europe, Africa and Asia.
The first stories appeared in ancient Assyria, in which the goddess Atargatis transformed herself into a mermaid out of shame for accidentally killing her human lover. Mermaids are sometimes associated with perilous events such as floods, storms, shipwrecks and drownings. In other folk traditions (or sometimes within the same tradition), they can be benevolent or beneficent, bestowing boons or falling in love with humans.
Mermaids have been a popular subject of art and literature in recent centuries, such as in Hans Christian Andersen's well-known fairy tale "The Little Mermaid" (1836). They have subsequently been depicted in operas, paintings, books, films and comics. Grimm Brothers' Home Page. Anglo-Saxon paganism. Jewish folklore. Myth, Legend, Folklore, Ghosts. Mythology, folklore, and religion. World Myths and Legends in Art (Minneapolis Institute of Arts) Canaanite/Ugaritic Mythology FAQ.
Japanese mythology. Irish mythology. Native American mythology.
---