Kinect
Ivan - "Gesture interface for micro-interactions in domestic paces"

sphinx2412 - "" ivangolod Apr 12
Ideas map, multimodal, gesture, voice, touch, Kinect, HCI, Human Computer Interaction, micro-interactions) by Ivan Golod
Free hand "To date we have demonstrated g-stalt to over 250 people, many of these demonstrations took place during the MIT Media Lab's open house events. Some people were concerned that the gesture set was too complicated." g-stalt chirocentric - specific configurations of the hands and fingers in space Charade For example, the hand should move upward for a "move up" command. Widely used iconic gestures (e.g., stop, go back) can be associated with corresponding commands. Favor ease of learning Use hand tension for the initial position "Immersion Syndrome": A hand gesture input system must therefore provide well-defined means to detect the intention of the gestures. 2010 1993 Multimodal Comparison http://dl.acm.org/citation.cfm?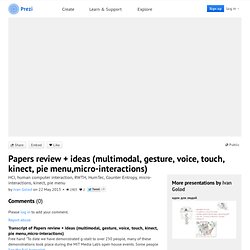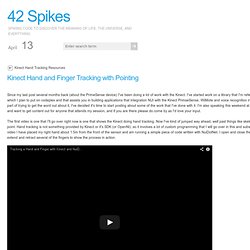 Since my last post several months back (about the PrimeSense device) I've been doing a lot of work with the Kinect. I've started work on a library that I'm referring to as NuiDotNet which I plan to put on codeplex and that assists you in building applications that integration NUI with the Kinect PrimseSense, WiiMote and voice recognition into your application. As part of trying to get the word out about it, I've decided it's time to start posting about some of the work that I've done with it. I'm also speaking this weekend at Houston Tech Fest 2011 and want to get content out for anyone that attends my session, and if you are there please do come by as I'd love your input. The first video is one that I'll go over right now is one that shows the Kinect doing hand tracking. Now I've kind of jumped way ahead, well past things like skeleton tracking, to this point.
42 Spikes | Kinect Hand and Finger Tracking with Pointing
Max Planck Institut für Intelligente Systeme | Research | Body Research
prezi.com, information maps, mind maps
papers - visual representation, thesis description, prezi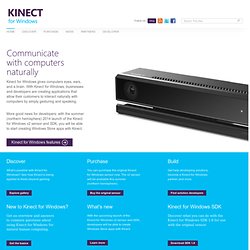 Kinect for Windows gives computers eyes, ears, and a brain. With Kinect for Windows, businesses and developers are creating applications that allow their customers to interact naturally with computers by simply gesturing and speaking. More good news for developers: with the summer (northern hemisphere) 2014 launch of the Kinect for Windows v2 sensor and SDK, you will be able to start creating Windows Store apps with Kinect. Kinect for Windows features
Download the Developer SDK for the Kinect | Kinect for Windows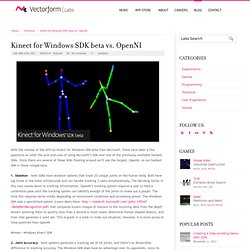 Kinect for Windows SDK beta vs. OpenNI
Jun, Mon 20th, 2011Posted in : Technical By : Will Hinchman 11 Comments With the release of the official Kinect for Windows SDK beta from Microsoft, there have been a few questions on what the pros and cons of using Microsoft's SDK over one of the previously available hacked SDKs. Since there are several of these SDKs floating around we'll use the largest, OpenNI, as our hacked SDK in these comparisons. 1. Skeleton – both SDKs have skeleton systems that track 20 unique joints on the human body. Both have lag times in the mere milliseconds and can handle tracking 2 users simultaneously.
Microsoft Kinect SDK vs PrimeSense OpenNI » Brekel
Important - Software downloads will continue to be available until April 23rd, 2014 at which time the OpenNI website will be closed. Once you've downloaded the OpenNI 2.0 SDK below, check out the variety of middleware libraries, tools, wrappers , and applications that are also available to you. To make thing easier and faster, you may be able to utilize industry- or application-specific resources that have already been developed.
OpenNI Arena - Applications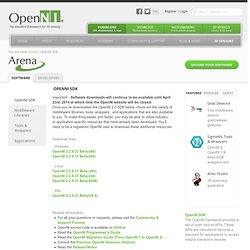 mindfuck :: an introduction to glut
Goal of this file This file offers a brief overview of what GLUT is and does and how you can use GLUT to create and environment that is usefull for the output of an OpenGL application and how to build these applications. This also contains a list of the most common GLUT functions and procedures, the document is ended with two examples including screenshots. This file is targeted towards Linux users programming C++. History of this file 26 june 2003: initial release
The good folks at ZigFu have created a great way for people to set up the things they need in order to start using their Kinect right away. The package will install OpenNI, NITE and Sensor Kinect with just the click of a button. This will definitely come in handy if you're new to the game of have to configure multiple workstations in a short amount of time. They developed a Unity package as well for gaming and their own Portal you can use on your Desktop.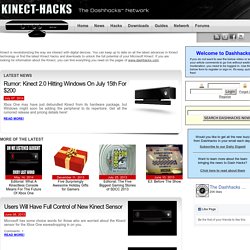 Kinect SDK Dynamic Time Warping (DTW) Gesture Recognition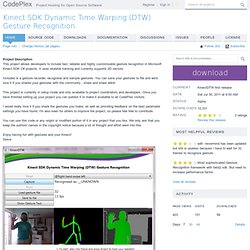 Project DescriptionThis project allows developers to include fast, reliable and highly customisable gesture recognition in Microsoft Kinect SDK C# projects. It uses skeletal tracking and currently supports 2D vectors. Included is a gesture recorder, recogniser and sample gestures. You can save your gestures to file and we'd love it if you shared your gestures with the community - share and share alike!
Custom Gesture Recognition using OpenNI and Unity3D - OpenNI
Custom Gesture Recognition using OpenNI & Unity3D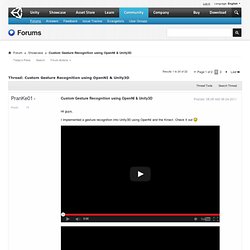 Custom Gesture Recognition using OpenNI & Unity3D Hi guys, I implemented a gesture recognition into Unity3D using OpenNI and the Kinect. Check it out Last edited by PranKe01; 07-12-2011 at 09:22 AM. Reason: Added second video Posts 477 This is pretty neat "I was thinking about makeing the sky violat, looks more fantasy." - s0dy Location Portugal Posts 240 wow! are you releasing it?