Kinect
Ivan - "Gesture interface for micro-interactions in domestic paces"

sphinx2412 - "" ivangolod Apr 12
Ideas map, multimodal, gesture, voice, touch, Kinect, HCI, Human Computer Interaction, micro-interactions) by Ivan Golod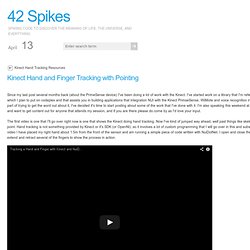 Since my last post several months back (about the PrimeSense device) I've been doing a lot of work with the Kinect. I've started work on a library that I'm referring to as NuiDotNet which I plan to put on codeplex and that assists you in building applications that integration NUI with the Kinect PrimseSense, WiiMote and voice recognition into your application.
42 Spikes | Kinect Hand and Finger Tracking with Pointing
Max Planck Institut für Intelligente Systeme | Research | Body Research
prezi.com, information maps, mind maps
papers - visual representation, thesis description, prezi
Download the Developer SDK for the Kinect | Kinect for Windows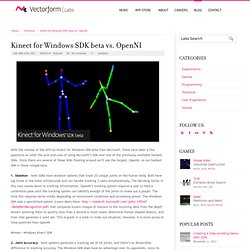 Kinect for Windows SDK beta vs. OpenNI
Jun, Mon 20th, 2011Posted in : Technical By : Will Hinchman 11 Comments With the release of the official Kinect for Windows SDK beta from Microsoft, there have been a few questions on what the pros and cons of using Microsoft's SDK over one of the previously available hacked SDKs.
Microsoft Kinect SDK vs PrimeSense OpenNI » Brekel
OpenNI Arena - Applications
mindfuck :: an introduction to glut
Goal of this file This file offers a brief overview of what GLUT is and does and how you can use GLUT to create and environment that is usefull for the output of an OpenGL application and how to build these applications.
The good folks at ZigFu have created a great way for people to set up the things they need in order to start using their Kinect right away. The package will install OpenNI, NITE and Sensor Kinect with just the click of a button.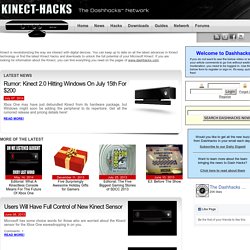 Kinect SDK Dynamic Time Warping (DTW) Gesture Recognition
Custom Gesture Recognition using OpenNI and Unity3D - OpenNI
Custom Gesture Recognition using OpenNI & Unity3D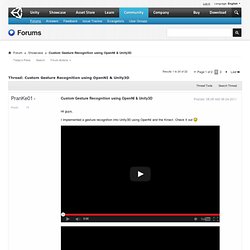 Custom Gesture Recognition using OpenNI & Unity3D Hi guys, I implemented a gesture recognition into Unity3D using OpenNI and the Kinect.