Tips+Astucias
Get flash to fully experience Pearltrees
Description Flipboard is your personal magazine. It is the most popular way to catch up on the news you care about, discover amazing things from around the world, or stay connected to the people closest to you. Now with Flipboard 2.0, you can save and collect the things you love into your own magazines like "Trips I want to take" or "Dream Homes."
NewsNow aims to be the world's most accurate and comprehensive Everton FC news aggregator, bringing you the latest Toffees headlines from the best Everton sites and other key regional and national news sources. Whether it's the very latest transfer news from Goodison Park, quotes from a David Moyes press conference, match previews and reports, or news about the Toffees' progress in the Premier League or FA Cup, we've got it covered. Breaking news from each site is brought to you automatically and continuously 24/7, within around 10 minutes of publication. N.B.
Google recently re-launched offline access to major Google services on Chrome with the new HTML5 technology. This is a small guide to help you get it working on Chrome, Chrome OS and Chromebooks Offline Gmail After removing the original offline gmail access set up, Google re-introduced it as an app for Google Chrome which also has a shiny new UI.
Gallego El correo electrónico tiene unas ventajas evidentes, y los clásicos foros de Internet tienen otras. ¿Sería posible encontrar algún punto intermedio, que tomara lo mejor de ambos mundos? Pues ahí es donde hacen su aparición los grupos de correo de Google , los cuales nos permite aglutinar a distintos usuarios bajo una dirección única de correo, que actuará como nexo de unión entre todos ellos. Esta forma de comunicación es especialmente útil para grupos de trabajo, equipos encargados de la organización de algún evento, personas con gustos afines o cualquier fin similar. Si estás interesado en montar uno, verás que es muy fácil gracias a este tutorial en el que explicaremos cómo crear un grupo de correo de Google .
Bienvenidos al tercer post de esta serie. Honestamente creo que este es el mas importante de todos en algunos sentidos. Asi que por lo mismo trataré de que sea el mas claro también.
12 may 2010 Proseguimos la serie sobre las 10 mejores aplicaciones Google para escritores con Google Desktop . Los escritores solemos guardar en nuestros ordenadores diferentes archivos de texto con historias inacabadas, esbozos de ideas, documentación y otros textos de manera más o menos organizada. Google Desktop es una aplicación de búsqueda de escritorio que permite localizar texto dentro de los archivos , es decir, que no sólo localiza los archivos por el nombre, sino fragmentos de texto dentro de los mismos.
Si eres un usuario habitual de Google Calendar a partir de ahora podrás añadir tareas a través de este servicio. Se puede hacer de dos maneras diferentes .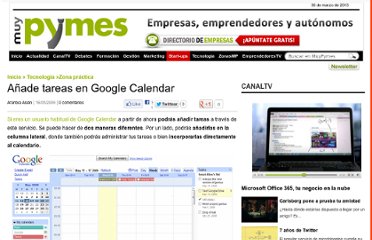 Par Korben Bon, ça y est, si vous voulez tester ChromeOS sur une VmWare (machine virtuelle), c'est possible et déjà en téléchargement sur The Pirate Bay ! Il vous suffit de télécharger le fichier via un client Bittorrent, de le décompresser, puis de l'ouvrir avec VmWare. Je suis en train de vous l'uploader sur Megaupload et je cherche une technique simple pour convertir ce vmdk en vdi (pour VirtualBox) . Ça c'est fait et ça marche !