EARTH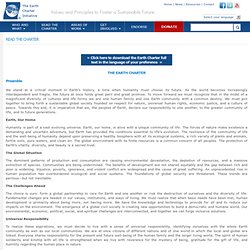 Read the Charter
Preamble We stand at a critical moment in Earth's history, a time when humanity must choose its future. As the world becomes increasingly interdependent and fragile, the future at once holds great peril and great promise.
severncullissuzuki.com
Last updated 18:54 13/02/2013 MICHAEL S THORNE/University of Utah BENEATH THE CRUST: Earth's surface superimposed on a depiction of what a new University of Utah study indicates is happening 2900 kilometres deep at the boundary between Earth's warm, rocky mantle and its liquid outer core.
'Supervolcano' Forming Near New Zealand Says Scientist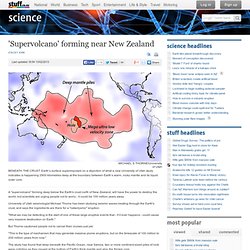 HOME (movie trailer)
Feel Free - A cause for our National Parks.
Welcome To The Best Project Developer – South Pole Carbon Asset Management Ltd.
waimea canyon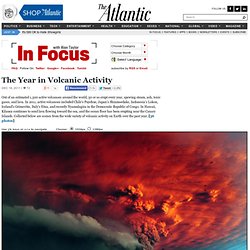 The Year in Volcanic Activity - Alan Taylor - In Focus
Out of an estimated 1,500 active volcanoes around the world, 50 or so erupt every year, spewing steam, ash, toxic gases, and lava. In 2011, active volcanoes included Chile's Puyehue, Japan's Shinmoedake, Indonesia's Lokon, Iceland's Grímsvötn, Italy's Etna, and recently Nyamulagira in the Democratic Republic of Congo. In Hawaii, Kilauea continues to send lava flowing toward the sea, and the ocean floor has been erupting near the Canary Islands. Collected below are scenes from the wide variety of volcanic activity on Earth over the past year. [ 36 photos ]
Crosslands Bulletin - Today's Intelligence
Marcin Jakubowski | Profile on TED.com
www.talkingtrees.net
The Best Game - The Game (1)
Conference Agenda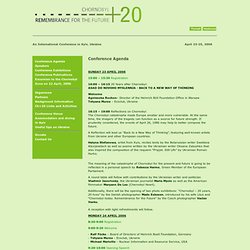 Conference Agenda 15:00 – 15:30 Registration 16:00 – 16:15 20 Years after Chernobyl: ASAD DO NOVOHO MYSLENNJA - BACK TO A NEW WAY OF THINKING Welcome Agnieszka Rochon – Director of the Heinrich Böll Foundation Office in Warsaw Tetyana Murza – Ecoclub, Ukraine
In addition to our featured objectives , the Sierra Club addresses numerous issues of environmental concern through the following programs and volunteer committees, or teams. Building Bridges to the Outdoors The Sierra Club's Building Bridges to the Outdoors Project's goal is to give every child in America an outdoor experience...leave no child inside!
Programs, Committees, and Teams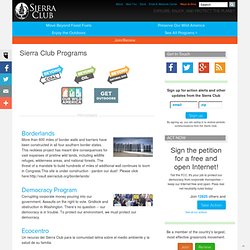 bajada research
Eastern Old-Growth Forests: Prospects For Rediscovery And Recovery by Mary Byrd Davis - Reviews, Discussion, Bookclubs, Lists
Help Us Launch the New Worldchanging Book Today!
It's been seven years in the making, but the new Worldchanging book is finally here. Now we need your help this week getting this young book on its feet. Not only do initial sales often determine how other booksellers treat the book (spurring bookstores to put the book in more visible locations, for instance), but initial buzz about a book is vital to reaching the audience of people out there who would really love this book, but have never heard of it.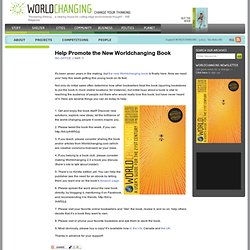 Home
The Iron Ammonite
Tom Lowe @ Timescapes's videos on Vimeo
Mt.Ontake - time lapse - on Vimeo
Watch for the lights (are they satelites or asteroids)? by pauljacobson Feb 8
Lost city of Ubar - revealed from outer space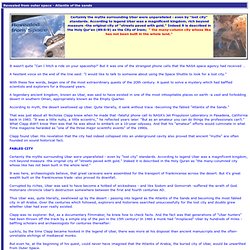 It wasn't quite "Can I hitch a ride on your spaceship?' But it was one of the strangest phone calls that the NASA space agency had received … A hesitant voice on the end of the line said: "I would like to talk to someone about using the Space Shuttle to look for a lost city."
Tara is Green - Home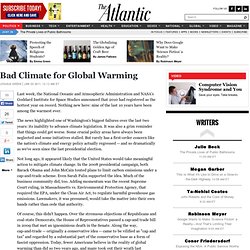 Last week, the National Oceanic and Atmospheric Administration and NASA's Goddard Institute for Space Studies announced that 2010 had registered as the hottest year on record. Nothing new here: nine of the last 10 years have been among the warmest ever. The news highlighted one of Washington's biggest failures over the last two years: its inability to advance climate legislation. It was also a grim reminder that things could get worse. Some crucial policy areas have always been neglected and some initiatives stalled.
Bad Climate for Global Warming - Joshua Green - Politics
E3NYC
Thom Hartmann | Cool Our Fever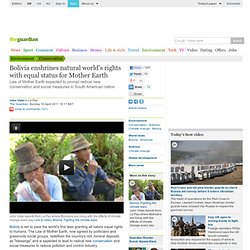 John Vidal reports from La Paz where Bolivians are living with the effects of climate change every day Link to video: Bolivia: Fighting the climate wars Bolivia is set to pass the world's first laws granting all nature equal rights to humans. The Law of Mother Earth, now agreed by politicians and grassroots social groups, redefines the country's rich mineral deposits as "blessings" and is expected to lead to radical new conservation and social measures to reduce pollution and control industry. The country, which has been pilloried by the US and Britain in the UN climate talks for demanding steep carbon emission cuts, will establish 11 new rights for nature.
Bolivia enshrines natural world's rights with equal status for Mother Earth | Environment
The Shift of Land
Fact sheets
Tokyo Electric to Build US Nuclear Plants: The No BS Info on Japan's Disastrous Nuclear Operators
The Bacterium That (Almost) Ate the World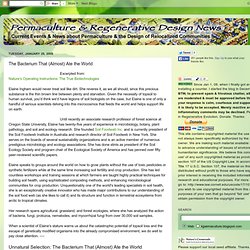 Excerpted from: Nature's Operating Instructions: The True Biotechnologies Elaine Ingham would never treat soil like dirt. She reveres it, as we all should, since this precious substance is the thin brown line between plenty and starvation. Given the necessity of topsoil to human survival, you'd think we'd have legions of soil biologists on the case, but Elaine is one of only a handful of serious scientists delving into this microcosmos that feeds the world and helps support life on earth. Until recently an associate research professor of forest science at Oregon State University, Elaine has twenty-five years of experience in microbiology, botany, plant pathology, and soil and ecology research. She founded Soil Foodweb Inc. and is currently president of the Soil Foodweb Institute in Australia and research director of Soil Foodweb in New York.
New Blue Earth Roundtable - Home - New Human Eco-Civilization
Lovolution around the sun
Link to this page <a href="http://www.thefreelibrary.com/Lovolution+around+the+sun.-a0176779719">Lovolution around the sun.</a> Earth Day 2006 Dr.
On Small Farms, Hoof Power Returns
Jennifer May for The New York Times Rich Ciotola with Larson, far left, and Lucas, the team of young oxen he works with in Sheffield, Mass. Stacey Cramp for The New York Times Jake, left, and Joe work the fields at Sanborn Mills Farm in Loudon, N.H.
NBC News Archives | Clip of the Week 04-15-2011
Organic Connections Magazine
This time line detailing the international response to climate change provides a contextual entry point to the Essential Background. You can also use the links on the left-hand column under Essential Background to navigate this section. 2012 - The Doha Amendment to the Kyoto Protocol is adopted by the CMP at CMP8. More on the Doha Amendment .
Essential Background
StEPP Foundation Website Pages
Looking for funding for your renewable energy, energy efficiency or pollution prevention projects? You've come to the right place! The StEPP Foundation, a 501(c)(3) non-profit organization, has funding available for projects around the country.
About | Catamount Earth Institute
Vacancies – South Pole Carbon Asset Management Ltd.
Planck Foundation  | |  integrating different branches of science into comprehensive analyses and models  | |  Monetary Sciences  | |  Economic Sciences  | |  Energy Sciences  | |  Physical Sciences  | |  Agricultural Sciences  | |