Food
French Toast Roll-ups. We had a rough weekend.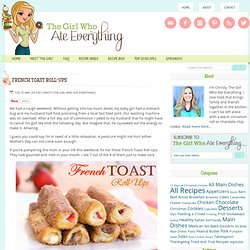 Without getting into too much detail, my baby girl had a stomach bug and my husband had food poisoning from a local fast food joint. Our washing machine was on overload. Chocolate Chip Cookie Bailey's Milkshakes. This is a story all about how I put giant chocolate chip cookies into a blender.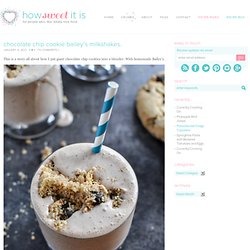 With homemade Bailey's. Again. Because it wasn't too long ago that I did nearly the same thing… again. The Healthiest Blackberry Tart & Is Natural Sugar a Poison? | The Alkaline Sisters. Ooooh the black berries are sooo yummy right now I can hardly resist popping every other berry into my mouth- one for me one for the bowl, one for me……no actually I am sooo strict that I tend to pick til the bowl is full then sample a few.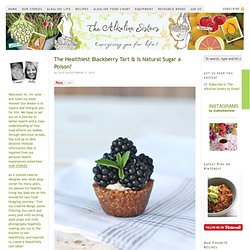 But not my kids. But that's okay, these berries are packed with antioxidants so I was pleased to see them gobbling up handful after handful. The nice thing about this blackberry tart recipe is that in the heat of the summer you don't even have to turn the oven on! These raw tarts are incredibly delicious and will have your guests asking for 2nds and even 3rds! You can whip these up in no time at all or just prep the mixtures and fill the cups and top with berries just before serving. Pip & Ebby - Pip & Ebby - Hot cocoa cookies. I am a teeny bit obsessed with the cookies from the most recent issue of EveryDay with Rachael Ray magazine.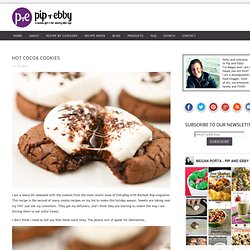 This recipe is the second of many cookie recipes on my list to make this holiday season. Sweets are taking over my life! Just ask my coworkers. They get my leftovers, and I think they are starting to resent the way I am forcing them to eat sinful treats. I don't think I need to tell you that these were tasty. Homemade Snickers Bars. Insanity.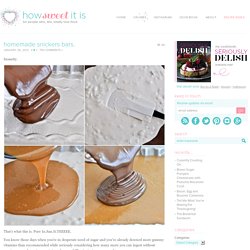 That's what this is. Pure In.San.It.TEEEEE. You know those days when you're in desperate need of sugar and you've already downed more gummy vitamins than recommended while seriously considering how many more you can ingest without causing severe harm to your internal organs? They're just so gooooood. Flourless Peanut Butter Chocolate Chip Cookies. Monday is not my favorite day of the week.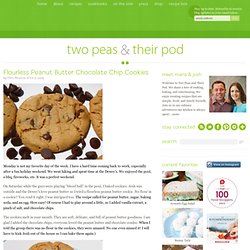 I have a hard time coming back to work, especially after a fun holiday weekend. We went hiking and spent time at the Dewey's. We enjoyed the pool, a bbq, fireworks, etc. It was a perfect weekend. Homemade Junk Food | Spark. Homemade Twix bars.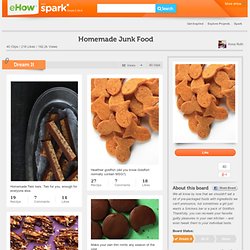 Two for you, enough for everyone else. 19 Reclips 14 Likes Healthier goldfish (did you know Goldfish normally contain MSG?) Blueberry Crumb Bars. I uploaded pictures of this recipe yesterday onto Flickr, but didn't get to telling you all about it because I was feeling a little lackadaisical after that whole seven days in a row of posting thing.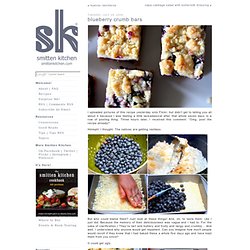 Three hours later, I received this comment: "Omg, post the recipe already!" Hmmph! I thought. Grasshopper Brownies. My grandmother was a pretty fly lady, though I am not sure anyone called her "fly" in her lifetime.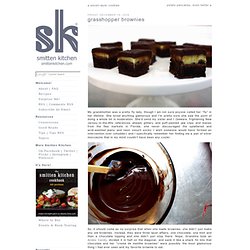 She loved anything glamorous and I'm pretty sure she saw the point of doing a whole lot in moderation. She'd send my sister and I (beware, frightening New Jersey-in-the-80s references ahead) glittery and puff-painted jaw clips and manes from the flea markets in Florida, she never discouraged the splattered and acid-washed jeans and neon slouch socks I wish someone would have formed an intervention over (shudder) and I specifically remember her finding me a pair of silver moccasins that in my mind couldn't have been any cooler.
So, it should come as no surprise that when she made brownies, she didn't just make any old brownies. Instead, they were three layer affairs; one chocolate, one mint and then a chocolate topping and she didn't just stop there. The Londoner: Slutty Brownies. Now I don't want to over sell this, so I'm going to be conservative and simply say, that these are...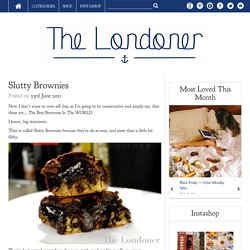 The Best Brownies In The WORLD. I know, big statement. They're called Slutty Brownies because they're oh so easy, and more than a little bit filthy. They're best served warm from the oven, with good quality vanilla ice cream (devastatingly I didn't have any in the freezer this time, so I guess I'll just have to make them again). They take about 45mins to make, including baking time. How To Make Perfect Brownies | How To Cook Like Your Grandmother. I've tried lots of brownie recipes: Boxes, scratch, frosted, plain, nuts, chips, fudge … Each of them has something to like, but depending on my mood I might want a change of pace. Not any more. My wife found this recipe, and it's perfect.
I'm done looking. Brown Butter Double Fudge Chocolate Chip Cookie Dough Cookies. Little bit of a mouthful there. But it's like a cookie on top of another cookie! Yeah. White Choco, M&M and Pretzal Eggs. Brownie Rollout Cookies. Two weeks ago, Alex and I took advantage of the then-awesome weather and went out for dinner at a place with outdoor seating. One cocktail led to another and then Alex put his hand on my knee! No, just kidding. Dark Chocolate Dipped Sugar Cones. Five Reasons Why Mondays Are Hard: One. Seriously with all the email? Seriously? Cookies&Cream Peanut Butter. Need a midnight snack? Or anytime snack for that matter, my cookies and cream peanut butter might just knock your socks off I was so lucky to have my sister and her family visit earlier this week and I got to have some kitchen time with her beautiful girls.
They are just the sweetest things ever. Cappuccino-Chip Frappe. Chocolatey Chocolate Chip Cookies. Cheesecake of Champions. Jasons Everlasting Recipes: Cheesecake Stuffed Strawberries. Lots of Recepies. More Recepies. Even more Recepies. Broccoli Parmesan Fritters. Char Siu Bao (Pork Buns)
---