Energy and building construction
Energy
Cars and transport. Home Design. Green Housing. Organic Homes. Green Architecture. 10 Ideas for An Environmentally Friendly Roof. Going green at home is a hot topic in every circle these days.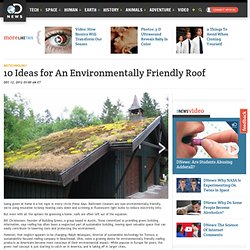 Bathroom cleaners are now environmentally friendly, we're using insulation to keep heating costs down and screwing in fluorescent light bulbs to reduce electricity bills. But even with all the options for greening a home, roofs are often left out of the equation. Menlo Passive. The Greenest Commercial Building in the World — The Bullitt Center. Retrofitting our Skyscrapers For Food and Power. Nicolai Ouroussoff writes about all the new glass towers architects are designing in New York these days; they are lovely things, but what will power them or feed their occupants in years to come?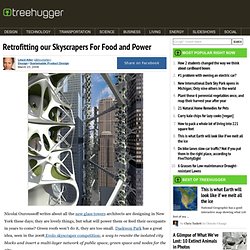 Green roofs won't do it, they are too small. Daekwon Park has a great idea, seen in the 2008 Evolo skyscraper competition: a way to reunite the isolated city blocks and insert a multi-layer network of public space, green space and nodes for the city. Clipping onto the exterior of existing buildings, a series of prefabricated modules serving different functions would be stacked on top of each other, adding a layer of green space for gardening, wind turbines or social uses to make new green façades and infrastructures. There are modules for vertical gardens and connections to other buildings through a network of skywalks; Wind turbine units and program units that could serve many public functions. Design for Reuse. News 01.28.13 Barnes Foundation In 2009 the New York City Parks Department began replacing sections of the famous Coney Island Boardwalk, built in 1923, with synthetic decking materials and concrete.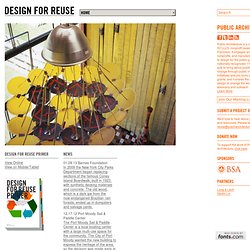 The old wood, which is a dark ipe from the now-endangered Brazilian rain forests, ended up in dumpsters and salvage yards. 12.17.12 Port Moody Sail & Paddle Center The Port Moody Sail & Paddle Center is a local boating center with a large multi-use space for the community. The City of Port Moody wanted the new building to express the heritage of the area, so the decision was made early in the design process to use a heavy timber structure that was being [...] 11.19.12 Green Building Alliance Office The Green Building Alliance (GBA) has been active in the Pittsburgh area building community as an advocate for sustainable construction and green building products for many years, so when the need for new office space arose, their path was clear. The "Go Green" Guide for Industries. Achieving energy efficiency by 'going green' has now become the most sought after methodology to not only bring down operational costs but strengthen the customer interest and loyalty towards the company as well.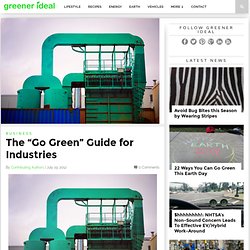 This is the result of the growing awareness amongst common men as they are now keen to ensure that industry operations are contributing to raising the environmental safety – even if they aren't part of a green industry. Many companies in the manufacturing sector are now under the radar of both governmental legislations and customers to clean up and go green. Here are a few ideas that will enable these businesses to achieve energy efficiency and go green! Eliminate Waste by Adopting Cleaner Production Implementing a cleaner production strategy will help bring down the levels of waste generated through improved process management, good house-keeping, new or modified production process/equipment/technologies and by producing useful by-products.
Hydrogen-Producing Skyscraper Harvests Energy From Bolts of Lightning | Hydrogen power is an exciting alternative energy source because it burns clean and emits only water vapor and heat -- however the tech is crippled by the fact that it takes a lot of energy to produce hydrogen fuel.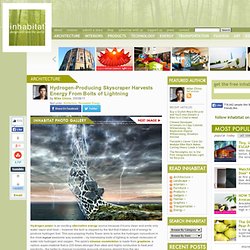 This eye-popping Hydra Tower aims to solve the hydrogen conundrum in the most logical awesome way possible -- by harnessing bolts of lighting to smash molecules of water into hydrogen and oxygen. The spire's sinuous exoskeleton is made from graphene, a carbon super-material that is 200 times stronger than steel and highly conductive to heat and electricity - the better to channel incredible amounts of energy straight from the sky. 15 Energy Efficient Designing Tips for Home. 15 Energy Efficient Designing Tips for Home Energy efficiency is often the number one concern for home owners.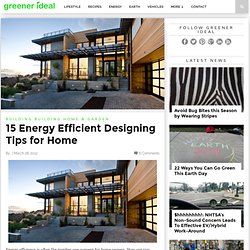 How can you design a beautiful home that still helps you save each month on your energy bill? Listed below are 15 energy efficient designing tips that will give your home beauty and help you save money. Green design will save the world | Inhabitat. Lofted Forest Home: Organic Curves & Natural Materials. Good things come to those who wait – particularly in a work of uniquely detailed and highly curved architecture.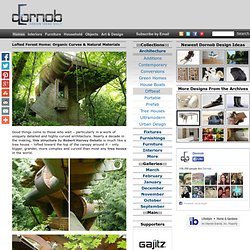 Nearly a decade in the making, this structure by Robert Harvey Oshatz is much like a tree house – lofted toward the top of the canopy around it – only bigger, grander, more complex and curved than most any tree house in the world. The perimeter of the structure is pushed out into the forest around it, curving in and out to create views as well as a sense of intimacy with the coniferous and deciduous tree cover. The wood and metal detailing is incredible in its variety and customization – each piece designed to fit a particular form and function. Wood and stone carry naturalistic themes from the outside in and even the metal looks naturally rusted. Rotating House Puts New Spin on Eco Living. An engineer in the Czech Republic has built himself a house that can rotate to face any direction he chooses.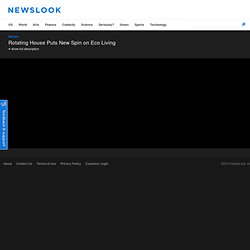 It can also submerge into the hillside to make use of the earth's naturally cooler temperature. Published over 1 year ago Categories. Canada's Greenest Building: It's For The Kids. A new childcare center planned in Canada is expected to raise the bar on traditional green building practices.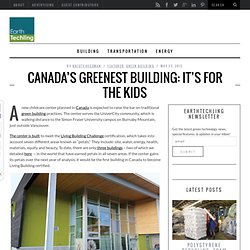 The center serves the UniverCity community, which is walking distance to the Simon Fraser University campus on Burnaby Mountain, just outside Vancouver. The center is built to meet the Living Building Challenge certification, which takes into account seven different areas known as "petals." They include: site, water, energy, health, materials, equity and beauty. To date, there are only three buildings – two of which we detailed here — in the world that have earned petals in all seven areas. DO IT YOURSELF. By Steve Maxwell Build one or more of these easy-to-build, attractive outdoor benches, from mail-order plans: a log and plank bench, the Leopold bench and the Jordan Pond bench and table.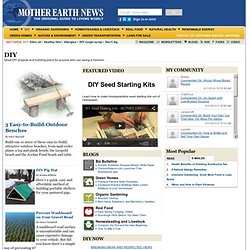 DIY Pig Hut. Hobbit Houses: 15 Grassy Hill-Shaped Dwellings. "In a hole in a ground lived a hobbit. Not a nasty, dirty, wet hole, filled with the ends of worms and an oozy smell, nor yet a dry, bare, sandy hole with nothing to sit on or eat: It was a hobbit hole and that means comfort." This line by J.R.R. Tolkien, author of the beloved The Hobbit and Lord of the Rings fantasy novels, has inspired hundreds of copycat underground hobbit homes around the world – and is itself inspired by ancient Viking hill houses. These 15 green-roofed dwellings that take a page right out of Tolkien's books come in all sizes for all kinds of functions, from hotels in New Zealand to backyard playhouses and vintage underground hill-dug duplexes. The World's First Hobbit Motel.
Green Building. Pub Grease Helps Heat Green Building Superstar One Embankment Place in London is the new all-time BREEAM score leader, in part thanks to a heating and cooling system that runs on biodiesel from used cooking oil. Read More.
---