Graphics
LinkedIn Swarm.
SocialWeb. Environment. LinkedIn Swarm. Infographics - Marketing. MOST POPULAR INFOGRAPHICS. Canvas - geometry hierarchy 2. Geometric Constructions. This is a web version of a teacher's workshop presented at Bridges 2004Appeared in: Bridges for Teachers, Teachers for Bridges, 2004 Workshop Book, Mara Alagic and Reza Sarhangi eds., pp. 31-42.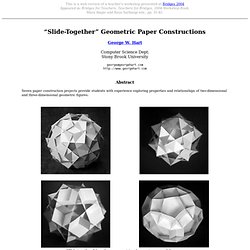 "Slide-Together" Geometric Paper Constructions George W. Hart Computer Science Dept. The KnotPlot Site. Gnofract 4D: Superior Fractal Software : Home. Mathematica Visualization and Graphics Gallery of Jeff Bryant. Polymaps. AmMap: Interactive flash maps. Our JavaScript Maps is a tool that you can use to easily add interactive map functionality to your web pages and JavaScript-based applications.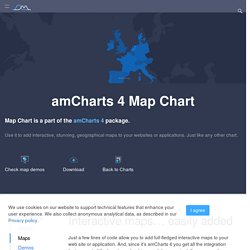 You can use this tool to show locations of your offices, routes of your journeys, create your distributor map, etc. Photos or illustrations can be used as layers and backgrounds of maps, so you can make different presentations, e-learning tools and more. Main features of our tool: Customize every detail of your map – sizes, colors, disable features you don't need;Create multi-level structuresCreate map charts (heatmaps)Load icons or photos on top of your mapUse your own custom map texturesDraw lines and add textSet the start-up zoom level and positionUse it as zoomifyer to display big picturesControl the map with JavaScript (reload data and settings, set and get data and separate parameters, register clicks) Maps included: Dzinpress.
Protovis Examples + upgrade link. Enjoy these sample visualizations built with Protovis.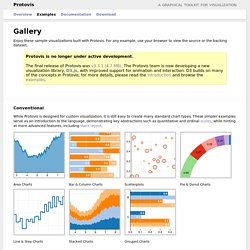 For any example, use your browser to view the source or the backing dataset. Protovis is no longer under active development.The final release of Protovis was v3.3.1 (4.7 MB). The Protovis team is now developing a new visualization library, D3.js, with improved support for animation and interaction. D3 builds on many of the concepts in Protovis; for more details, please read the introduction and browse the examples. Infographic.
Infographics - brands. Infographics - Social Networks. Animating Water Using Flow Maps. Last week I attended SIGGRAPH 2010, and among the many good presentations, Valve game a talk on the simple water shader they implemented for Left For Dead 2 and Portal 2.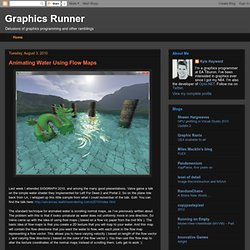 So on the plane ride back from LA, I whipped up this little sample from what I could remember of the talk. Edit: You can find the talk here: The standard technique for animated water is scrolling normal maps, as I've previously written about. The problem with this is that it looks unnatural as water does not uniformly move in one direction.
25 Beautiful Image Styling Tutorials With CSS,jQuery. Recently I wrote article about post thumbnail and you saw some great examples of image styling.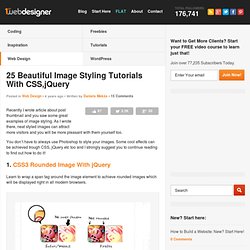 As I wrote there, neat styled images can attract more visitors and you will be more pleasant with them yourself too. You don't have to always use Photoshop to style your images. Some cool effects can be achieved trough CSS, jQuery etc too and I strongly suggest you to continue reading to find out how to do it! 1.
---
lucidquest Jul 3 2011

Thank you for your excellent links!
---