Cats
Collective Soul Cat
random fact cats - Due to the speed of its rotation and orbit, Mercury's days are longer than its years.
Like Mother Like Daughter
Welcome... To the World of the Bengal Cat The Bengal cat is a fun loving, always on the go cat that you won't find resting very often. These wonderful cats are extremely active and males can grow to weights in excess of 15 lbs. When you invite a Bengal kitten into your home get ready for laughs and lots of head butts. Your Bengal cat will demand your attention and keep you entertained and amused with their antics.
Bengal Cats For Sale Bengal Cat Breeder Breeders Snow Bengal Cats For Sale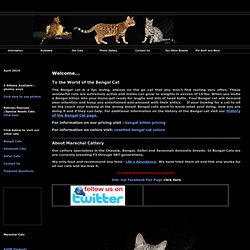 http://boingboing.net/wp-content/uploads/2011/10/Screen-Shot-2011-10-22-at-8.04.jpg
Teddy Bears | Temple of Cats
17 Fun Cat Facts
Surprised Kitty (Original)
The Daily Kitten
Rate My Kitten
Pete Bevin's Kittens Page
Index of Famous Cats
Cat Stuff
Cat Stuff Graphics
Zoe's Fanatical and Creative Cats WebRing