Cats
KITTENS - 6 MONTHS TO 12 MONTHS - Furry Friends Animal Rescue Qld Inc.
Plants and Pets - Non-Toxic Listing ~ Pawprints and Purrs, Inc.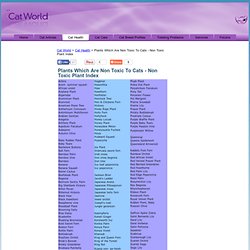 Achira Acorn summer squash African violet Airplane Plant Algarroba Aluminium Plant Alumroot American Plane Tree Anthericum Comosum Antirrhinum Multiflorum Arabian Gentian Aregelia Artillery Plant Aspidium Falcatum Aubepine Autumn Olive
Plants Which Are Non Toxic To Cats - Non Toxic Plant Index - Cat-World
A Achira Acorn squash African violet Algaroba Aluminum plant Alumroot American rubber Anthericum comosum Antirrhinum multiflorum Arabian gentian Aregelia Artillery plant Aspidium falcatum Aubepine Autumn olive B Bachelors buttons Ball fern Bamboo Bamboo palm Bamboo vine Banana Banana squash Begonia species Belmore sentry palm Big shellbark hickory Bitter pecan Bitternut Black haw Black hawthorn Blaspheme vine Bloodleaf Blooming sally Bluebottle Blue bead Blue daisy Blue echeveria Blue-dicks Blue-eyed daisy Blunt leaf peperomia Blushing bromeliad Bold sword fern Boston fern Bottlebrush Bottle Palm Brazilian orchid Bride's bonnet Bristly greenbrier Broom hickory Brodiaea pulchella Butterfly ginger Butterfly iris Bullbrier Bur gourd Burro's tail Buttercup squash Butterfly squash
PLANTS THAT ARE NON-POISONOUS TO DOGS AND CATS - Chinaroad Lowchens of Australia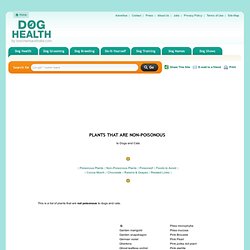 Cats and kittens will often chew on grasses and other plants. Unfortunately, many plants are dangerous. Some may cause vomiting or diarrhea while others may cause organ failure and death. Pet owners should take the responsibility of keeping pets away from dangerous plants. Below, we have provided a list of some of the more common poisonous plants.
Plants Which Are Potentially Poisonous for Cats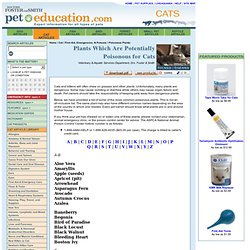 Poisonous Plants -Common Names Index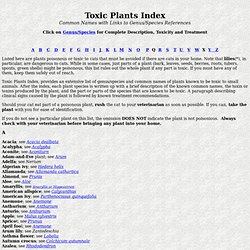 Toxic Plants Index Common Names with Links to Genus/Species References Click on Genus/Species for Complete Description, Toxicity and Treatment Listed here are plants poisonous or toxic to cats that must be avoided if there are cats in your home.
Raising Orphan Kittens
...common symptoms of cystitis in cats then its time for a visit to the vet for evaluation. Cystitis in cats an extremely painful condition. Plus, it doesn't develop overnight so your cat has been experiencing discomfort for days or event weeks. Bloody urine; Straining in the litter box. In fact, you may think she is actually trying to have a bowel movement; Urinating in all the wrong places - on the outside of the litter box, in the bathtub, on the floor.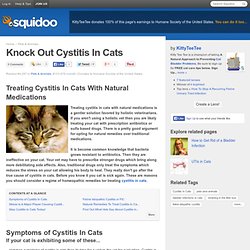 Knock Out Cystitis In Cats
Hidden Entryway Cat Litter Box
Two picky architects in a high-rise apartment didn't like the looks of hiding their cat's litter box in closets, or even under a bathroom sink . With just a few modifications, they turned about $100 of IKEA gear into a combination entryway table and hide-away cat palace. It goes without saying that if you're going to keep your cat's litter box right by the front door, you're going to need to be on top of regular emptying and cleaning.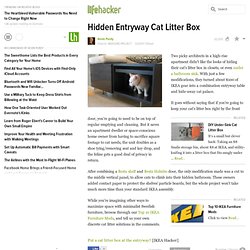 Kitty trying to bury his food! - Cat Forum : Cat Discussion Forums
My oldest cat, when he was a kitten, also used to put his toy mice into his food dish. He also scratches around the dish. He'll do it if he has eaten some but has some left for later, but he'll also do it if he doesn't like it at all and won't eat it. It's not at all uncommon for my finicky boy to take a sniff, decide he doesn't like it, bury it, then walk away. It drives my husband crazy. But like I said, he also did the mouse thing, which was too cute for words.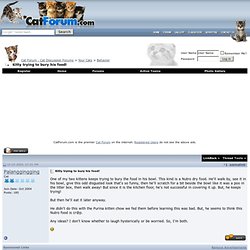 Amy Shojai
I can't think of a nicer thing to do for your cat than to design and build him a cat tree. At my website felinedesign.net, I SELL BULK SISAL ROPE , the BRAZILIAN variety which I've used for years. It will have a much greater life and will look better longer, as compared to an all carpet cat tree. So here are some general guidelines to making a stylish and sturdy cat tree for your feline friend. I will break this down into two categories: 1) materials and 2) little tricks of the trade .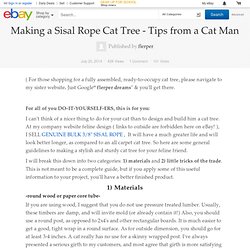 Making a Sisal Rope Cat Tree - Tips from a Cat Man
Amy D. Shojai
Caring for your cat - vaccination, desexing, worming, fleas, heartworm, feeding | Vetwest Animal Hospitals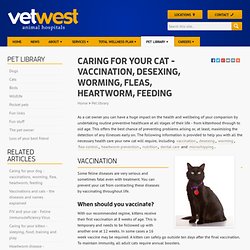 As a cat owner you can have a huge impact on the health and wellbeing of your companion by undertaking routine preventive healthcare at all stages of their life - from kittenhood through to old age. This offers the best chance of preventing problems arising or, at least, maximising the detection of any illnesses early on. The following information is provided to help you with all the necessary health care your new cat will require, including vaccination , desexing , worming , flea control , heartworm prevention , nutrition , dental care and microchipping . Vaccination
Purina Cat Chow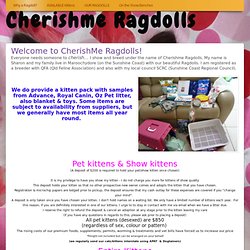 Price and Information - Cherish Me Ragdolls
The most important thing to me is that our kittens go to homes where they are intended to stay as part of the family for their whole life. No pet should be bought on impulse. They are a living thing and as such deserve a great deal of respect. If you have come across our site and are intending on purchasing a Ragdoll from us, please know that they are a wonderful companion, but please consider carefully, that you do in fact wish to have a companion who maybe with you for the next 15 years. This is a long commitment. CATS!
CatStuff: Why does a cat do that?
Amy Shojai, CABC (amyshojai) on Twitter
Amy Shojai Biography
Amy has been writing about cats (and dogs) for more than 25 years. She has won dozens of awards for her books, articles, and broadcast appearances. Her work empowers pet lovers by turning "medicalese" into understandable information they need to make informed decisions for their beloved companion pets. Experience: Amy is a certified member of the International Association of Animal Behavior Consultants, founder and president emeritus of the Cat Writers' Association , and a member/volunteer with several other animal welfare and writing organizations.
Litter Training Your Cat
Cats are naturally clean creatures. Teaching them to use the litter box encourages this inherent instinct. Most kittens and cats easily learn to use their litter box ... and they will usually continue to use it unless it gets too dirty. Here are a few tips to help your kitty along: Place the litter box in a clean, relatively quiet and accessible location. Keep it away from high-traffic areas and be sure your cat has access to it any time she needs it.