Activities for Kids
Get flash to fully experience Pearltrees
We had a few days of rain around here so we made some slime to occupy our time inside. Just two ingredients and you will be able to really impress your kids!
Print page Stuff you need A small bowl; a circle of cardboard or the bottom of a plastic bottle, plaster of Paris, spoon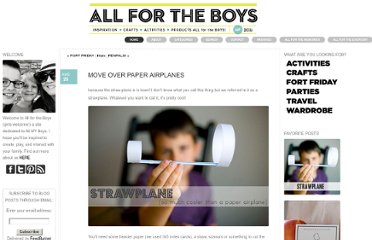 because the straw plane is in town!
This is a great project for kids who are interested in nature and bugs.
A few weeks ago I saw this idea for water blobs floating around online and decided to try it ourselves the next time we were having friends over to play.
We love using chalkboards as backdrops for displays and parties (like this one here !). So we were super excited to learn that you can create your own custom colors-and it's really easy! We first learned how from Martha Stewart whose tutorial you can read here .
by Michelle Vackar, Modern Handmade Child One of our favorite outside activities at our home is drawing with chalk on the driveway. You can play hopscotch, four-square, and of course draw and create silly stories. My daughters and I were talking one day as we played hopscotch about how to make chalk and I thought to myself, let's try it! It ended up being quite a lot of fun. What you will need: • Toilet paper or paper towel tubes • Scissors • Duct tape • Wax paper • Small bucket or disposable container to make the recipe • ¾ cup of warm water • 1 ½ cups Plaster of Paris • 2-3 tablespoons of tempera paint • Paper bag or a "mess mat"
My youngest son has already finished up the school year (kindergarten ends early) and I wanted to bring in a little treat for him to hand out to his classmates at the end-of-school party.