Awesome Art Photos
Classic Photos of Celebrities | Vivi The Mage. Some classic photo's I got compiled up!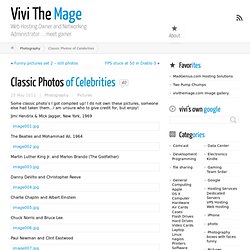 I do not own these pictures, someone else had taken them…i am unsure who to give credit for, but enjoy! Jimi Hendrix & Mick Jagger, New York, 1969 The Beatles and Mohammad Ali, 1964 Martin Luther King Jr. and Marlon Brando (The Godfather) Danny DeVito and Christopher Reeve. Visual sundae • Posts Tagged 'photography' "This is post-processed snowflakes, cropped from full 12mp shots, mix from 2009-2013 years.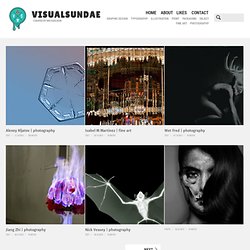 Usually i add to them artificial colours, because original shots almost monochromatic and looks not appealing. Some snowflakes captured in standard macro mode, others with Helios 44 add-on" "On a floor of a balcony I put the turned stool (legs up), on them - a glass plate. Previously, i shoot using Canon A650's standard macro mode. Remake / Submissions. I will be updating this post with all the submissions to our "Remake" project.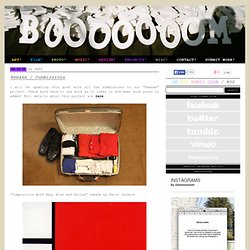 Check back here to see work as it comes in and make sure yours is added! Full details about this project are here. "Composition With Red, Blue and Yellow" remake by Katie Jackson "Composition With Red, Blue and Yellow" by Mondrian. 40 Of The Most Powerful Photographs Ever Taken. 11 Pencil Vs. Camera Images. Street Art | Next Web Design. 50 Extremely Awesome Examples of Typography. This time we're gonna show you some truly inspiring works with text, also referred to as typography.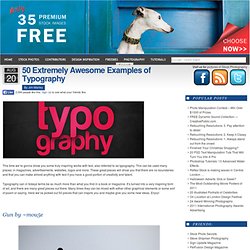 This can be used many places; in magazines, advertisements, websites, logos and more. These great pieces will show you that there are no boundaries and that you can make almost anything with text if you have a good portion of creativity and talent. Typography can in todays terms be so much more than what you find in a book or magazine. It's turned into a very inspiring form of art, and there are many great pieces out there. Many times they can be mixed with either other graphical elements or some sort of poem or saying. Sculptures Popping Out of Paintings. Oh, to have been in Tokyo in June!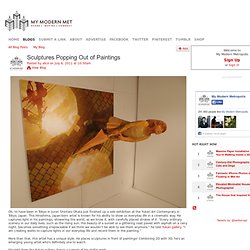 Shintaro Ohata just finished up a solo exhibition at the Yukari Art Contemprary in Tokyo, Japan. This Hiroshima, Japan-born artist is known for his ability to show us everyday life in a cinematic way. He captures light in his paintings, showering the world, as we know it, with carefully placed strokes of it.
"Every ordinary scenery in our daily lives, such as the rising sun, the beauty of a sunset or a glittering road paved with asphalt on a rainy night, becomes something irreplaceable if we think we wouldn't be able to see them anymore," he told Yukari gallery. "I am creating works to capture lights in our everyday life and record them in the painting." Yarn Bombing / Guerrilla Crochet – A Collection | STREET ART UTOPIA.
Dear Photograph. BACK TO THE FUTURE : Irina Werning. I love old photos.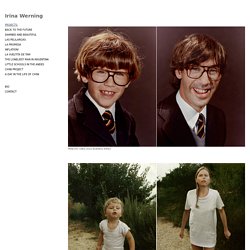 I admit being a nosey photographer. As soon as I step into someone else's house, I start sniffing for them. Most of us are fascinated by their retro look but to me, it's imagining how people would feel and look like if they were to reenact them today… Two years ago, I decided to actually do this. Cibernation. New York City's Hidden Subway Station. Deep in the belly of New York's subway system, a beautiful untouched station resides that has been forgotten for years with only a limited few knowing of its existence.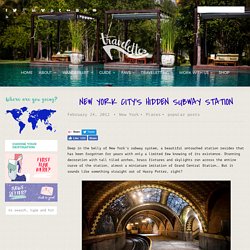 Stunning decoration with tall tiled arches, brass fixtures and skylights run across the entire curve of the station, almost a miniature imitation of Grand Central Station… But it sounds like something straight out of Harry Potter, right? It was opened in 1904, with the hope of making it the crowning glory of the New York subway system in elegant architecture and a place for commemorative plaques to honour the work that had resulted in such a successful underground mass transit system.
Double Exposures - Andre De Freitas. Lorenzo Duran. L'artista spagnolo Lorenzo Duran si avvale delle foglie come tela per le sue incisioni.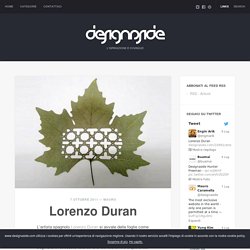 Dopo il lavaggio e l'essiccazione, rimuove con precisione chirurgica ed estrema cura i segmenti in eccesso, usando una tecnica simile a quella del tradizionale paper cutting. Quest'ultimo passo è ovviamente il più difficile vista la fragilità del materiale scelto, il risultatò di questo processo è una serie di affascinanti disegni geometrici incredibilmente belli e dilicati. "Chambord" Disney Princesses In Accurate Period Costume. These are very beautiful drawings!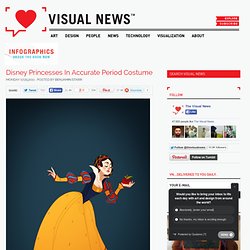 Although I am sad to see Belle looking so unlike herself. On a different note: I'd love to know what the reference was for the period costuming for each Princess. Given what I know about the stories, a lot of these seem a little inaccurate time period wise (I have no idea about the costumes other than that they look gorgeous): - As far as I know, the German "Snow White" was published in 1812 with the rest of the Grimm's collected works; even her supposed 'real' influence lived in the 18th century. Earlier versions do exist, but with very significant differences, since this the Disney (and thus, Grimm) version we're talking about, it seems odd to use the style of a much earlier period. Shakespeare Insult Kit. Shakespeare Insult Kit Combine one word from each of the three columns below, prefaced with "Thou":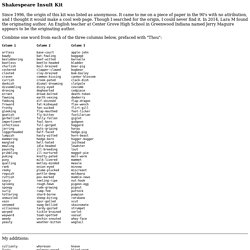 Nick Gentry | Social art from the obsolete. Best Street Art of 2011. REFRACTIONS | Experiment with Nature. Definition: Refraction : re·frac·tion – [ri-frak-shuhn] The change of direction of a ray of light in passing obliquely from one medium into another in which its wave velocity is different Markus Reugels of Deutschland uses the properties of refraction to create beautiful miniature worlds inside drops of water. Check out more of his work at: flickr.com/photos/maianer All images courtesy of Markus Reugels. Z.L. Feng International Award Winning Artist - Landscape.
---