Learner Autonomy
Core and Quirks. Call for Papers. The Call for Papers for the 11th Annual CamTESOL Conference is now open.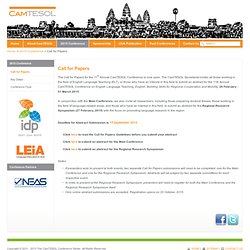 The CamTESOL Secretariat invites all those working in the field of English Language Teaching (ELT), or those who have an interest in this field to submit an abstract for the 11th Annual CamTESOL Conference on English Language Teaching, English: Building Skills for Regional Cooperation and Mobility, 28 February - 01 March 2015. In conjunction with the Main Conference, we also invite all researchers, including those preparing doctoral theses, those working in the field of language-related areas, and those who have an interest in this field, to submit an abstract for the Regional Research Symposium (27 February, 2015) with the focus on promoting language research in the region.
Deadline for Abstract Submission is 13 September 2014. Click here to read the Call for Papers Guidelines before you submit your abstract. About | Asian EFL Journal. The Asian EFL Journal is a Division of TESOL Asia (Australia) and part of the English Language Education Journal group and are wholly owned by SITE Australia Ltd.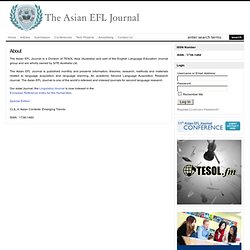 The Asian EFL Journal is published monthly and presents information, theories, research, methods and materials related to language acquisition and language learning. An academic Second Language Acquisition Research Journal. The Asian EFL Journal is one of the world's refereed and indexed journals for second language research. Our sister journal, the Linguistics Journal is now indexed in theEuropean Reference Index for the Humanities Special Edition. Tongtara Riverview Hotel Bangkok Riverside Asiatique - Bangkok Hotel Room near Asiatique the Riverfront. 怕写论文找不到资料?40个全球免费开放的电子图书馆任君挑选. 1.澳大利亚国立大学ANU电子出版库: 2.阿德雷德大学电子文本收藏中心,包括古典文学,哲学,科学和医学着作: 3.澳大利亚数字化人文门户(澳大利亚人文学界的数字化资源门户)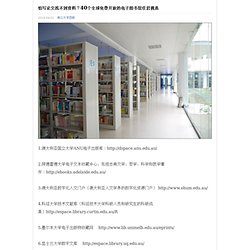 Paper Submission System - Add Paper. 【親子翹翹板】美好前程 American Promise @ 2013年【教育?教育!】國際華人紀錄片影展 :: 痞客邦 PIXNET :: 美好前程 American Promise美國 USA︱ 2012︱ 135 min︱ Joe BREWSTER, Michèle STEPHENSON 亞洲首映 2013 日舞影展評審團特殊成就獎 Special Jury Award For Achievement in Filmmaking, Sundance Film Festival2013 美國全景紀錄片影展評審團大獎 Grand Jury Award, Full Frame Documentary Film Festival 從小在紐約成長的伊卓和西恩是最好的朋友,他們的升學問題總是讓兩人的父母感到苦惱,不但費盡心力將他們送進全美知名的私立道爾頓學校,伊卓的導演爸媽更提起攝影機,紀錄兩人從幼稚園到高中畢業12 年間的求學歷程。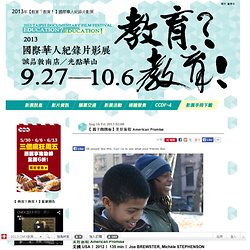 2013年【教育?教育!】國際華人紀錄片影展 :: 痞客邦 PIXNET :: Membership, policy, and professional development for educators - ASCD. CATESOL 2013 Essay Contest – Winning Essay : KQED Education | KQED Public Media for Northern CA. Thehindu.com/ Amita The CATESOL 2013 conference, Riding the Waves to Success, hosted the adult level essay contest sponsored by Cambridge University Press.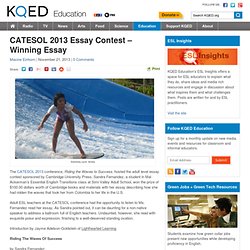 Sandra Fernandez, a student in Mai Ackerman's Essential English Transitions class at Simi Valley Adult School, won the prize of $100.00 dollars worth of Cambridge books and materials with her essay describing how she had ridden the waves that took her from Colombia to her life in the U.S. Adult ESL teachers at the CATESOL conference had the opportunity to listen to Ms.
Vocabulary
13 Important Life Lessons from Shel Silverstein | Bright Drops. Shel Silverstein had a certain way with words that is unmatched by many of his peers.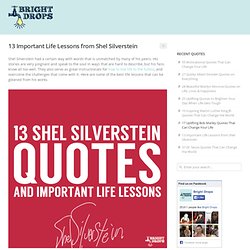 His stories are very poignant and speak to the soul in ways that are hard to describe, but his fans know all too well. They also serve as great instructionals for how to live life to the fullest, and overcome the challenges that come with it. Journal News. Journals have attempted to improve this particular situation.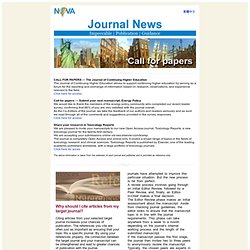 But the new process is far from perfect. A review process involves going through an initial Editor Review, followed by a Peer Review, and, finally, an Editor-in-Chief makes a final decision. The Editor Review phase makes an initial assessment about the manuscript. Aside from checking journal guidelines, the editor looks to ensure that the manuscript topic is in line with the journal requirements. 【德式閱讀的力量】一種習慣改變一個民族。 - 台灣控. By taiwancon - 週五 2014年05月16日, 8:02 下午 德國是個極度無聊的國家,你看不到10點還有人在飯店裡吃的熱火朝天的,你也很難每天見到人們興高采烈的滿大街狂歡,年輕人也並不經常聚攏在一起玩耍撒歡,整個德國給人的感覺就是一種安靜的氛圍,在這里人們無聊的只能看書了。。。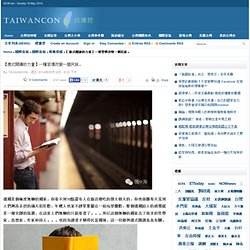 所以這個無聊的國家出了很多的哲學家、思想家、作家和詩人。。。 也因為讀書才變得民富國強,這一切都與德式閱讀息息有關。 Tongtara Riverview Hotel Bangkok Riverside Asiatique - Bangkok Hotel Room near Asiatique the Riverfront. Commodation | Doing Research in Applied Linguistics. Accommodation Tongtara Riverview Hotel Bangkok ( Superior Room 1,200 Baht (approximately) per night.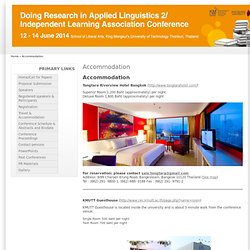 WGA. Project MUSE. 9.1 -- Beliefs about Language Learning. Beliefs about Language Learning: Current Knowledge, Pedagogical Implications, and New Research Directions Eva Bernat <Eva.Bernat nceltr.mq.edu.au> Department of Linguistics Macquarie University, Sydney Inna Gvozdenko <i.gvozdenko pgrad.unimelb.edu.au> Department of Language, Literacy and Arts Education The University of Melbourne.
The Australian Council of TESOL Associations - Call for Papers. VicTESOL is calling for submissions from teachers, researchers and others interested in presenting at the 2014 ACTA International TESOL Conference TESOL - Meeting the Challenge. Proposals should address significant and contemporary issues, and reflect recent work of relevance to the practice of TESOL. The theme for the conference is Meeting the Challenge. Among the challenges faced by the profession is the ongoing ability to meet the learning needs of learners in diverse contexts. These needs are increasingly diversifying, as more students are learning English around the world, and as the nature of immigration, refugee and international student intakes to English speaking countries change.
Call for Papers. Please visit the Asia EFL Journal to view the Full Call for Papers and on line application form. The Call for Papers closes January 10th 2014. Conference Themes. 2014 ARNA Conference - Action Research Network of the Americas. Calls for Papers | Achilleas Kostoulas. The Institute of Modern Greek Studies (M. Triandaphyllidis Foundation), Aristotle University of Thessaloniki are organising a two-day Symposium on 'Greek language and spoken communication', which will take place in Thessaloniki on 18-19 September 2014.
The Symposium will look into pragmatic and sociolinguistic aspects of Modern Greek, with particular emphasis on its use in naturally occurring spoken interaction in everyday or institutional contexts.
---