Speaking Tools & Activities
Manifesto for Conference Presenters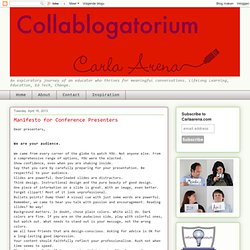 Dear presenters, We are your audience. We came from every corner of the globe to watch YOU. Not anyone else. From a comprehensive range of options, YOU were the elected.
American TESOL Webinar, Teaching with Speaking Tools and Apps
Speaking Tools & Apps
Shmuppet - The Virtual Puppet Application for iPhone, iPod touch (2nd generation), iPod touch (3rd generation), iPod touch (4th generation), iPod touch (5th generation) and iPad on the iTunes App Store
SoundCloud+QR Codes=A Gallery of Students' Voices - Getting Smart by @JohnHardison1 -
Email Share February 15, 2013 - by John Hardison 15 Email Share For a multitude of reasons, teaching in today's time is nothing short of exciting. One such reason for so much enthusiasm is the availability of educational technology.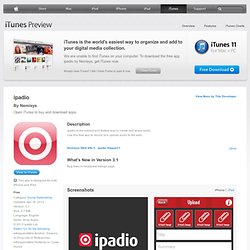 Description ipadio is the easiest and fastest way to create and share audio.Use this free app to record and upload audio to the web. The ipadio app lets you record up to 60 minutes of high quality audio and then add titles, descriptions, images, and geo-locate your recording before it is instantly uploaded to your ipadio.com account or cross-posted to your Twitter, Facebook, Wordpress, Posterous, Blogger, Live Spaces, or LiveJournal accounts. Each audio clip also comes with its own selection of embed codes, which you can grab off your online ipadio account, meaning you can also put your recording on your website. The ipadio app is designed to seek out the best connectivity possible and to upload your data bit by bit, depending on your bandwidth. So, if you've got weak signal, you can just hit upload and ipadio will keep working away until the file is uploaded.
ipadio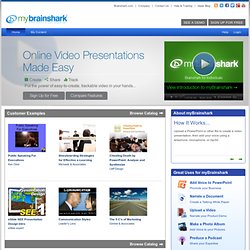 What is myBrainshark?Create online video presentations, then share & track them with ease! Promote yourself or your cause, share your expertise, or browse eLearning content. How It Works...Upload a PowerPoint or other file to create a video presentation, then add your voice using a telephone, microphone, or mp3s! Create Video in Moments...In seconds you can turn your existing static content into powerful, voice-enriched, trackable videos!
myBrainshark - Add your voice to presentations, share online, and track viewing | myBrainshark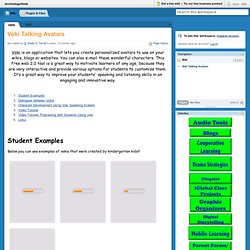 Voki Talking Avatars
Voki is an application that lets you create personalized avatars to use on your wikis, blogs or websites. You can also e-mail these wonderful characters. This free web 2.0 tool is a great way to motivate learners of any age, because they are very interactive and provide various options for students to customize them.
Brief Description: Young learners explore the world of art. By looking at paintings by DaVinci, Monet, and Picasso, students begin to learn how art can represent a painter's world. First, children look and analyze direct representations with DaVinci, then move on to indirect representation with Monet, and, finally, exploring Picasso's distorted representations. Along with the lesson, students get to make their own portraits on paper plates using construction paper.