Machine Vision
Flexible Action and Articulated Skeleton Toolkit (FAAST) Contributors Evan A.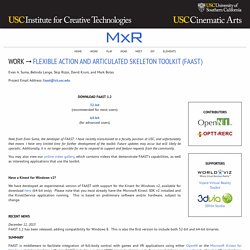 Suma, Belinda Lange, Skip Rizzo, David Krum, and Mark Bolas Project Email Address: faast@ict.usc.edu 32-bit(recommended for most users) 64-bit(for advanced users) Object recognition using Kinect on the PC. How Microsoft Kinect works with Infrared. The London Pigeon Simulator. Who among us hasn't fancied being a pigeon for a day, if mainly for their flying skills rather than their questionable hygiene.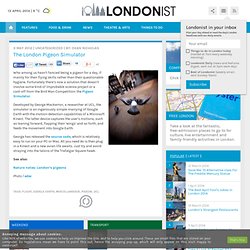 Fortunately there's now a solution that doesn't involve some kind of improbable science project or a cast-off from the Bird Man Competition: the Pigeon Simulator. Developed by George Mackerron, a researcher at UCL, the simulator is an ingeniously simple marrying of Google Earth with the motion-detection capabilities of a Microsoft Kinect. The latter device captures the user's motions, such as leaning forward, flapping their 'wings' and so forth, and feeds the movement into Google Earth. PhaseSpace Motion Capture. Motion capture data BVH tools and files. For everybody who is interest in using motion capture data, here is a list of services which could be useful to you.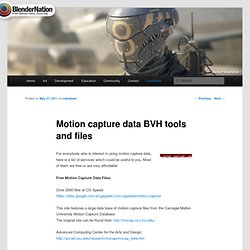 Most of them are free or are very affordable. Free Motion Capture Data Files: Over 2500 files at CG Speed: This site features a large data base of motion capture files from the Carnegie Mellon University Motion Capture Database The original site can be found here. Face Capture with Microsoft Kinect. MachineVision.
---