Groups
As a manager, you are concerned with not only on getting the work done, but on how the work gets done.
Setting Team Ground Rules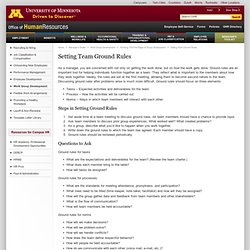 groundrules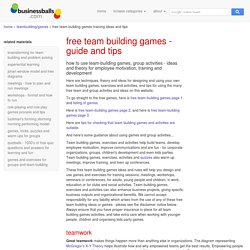 home » teambuilding/games » free team building games training ideas and tips free team building games ideas and theory for employee motivation, training and development Here are techniques, theory and ideas for designing and using your own team building games, exercises and activities, and the free team building games, exercises and activities available in this site (free team building games are here - plus tips as to whether team building games and activities are suitable).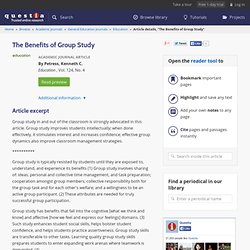 The Benefits Of Group Study
Group study in and out of the classroom is strongly advocated in this article. Group study improves students intellectually; when done effectively, it stimulates interest and increases confidence; effective group dynamics also improve classroom management strategies. Group study is typically resisted by students until they are exposed to, understand, and experience its benefits (1) Group study involves sharing of: ideas, personal and collective time management, and task preparation; cooperation amongst group members; collective responsibility both for the group task and for each other's welfare; and a willingness to be an active group participant. (2) These attributes are needed for truly successful group participation. Group study has benefits that fall into the cognitive [what we think and know] and affective [how we feel and express our feelings] domains. (3) Such study enhances student social skills, helps bolster student confidence, and helps students practice assertiveness.
by Rick Curtis
OA Guide to Group Dynamics & Leadership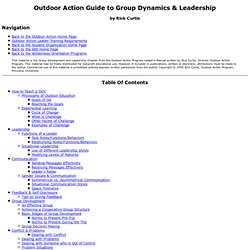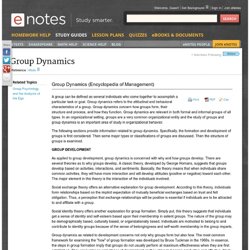 A group can be defined as several individuals who come together to accomplish a particular task or goal. Group dynamics refers to the attitudinal and behavioral characteristics of a group. Group dynamics concern how groups form, their structure and process, and how they function. Group dynamics are relevant in both formal and informal groups of all types.
Group Dynamics