Groups
Productivity Strategies. Setting Team Ground Rules. As a manager, you are concerned with not only on getting the work done, but on how the work gets done.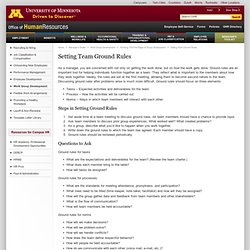 Ground rules are an important tool for helping individuals function together as a team. They reflect what is important to the members about how they work together. Ideally, the rules are set at the first meeting, allowing them to become second nature to the team. Discussing ground rules after problems arise is much more difficult. Groundrules. Team building games ideas, exercises, business games and activities for corporate team building, training, management, motivation, kids activities and childrens party games.
Home » teambuilding/games » free team building games training ideas and tips free team building games ideas and theory for employee motivation, training and development Here are techniques, theory and ideas for designing and using your own team building games, exercises and activities, and the free team building games, exercises and activities available in this site (free team building games are here - plus tips as to whether team building games and activities are suitable).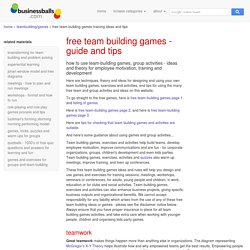 The Benefits Of Group Study. Group study in and out of the classroom is strongly advocated in this article.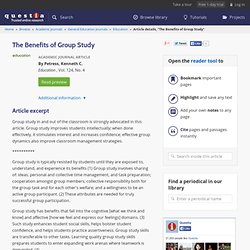 Group study improves students intellectually; when done effectively, it stimulates interest and increases confidence; effective group dynamics also improve classroom management strategies. Group study is typically resisted by students until they are exposed to, understand, and experience its benefits (1) Group study involves sharing of: ideas, personal and collective time management, and task preparation; cooperation amongst group members; collective responsibility both for the group task and for each other's welfare; and a willingness to be an active group participant. (2) These attributes are needed for truly successful group participation. Group study has benefits that fall into the cognitive [what we think and know] and affective [how we feel and express our feelings] domains. (3) Such study enhances student social skills, helps bolster student confidence, and helps students practice assertiveness.
Tools for Teaching - Collaborative Learning: Group Work and Study Teams. Team Building Activities, Initiative Games & Problem Solving Exercises. OA Guide to Group Dynamics & Leadership. By Rick Curtis Navigation This material is the Group Development and Leadership Chapter from the Outdoor Action Program Leader's Manual written by Rick Curtis, Director, Outdoor Action Program.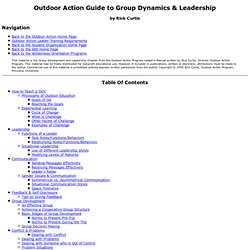 This material may be freely distributed for nonprofit educational use. However, if included in publications, written or electronic, attributions must be made to the author. Index to Group Activities, Games, Exercises & Initiatives. Group game resources Game quotes Life is like a game of cards.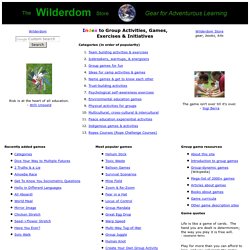 ---