Arduino & DevKit
Kytelabs
BU0836A 12-Bit Joystick Controller [BU0836A] - 24.99GBP : Leo Bodnar, Simulator Electronics
The Cyclone V Starter Kit presents a robust hardware design platform built around the Altera Cyclone V GX FPGA, which is optimized for the lowest cost and power requirement for transceiver applications with industry-leading programmable logic for ultimate design flexibility. With Cyclone V FPGAs, you can get the power, cost, and performance levels you need for high-volume applications including protocol bridging, motor control drives, broadcast video converter and capture cards, and handheld devices. The Cyclone V Starter Kit development board includes hardware such as Arduino Header, on-board USB Blaster, audio and video capabilities and much more. In addition, an on-board HSMC connector with high-speed transceivers allows for an even greater array of hardware setups.
Terasic - Products - Cyclone V GX Starter Kit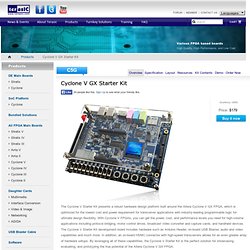 Parallella-16 Pre-Order (October Delivery) - The Adapteva Shop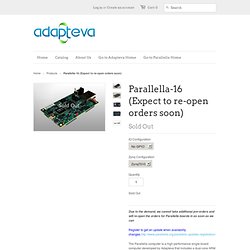 Due to the demand, we cannot take additional pre-orders and will re-open the orders for Parallella boards in January, 2014 Register to get an update when availability changes http://www.parallella.org/parallella-updates-registration/ The Parallella computer is a high performance single board computer developed by Adapteva that includes a dual-core ARM A9 CPU, a field programmable gate array (FPGA), and Adapteva's unique 16-core Epiphany coprocessor. The board offers USB, Ethernet, and HDMI connectivity, making it a great standalone computer.
You can now buy theBeagleBone Black What is the BeagleBone Black? The BeagleBone Black, with a new colour for spring, offers higher performance, at a significantly lower cost, with the same amazing out of box experience.
The Next-Gen BeagleBone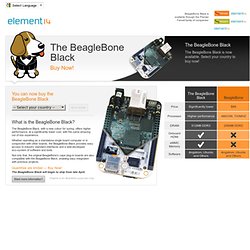 Visual Studio Gallery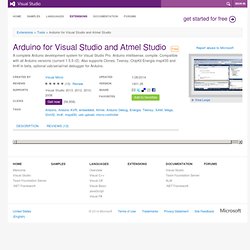 Arduino plugin for Visual Studio extension
The IDE Arduino deserves
Learning to Program the Arduino
This article should acquaint you with basic Arduino programming and show you how to write programs that interact with objects in the real world.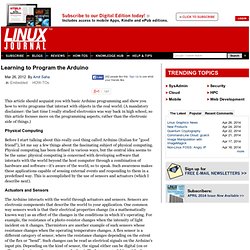 .NET Micro Framework Platform SDK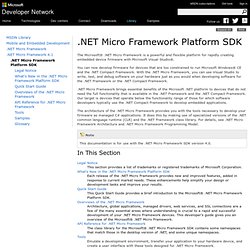 The Microsoft® .NET Micro Framework is a powerful and flexible platform for rapidly creating embedded device firmware with Microsoft Visual Studio®. You can now develop firmware for devices that are too constrained to run Microsoft Windows® CE and the .NET Compact Framework. With the .NET Micro Framework, you can use Visual Studio to write, test, and debug software on your hardware just as you would when developing software for the .NET Framework or the .NET Compact Framework.
FEZ Panda II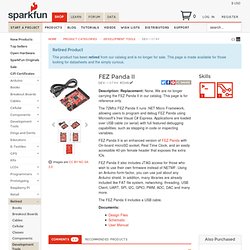 Description: The 72Mhz FEZ Panda II runs .NET Micro Framework, allowing users to program and debug FEZ Panda using Microsoft's free Visual C# Express.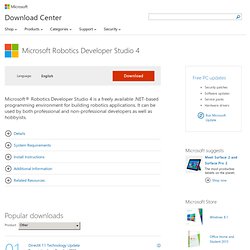 Microsoft® Robotics Developer Studio 4 is a freely available .NET-based programming environment for building robotics applications. It can be used by both professional and non-professional developers as well as hobbyists.
10 Ways to Destroy an Arduino : Application Note ANCP01
Use a sledgehammer, fire a bullet at it, throw it into a pool....that's not what we're talking about. We're going to show you how to electrically destroy your Arduino, though many of you seem to already know how to do that through unfortunate experience.
Ken Shirriff's blog
Pinguino, open source hardware electronics prototyping platform based on 8- and 32-bit PIC from Microchip.
Home - GHI Electronics
Arduino est une plate-forme de prototypage d'objets interactifs à usage créatif constituée d'une carte électronique et d'un environnement de programmation.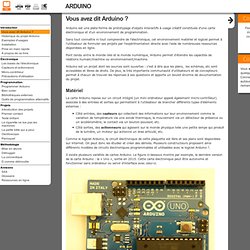 mobile Home Bloggers Messages Resources
Microcontroller Central - Brian Carrigan - 24 More: Moving From Arduino to 32 Bits
Store - community and electronics
I just received a bunch of packages from both Secret Labs and GHI Electronics. The Secret labs packages contained their brand new Netduino GO.
First Experiences with the new Netduino GO, and how it relates to .NET Gadgeteer
Arduino (Produits Officiels)
Cart: (empty) Categories
Boutons poussoirs et Interrupteurs
Cart: (empty)
Les modules arduino™ sont des plate-formes de prototypage microcontrôlées "open-source" spécialement conçues pour les artistes, les concepteurs ou les hobistes. Cette version est achitecturée autour d'un microcontrôleur Atmel™ ATmega328 (livré pré-monté sur un support) associé à une interface USB (le câble est proposé en option au bas de la page).
Platine Arduino "Uno" (Rev 3)
Arduino support? - LINDA Development
vJoyWrapper | Free software downloads at SourceForge
Headsoft - VJoy Virtual Joystick - Home
vJoy | Free software downloads at SourceForge
Headsoft - VJoy Virtual Joystick - Home
vJoyWrapper | Free software downloads at SourceForge
Windows Driver Frameworks (WDF)