US of A vs. Prviate Manning
Admin Error Sends Bradley Manning to Death Row, Nidal Hasan to Gender Reassignment Surgery. FT LEAVENWORTH, KS — An administrative error has been blamed for a mix-up in sentencing involving the cases of convicted Fort Hood shooter Maj.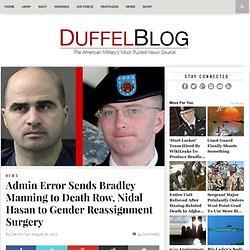 Nidal Hasan and Bradley Manning, the Army private convicted of leaking classified documents to the website WikiLeaks. After sentencing concluded last Wednesday in Fort Hood, Texas, it was reported Hasan would undergo gender reassignment surgery and change his name from Nidal to Nahid Hasan. Bradley Manning Was Offered Plea Deal In Exchange For Testimony. FORT MEADE, Md. -- Speaking to reporters just hours after his client was sentenced to 35 years in prison, Bradley Manning's lawyer revealed on Wednesday that military prosecutors offered his client a plea deal in exchange for his testimony.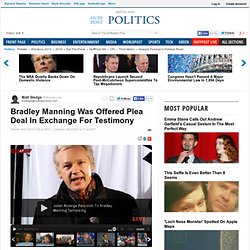 But that deal involved a longer sentence than the 35 years Manning ultimately received, said defense attorney David Coombs, and "part of that would be to cooperate in testifying, so obviously we didn't do that. " Plea negotiations were confidential, and Coombs did not say explicitly that prosecutors had been seeking testimony against WikiLeaks and its founder, Julian Assange. However, there is little else Manning would have had to offer. And Coombs has previously stated that the government was trying to force his client to act as a witness against Assange in a plea deal, but had not revealed the terms of that offer. What Bradley Manning Revealed. "In no case shall information be classified… in order to: conceal violations of law, inefficiency, or administrative error; prevent embarrassment to a person, organization, or agency… or prevent or delay the release of information that does not require protection in the interest of the national security."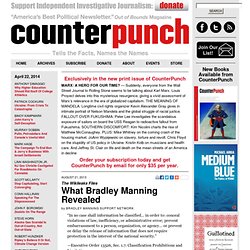 —Executive Order 13526, Sec. 1.7. Classification Prohibitions and Limitations"Is this embarrassing? Yes. Is this awkward? Yes. Bradley Manning Sentenced To 35 Years In WikiLeaks Case : The Two-Way. Hide captionU.S.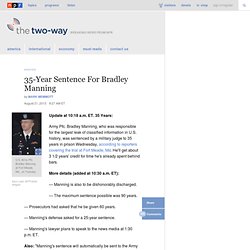 Army Pfc. Bradley Manning at Fort Meade, Md., on Tuesday. Saul Loeb /AFP/Getty Images. Understaffed Army Unit Kept Bradley Manning as Intelligence Analyst Despite Deteriorating Mental Health. MSGT Adkins on the stand.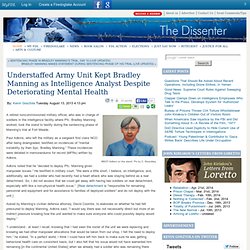 Pic by C. Stoeckley. Military Judge Announces Rationale Behind Verdict in Bradley Manning's Trial. Judge Lind released her 'Special Findings' report in the Manning trial today.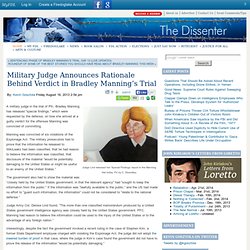 Pic by C. Stoeckley. A military judge in the trial of Pfc. Bradley Manning has released "special findings," which were requested by the defense, on how she arrived at a guilty verdict for the offenses Manning was convicted of committing. Manning was convicted of six violations of the Espionage Act. Sentencing Phase of Bradley Manning's Trial, Day 8 (Live Updates) The prosecution calls its final two witnesses during the sentencing phase of the Bradley Manning trial.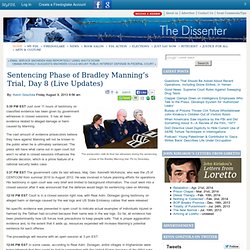 Pic by Stoeckley. 3:39 PM EST Just over 11 hours of testimony on classified evidence has been given by government witnesses in closed sessions. It has all been evidence related to alleged damage or harm caused by Manning. The vast amount of evidence prosecutors believe they have against Manning will not be known to the public when he is ultimately sentenced. What's Bradley Manning Sorry For? Secrecy Surrounds Evidence Of Harm From WikiLeaks Disclosures. WASHINGTON -- His words were straightforward: "I am sorry.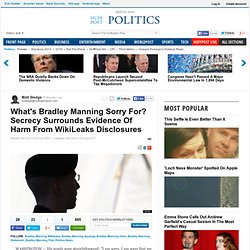 I am sorry that my actions hurt people. I am sorry that it hurt the United States. " But the meaning of Bradley Manning's apology, delivered in a wavering voice in military court on Wednesday as he faced a maximum 90-year sentence, is still a mystery. Because large portions of the sentencing testimony against Manning were closed to the press, just what the private first class was taking the blame for remains unknown. Bradley Manning Proposed for Nobel Peace Prize. PFC Bradley Manning: Is PFC Bradley Manning a hero, or is he a villain? Why. Manning verdict: What you need to know. "I believed that if the general public, especially the American public, had access to the information contained within [the military's own databases], it could spark a domestic debate on the role of the military and our foreign policy in general as it related to Iraq and Afghanistan."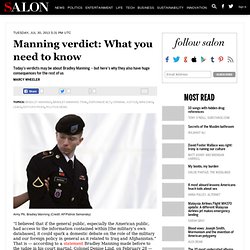 That is — according to a statement Bradley Manning made before to the judge in his court martial, Colonel Denise Lind, on February 28 — what first led Manning to begin to leak large volumes of information to WikiLeaks: a desire to make Americans aware of the potential blowback of our counterinsurgency and counterterrorism policies. Today, Lind found Manning guilty of 20 charges for that effort to inform the American people of the policies pursued in their name. But, in a hugely significant development, she also ruled that he was not guilty of the charge of aiding the enemy. The verdict was revealed with silence and a delay, as the Army imposed new reporting rules on the press, citing earlier "shenanigans." Kevin Gosztola: Behind the Scenes of the Bradley Manning Trial Ignored by Corporate Media. This is a rush transcript.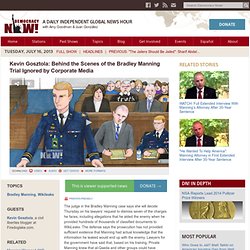 Copy may not be in its final form. AARON MATÉ: We end today's show with an update on the trial of Private Bradley Manning at Fort Meade. Lost in the Bradley Manning Narrative: What He Actually Leaked. Do you know that Egyptian torturers received FBI training in Virginia? Were you aware of the fact that American officials were instructed to hide evidence of child abuse by contractors in Afghanistan?
Do you know the State Department fought against Haiti raising its minimum wage? Yesterday, Bradley Manning's trial finally kicked off and with it a conversation about what the people have the right to know. These debates frequently frame discussion within the context of a philosophical question about transparency. These issues are crucially important because the Manning trial stands as something of a referendum on press freedom. Did the Mainstream Media Fail Bradley Manning? | Politics News.
Bradley Manning trial: 10 revelations from Wikileaks documents on Iraq, Afghanistan, Pakistan, and Europe. Army Pfc. Bradley Manning, center, is escorted as he leaves a military court at Fort Meade, Md., on Monday. Photo by Alex Wong/Getty Images. As Bradley Manning Trial Begins, Press Predictably Misses the Point | Matt Taibbi. Taibbi: Press Predictably Misses The Point In Manning Trial. It's a long piece, and I suggest you read it all, but here's the heart of Matt Taibbi's latest Rolling Stone piece on the Bradley Manning trial: This whole thing, this trial, it all comes down to one simple equation.
If you can be punished for making public a crime, then the government doing the punishing is itself criminal. Bradley Manning Is Guilty of "Aiding the Enemy" – If the Enemy Is Democracy. Of all the charges against Bradley Manning, the most pernicious — and revealing — is "aiding the enemy." A blogger at The New Yorker , Amy Davidson, raised a pair of big questions that now loom over the courtroom at Fort Meade and over the entire country: * "Would it aid the enemy, for example, to expose war crimes committed by American forces or lies told by the American government?" * "In that case, who is aiding the enemy — the whistleblower or the perpetrators themselves?"
When the deceptive operation of the warfare state can't stand the light of day, truth-tellers are a constant hazard. And culpability must stay turned on its head. Journalists file suit against Manning trial secrecy. A group of journalists including Glenn Greenwald, Julian Assange, Amy Goodman and Kevin Gosztola — all of whom have closely followed the Bradley Manning pretrial proceedings — are filing suit to see the veil of fierce military secrecy lifted from the accused whistleblower's court martial.
The military judge presiding over the case can currently close a courtroom to the press and public for "security" reasons — citing sensitive classified information. The plaintiffs are calling on the judge to grant public and press access to the historic trial and its attendant documents. The Center for Constitutional Rights (CCR) has already had some success in having pretrial transcripts published, but for the most part public access to the proceedings has been provided in the form of rush transcripts compiled by dedicated independent journalist, Alexa O'Brien.
Judge Allows Prosecution To Call Bin Laden Team Member In WikiLeaks Case. Evidence al-Qaida "received" WikiLeaks information permitted in Manning trial. Did the Mainstream Media Fail Bradley Manning? | Politics News. Freedom of the Press Foundation Publishes Leaked Audio of Bradley Manning's Statement. Glenn Greenwald on Bradley Manning: Prosecutor Overreach Could Turn All Whistleblowing into Treason.
WikiLeaks Whistleblower Bradley Manning Says He Wanted to Show the Public the "True Costs of War" Manning to Face More Serious Charges in Leak. The Dangerous Logic of the Bradley Manning Case. Bradley Manning Pleads Guilty To Some Charges In WikiLeaks Case. The Trials of Bradley Manning. Turning Their Back on Bradley Manning. Bradley Manning Pretrial Hearing Puts Military On Trial In WikiLeaks Case. Bradley Manning, the NDAA and Wikileaks. US versus Manning, Assange, WikiLeaks, and the Press, the Time Line.
Archives.
---